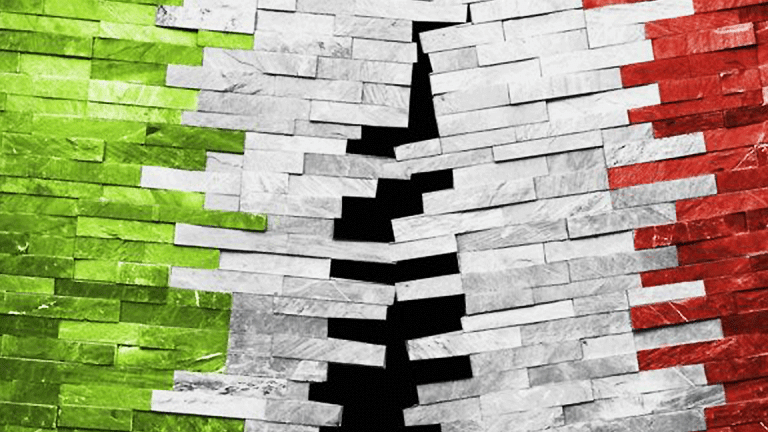 Italy Sets Stage for March Elections and Highlights Europe's Biggest 2018 Risk
Italy's President will likely dissolve parliament Thursday, paving the way for national elections in Europe's third-largest economy early next year.
Italy's President, Sergio Mattarella, will likely dissolve the country's parliament later Thursday, paving the way for national elections in March and highlight what could be the biggest risk in the Eurozone's booming recovery. 
Mattarella's move will fire the starting gun on an election campaign in Europe's third-largest economy that could put the anti-establishment Five Start Movement party, which has held a consistent lead in opinion polls in recent months, and test the country's relationship with Brussels and broader EU project.
M5S, as it is known, has at times vowed to hold a referendum on membership in the single currency, although party leader Luigi Di Maio has recently suggested that his party's election would force enough reforms in Brussels to negate such a plebecite.
The party's popularity, however, and the stakes involved in the coming election, have investors increasingly concerned over the future of what is not only a critical cog in the Eurozone recovery, but also the world's third-largest bond market with a debt-to-GDP ratio of 157%, according to OECD data.
Benchmark 10-year borrowing costs has increased by around 30 basis points, to 1.91%, over the past three weeks in anticipation of the fresh national vote and the spectre of a hard-left, anti-European government at the helm of power in Rome. That puts the extra yield, or spread, that investors demand to hold Italian debt instead of triple-A rated German bunds at 1.5%. 
The risk is also dovetailing with signals of a pullback in support from the European Central Bank, which has been buying billions in government bonds every month as part of its €2.3 trillion quantitative easing program.
The pace of those purchase -- which, according to Allianz Global Investors have favored French and Italian bonds in recent months -- will slow to €30 billion from €60 billion next week, putting even more pressure on both the country's treasury and its long-suffering bond holders.
That said, Italy has weathered series of crises in the past, the most recent of which occurred earlier this year when its oldest and most venerable lender, Banca Monte dei Paschi di Siena Spa, was effectively declared insolvent by the ECB and forced into a government-led rescue. 
Furthermore, while M5S may have a commanding 7 point lead over its nearest rival in recent polls, it's not likely to win enough votes to form a majority government in Italy's complex parliamentary system, meaning Mattarella will probably need to allow weeks, if not months, of negotiations between parties before he can declare a working administration.
That leadership gap might be calmly endured by Italians who've grown wearily accustomed to paralysis in Rome, but it's not likely to help the country's economy, which is humming along nicely at 1.7% but has been bolstered strong investment growth.
The larger risk, of course, is that M5S makes good on its promise to allow Italians to vote on its status in the single currency and its commitment to the wider European project, both of which hold much less support among the broader population than they do in France or Germany.
An M5S win, followed by a Brexit-like referendum, could be the catalyst for risk aversion in the region and a pullback in investment inflows into European stocks. The subsequent rise in European government bond yields could trigger upward spikes in U.S. Treasuries, which are are present being held down by EU-based investors searching for higher yields. 
It's a big event risk for 2018 -- perhaps the biggest in years -- and it's starting today. 
More of What's Trending on TheStreet: