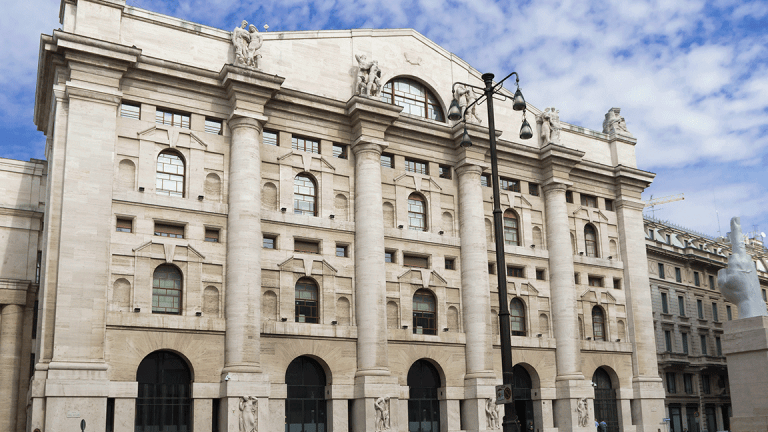 Italy's Political Crisis Could Put Eurozone Bailout Plans to a $3 Trillion Test
Italy is experiencing the type of political crisis that calls into question the survival of the European single currency.
This time, it could be for real.
Italy's current political crisis is the latest in a series of challenges for officials in Rome after the collapse of a days-old government in Europe's third largest economy.
But, it may prove to be an even sterner test for the broader EU's ability to both maintain fiscal discipline among its member states and prevent the worst-case scenario that many investors have been predicting for the past five years: the collapse of the single currency.
With a debt to GDP ratio of 132%, sclerotic growth that has failed to lift the economy from inflation-adjusted levels since its adoption of the euro in 1999, a banking system lumbered with billions of dollars in bad loans and a legal framework that makes them nearly impossible to repair, Italy's current woes may well prove to be too large for the safety mechanisms established by the European Union in the wake of the 2012 sovereign debt crisis and the near exit of Greece from the single currency in the summer of 2015. 
"Given its systemic importance, Italy is a source of potentially significant spillovers to the rest of the euro area," the European Commission said in a new report that pushed for faster debt reduction and warned against increasing deficit spending. "Moreover, Italy's economy maintains strong financial linkages to other euro area countries. In particular, French banks remain in the lead."
Italy's sovereign debt pile is more than €2.3 trillion ($3 trillion), all of it denominated in a currency that it has to earn or borrow. That has made the pile nearly impossible to reduce, given the country's poor productivity, which has contributed to three recessions since the global financial crisis in 2008. However, for a host of reasons, global investors have either been insulated from Italy's political and economic failings either by the European Central Bank's myriad liquidity efforts or its vow to do "whatever it takes" to save the euro from an existential attack in foreign exchange markets.
That might be changing though now that two anti-establishment parties -- the radical left Five Star movement, which was swept into power in the poorer south, and the anti-establishment far right Lega, which won support in the rich industrious north -- look set to gain even more support from any election that follows on from the rejection of their candidate for finance minister by President Sergio Mattarella late Sunday and the collapse of their days-old government. 
The pair want to slash corporate and individual taxes, establish a universal basic income, scrap pension reform and spend more cash in order to create jobs and grow the economy. Collectively, the Five Star/Liga plans will add billions to the nation's debt pile and potentially balloon its budget deficit to as high as 6% of GDP, twice the EU limit.
The larger concern, however, is that the next elections could be fought over Italy's future in the single currency, essentially turning it into a referendum on the euro. 
"The uncertainty over our position has alarmed investors and savers both in Italy and abroad," Mattarella said Monday when he rejected the appointment of Paolo Savona, an 82-year old economist and vocal anti-euro critic, for the post of finance minister. "Membership of the euro is a fundamental choice. If we want to discuss it, then we should do so in a serious fashion."
Bond Markets Nervous

Investors have reacted by dumping Italian government debt, sending benchmark 10-year borrowing costs to a fresh 4-year high of 3.18% and putting the extra yield, or spread, that investors demand to hold them instead of triple-A rated German bunds at 2.85% . Two year bond yields fared even worse, at one point rising 1.5% on the session to 2.73%, the biggest single-day increase since 1992. They started the year trading at -0.19%.
Italy's FTSE MIB, the bluechip stock index, fell 2.65% Tuesday, extending its three-week decline to around 13%, putting it deeply into "bear market" territory. 
Thus far, any spillover the Commission has concerns about has been limited, but that may not last for long: the euro is holding at near six-month lows against the U.S. dollar of 1.1545 and growth and inflation dynamics are slowing around the currency area. That suggests the ECB will be unable to exit its €2.2 trillion quantitative easing program this fall and may need to maintain its record low rates -- including a 0.4% charge on its deposit facility -- into 2019.
U.S. investors may also be at risk, given the weighting that Italian stocks hold in some of the most popular European-focused ETFs and the exposure that many of the region's biggest banks have to Europe's biggest bond market.
Deutsche Bank (DB) - Get Deutsche Bank AG Report , for example, said in its 2017 annual report that Italian bonds represent a third of its net €3.1 billion in sovereign debt exposure. Its shares fell 4.6% Tuesday to the lowest level since October 2016, French banks such as BNP Paribas SA (BNPQY) and Credit Agricole SA (CRARY) hold around €19.2 billion and €10.6 billion, respectively, on their balance sheets ,and fell 4.4% and 3.3% respectively Tuesday in heaving trading.
"The desire for (either the EU or the ECB ) to intervene may not be very pronounced yet," said Holger Schmieding, chief economist at Berenberg. "The current selloff could be a salutary lesson for some of those politicians in Italy who are playing with fire by questioning the rule of the euro and thus - implicitly - the commitment to stay in the euro."
EU Backstops
That said, should contagion take hold and Italy's bond yields rise to the 7.3% peak reached during the height of the region's sovereign debt crisis in late 2011, European officials could be forced to deploy one -- or both -- of their most powerful backstops: the European Stability Mechanism (ESM) or the the ECB's Outright Monetary Transactions (OMT).
The ESM, a centrally controlled rescue fund backed by around €700 billion in paid-in capital from Eurozone member states, has around €400 billion left over from previous loans to Greece, Portugal, Ireland and Cyprus and would likely fail to stablize markets should Italy's $2.5 trillion economy require a significant bailout.
That could leave ECB President Mario Draghi as Italy's lender-of-last-resort.
Draghi, is the principal architect of the OMT program, an untested "bazooka" of central bank firepower that can buy unlimited amounts of government bonds in the secondary market in order to prevent an "unwarranted" tightening of any country's fiscal mechanics.
However, not everyone is a fan of the untested OMT, and a case brought by German politicians made it all the way to the European Court of Justice before being rejected in favour of the "expertise" of the central bankers than designed it. 
One witness for the prosecution when the case was argued at Germany's Constitutional Court in Karlsruhe was none other than Jens Weidmann, the head of Germany's powerful Bundesbank and the bookies' favorite to succeed Draghi as ECB President when his seven-year term at euro headquarters in Frankfurt ends in 2019.
Should Weidmann ascend to the top of the ECB heap, he could quickly face a similar threat to the one Draghi faced in the early days of his own term in 2012: the meteoric rise of government bond yields as investors balk at funding an ungovernable economy that's sliding into its fourth recession in two decades.
Will he opt to use the untried OMT -- the very program he argued against -- in order to stabilize the region's financial stability (which his ECB mandate will demand)? Or will he opt to allow the markets to correct Italy's years of fiscal profligacy by imposing huge borrowing cost premiums?
Leaving it to the markets creates a huge risk for Italy's future: u-turning on the OMT creates an even bigger one for his own political future, given he'll be only 57 years old when he leaves the ECB and returns to Berlin if he does replace Draghi next year.
But the OMT has problems beyond its unpopularity in Berlin.
"Mechanisms to save the Euro such as the ESM or the OMT require a country to request financial assistance and agree to a programme - typically involving more austerity," said INGs' global head of strategy Chris Turner. "Needless to say, it's hard to see any Italian government signing off on any more austerity right now."
ItalExit?
That dilemma may be undercut by any M5S/Lega government, given that it mooted a referendum on membership in the single currency, according to leaked documents of its early administrative plans.
Others, however, including Lorenzo Codogno, an Italian economist and visiting professor at the London School of Economics, think a euro exit would likely not be decided by a public vote. 
Anti-euro theorists, who helped the coalition form its early draft ambitions, "have always strongly emphasised that the exit from the euro must be kept secret until the last moment," Codogno argued in an op-ed in Italy's Il Sole 24 Ore business daily.
"It must be decided by a cabinet of ministers when markets are closed, possibly over a weekend, to have the necessary time to approve the restrictive measures regarding access to bank deposits and ATMs, and restrictions on the movement of capital with foreign countries," he added.
As surreal as it seems, we may be one step closer to what will surely be the biggest test for the world's youngest major currency.