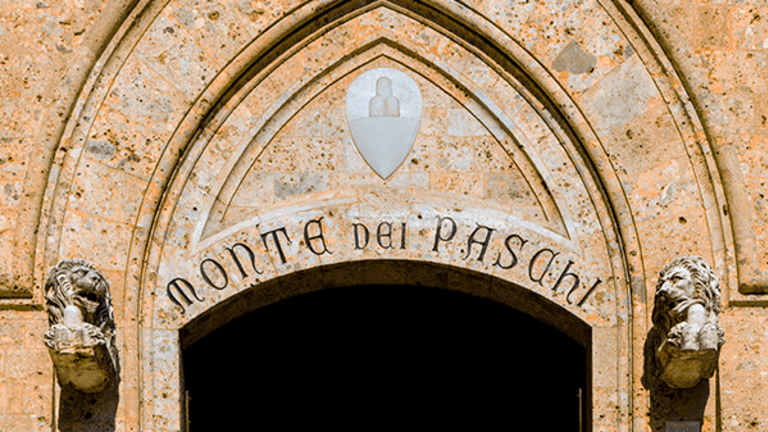 Italy's Bankruptcy Laws, Recovery Rates Hamper Monte dei Paschi Rescue
Corporate insolvencies can last more than two decades in Europe's third-largest economy, which is weighed down with $375 billion in bad debts.
Banca Monte dei Paschi di Siena's likely rescue by the Italian government has exposed significant weaknesses in the country's antiquated bankruptcy procedures and raised further concerns that its €360 billion in bad debts can be effectively managed. 
The failure to find a private-sector 'White Knight' for Italy's third-largest lender may also reflect the differences between its underlying assets and those of UniCredit (UNCFF) , which agreed to sell a "significant" portion of its €17.7 billion ($18.5 billion) bad loan portfolio to Fortress Investment Group (FIG)  earlier this week. 
UniCredit marked its debt at around 23 euro cents for every €1 in face value, compared to a reported 27 euro cent pricing at BMPS and a 43 euro cent average around the Italian banking system. A €15 billion cash call by UniCredit earlier this month will allow the country's biggest bank to absorb any mark-to-market hit from the sale while simultaneously slimming its balance and laying the groundwork for future profitability.
The aggressive pricing certainly puts pressure on BMPS, which hasn't been able to raise enough private capital to make its €27.7 billion in bad debts look more attractive and meet a Dec. 31 European Central Bank deadline. But it also underscores the fragility of loan books at both the world's oldest bank and its Italian peers.
Bank of Italy data indicates the financial system is lumbered with €360 billion in bad debts - around fifth of the outstanding total. Around 80% are corporate loans exposed to the real estate and construction sector. The central bank also says that €200 billion of the NPL total are known as 'sofferenze', or already in court insolvency proceedings.
And that might explain the difficulty in finding a buyer for BMPS.
Even with two major overhauls in the past five years, Italy's personal and business debt restructuring procedures remain painfully slow, with the average corporate bankruptcy lasting 7.8 years, according to data from Cerved Credit Management. 
In fact, around 25% of procedures currently being heard under Italian bankruptcy law - known as Concordato Preventivo - have lasted more than 11 years with a notable portion of those stretching into two decades. 
A Harvard Business School study of the impact of The Bankruptcy Abuse Prevention and Consumer Protection Act of 2005 show that the average Chapter 11 procedure takes 261 days.
Recovery rates, as well, are significantly higher in the U.S., which Moody's data pegs at 74% for non-financial corporate loans, nearly twice the rate estimated by the Bank of Italy in domestic insolvencies that eventually grind through the courts.
Italy's Ministry of Justice says preferred creditors recover around 29% of their assets in liquidations while unsecured creditors get little more than 6%.
Identifying future non-performing loans is tricky: the Italian Banking Code lets mortgage holders delay payments at least seven times and for between one and six months before a foreclosure can be launched and the Italian Banking Association's 'Piano famiglie' agreement compels members to consider suspending mortgage payments for struggling families.
Underlying collateral in mortgage loans isn't improving, either, with Eurostat data showing a 19.1% decline in the benchmark house price index since its late 2011 peak. 
As Italy's - and the world's - oldest lender, BMPS's loan book is likely replete with not only deteriorating mortgage loans, but corporate debts made over decades to the country's eroding industrial economy, which is littered with small and medium-sized firms which are often family-owned and controlled.
Italy's long economic decline, rising unemployment and shrinking population has corresponding pounded the value of collateral backing them.
UniCredit's long association with Fortress, however, and the latter's ownership of the country's biggest loan recovery platform, doBank, likely greased the wheels of it's bad debt sale.
Monte dei Paschi  - and the entire Italian banking system - has a much steeper mountain to climb.