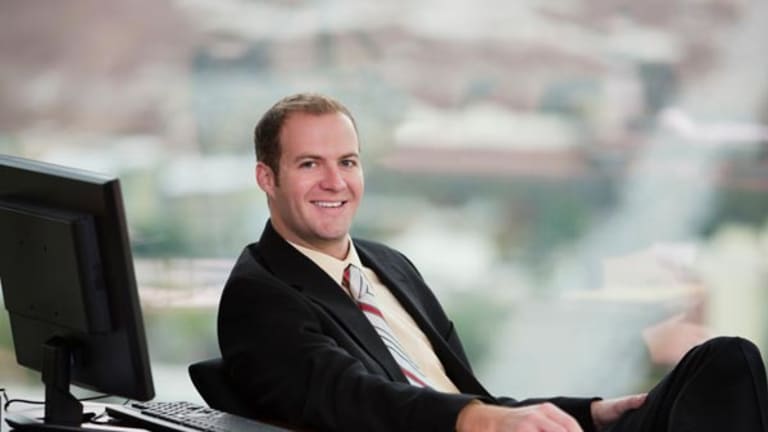 It May Be Time to Put Money to Work
More stocks are beginning to swing back up toward their 40-day moving averages.
This column was originally published on RealMoney on June 2 at 12:00 p.m. EDT. It's being republished as a bonus for TheStreet.com readers.
After a breathtaking free fall, followed by an impressive snapback advance this week, it's a bit difficult to have any trust in this market. Will the advance continue, or is this just a sucker's rally? As I noted Thursday, time frame is a key component of market analysis, and short time frames are best analyzed via technical analysis.
The fundamentals haven't changed from last week. What has changed is the relative position of the collective crowd with respect to cash vs. equities and profits vs. losses. Three weeks ago, the crowd couldn't get long enough because everything was moving in a positive (and profitable) direction. But that quickly morphed into the opposite sentiment -- you couldn't get short enough quick enough. At the very least, you felt torn as you unloaded some stocks at lower levels than anticipated.
But this week's advance has brought us to yet another curve in the road, and many underinvested traders are wondering if it's safe to go back into the water. The rapidity with which sentiment has shifted has created quite an emotional storm. I doubt that this storm will simply dissipate without additional pain.
One method I use to cut through this type of confusion is to look at where most stocks are in relation to their moving averages. Extreme levels are quite informative, because they are, by definition, out of the normal ranges. Let's look at the T2108 breadth indicator from Don Worden's TC2005 software.
The indicator tracks the percentage of stocks above their 40-day moving average. I consider readings below 20% to be extreme. The relative aggressiveness of buyers and sellers causes price movement. The only way 80% of stocks can fall below their 40-day moving averages is if they are subjected to persistent selling pressure.
This type of pressure doesn't last very long. Once those who were anxious to sell have finally exchanged their stock for cash, they have nothing left to sell. At that point, stocks begin rising. Those who want to buy can't find aggressive sellers, so they must pay up to buy stock from more patient shareholders, who require a better deal for their stock.
Simply put, sellers demand more money for their stock.
Look at the chart above. Each time the T2108 indicator drops below 20%, the
S&P 500
begins a strong advance. The aggressive sellers have sold, so stocks begin rising of their own accord.
And as with most things, timing is everything. Concurrent with each low in the T2108 chart, there have been a number of false starts. Last October, dip buyers had to hold through several tests of support before the index finally began moving higher. But once T2108 had advanced back to 30% or higher, much of the risk was wrung out of the market and an uptrend asserted itself.
That's where we are now, so I'd be biased towards putting money to work. But I'd also apply a heavy dose of discipline, because the anxiety felt by those who are long and losing is probably greater than you think. They'll be happy to get their money back at close to break-even level, so take things one day at a time. For now, I'm treating this rally as an inevitable byproduct of a vicious selloff.
Let's look at a few stocks that might benefit from this rally.
Wednesday's low in
Thor Industries
(THO) - Get Thor Industries Inc. Report
was higher than the previous low in late May; based on Thursday's higher high, I'd be a buyer now. However, I'd keep a pretty tight stop.
I've highlighted the long
price-by-volume bar, which indicates a large amount of churning at the $51 level. As such, we can expect the stock to take a bit of time to chew through the supply created by March and April buyers who just want to get their money back.
Denbury Resources
(DNR) - Get Denbury Resources Inc. Report
continues to move higher in a multiyear uptrend. Last week, the stock offered a great chance to buy right at the middle Bollinger band. Even now, Denbury isn't too far from support to start scaling in.
InfoSonics
( IFO) has run from $10 up to $30 in about six weeks. This cell-phone distributor is shifting its focus to Latin America, and it seems to be a pretty good move, don't you think? The float is just 3.5 million shares. Institutions hold only 13.5%; another 74% is held by insiders. That presents some difficulty for those who want to take in a sizeable amount of shares. By the looks of the volume accompanying this rocket ship, I don't think the advance is done.
Diodes
(DIOD) - Get Diodes Incorporated Report
got a 25% haircut over the last month or so. This week, however, the stock gapped higher and appears poised for a textbook reversal pattern. The weekly uptrend is still intact, despite the heavy volume accompanying the recent decline. This type of snapback will typically occur only if the sellers have all been flushed out in the decline. If you're a buyer, consider keeping a stop just below the recent low.
Rofin-Sinar Technologies
(RSTI)
is at a fairly low-risk buy point on its weekly chart. The uptrend is defined by the middle Bollinger band, which is just a couple of points below the current price. This relatively low level allows for placement of a pretty tight stop.
Be careful out there.
P.S. from TheStreet.com Editor-in-Chief, Dave Morrow:
It's always been my opinion that it pays to have more -- not fewer -- expert market views and analyses when you're making investing or trading decisions. That's why I recommend you take advantage of our
to TheStreet.com's
RealMoney
premium Web site, where you'll get in-depth commentary
and
money-making strategies from over 50 Wall Street pros, including Jim Cramer. Take my advice --
Please note that due to factors including low market capitalization and/or insufficient public float, we consider InfoSonics to be a small-cap stock. You should be aware that such stocks are subject to more risk than stocks of larger companies, including greater volatility, lower liquidity and less publicly available information, and that postings such as this one can have an effect on their stock prices.
Dan Fitzpatrick is a freelance writer and trading consultant who trades for his own account in Encinitas, Calif. He is a former co-manager of a hedge fund and teaches seminars on technical analysis, options trading and asset-protection strategies for traders and business owners. Fitzpatrick graduated from the McGeorge School of Law and was a fellow at the Pacific Legal Foundation, a nonprofit public interest firm specializing in constitutional law. He also practiced law in the private sector before pursuing trading as a full-time career. Under no circumstances does the information in this column represent a recommendation to buy or sell stocks. While Fitzpatrick cannot provide investment advice or recommendations, he appreciates your feedback;
to send him an email.