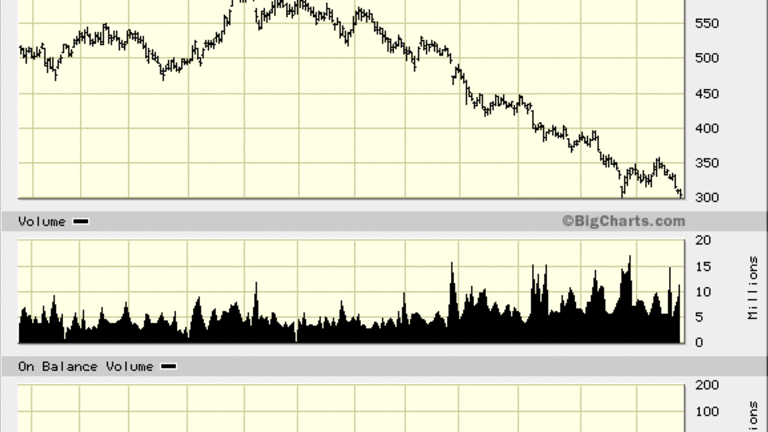 Is Tata Motors Stock About to Stall? Chart Shows Steep 20% Decline
The bears are firmly in control of Tata Motors.
The bears are firmly in control of Tata Motors.
NEW YORK (TheStreet) -- In light of the Volkswagen debacle, we decided to take a global look at automobile manufacturers in the U.S., Europe and Asia. After spinning the globe, our eyes settled on Tata Motors because it has declined to a critical chart juncture.
In this chart of Tata Motors, above (TAMO.BO as listed on the Bombay Stock Exchange in India), it took five years for this stock to reach 600 Indian rupees (INR) but less than one year to be cut in half! There is a lot of chart support in the 300 INR to 200 INR area, but the rapid year-to-date decline could scare away all but the most hearty buyers.
This shorter-term chart, above, shows an orderly decline since February. Prices have bounced off 300 INR but sellers returned at 350 INR, maintaining the downtrend. Look at the middle panel, above, with the volume. Notice the heavier pace of trading since June. Sellers continue to press the downside and selling has not dried up at 300 INR to suggest the bears are exhausted.
With the sellers/bears firmly in control, a deeper decline halfway into the 300-200 INR support zone is what I would expect next from TATA.