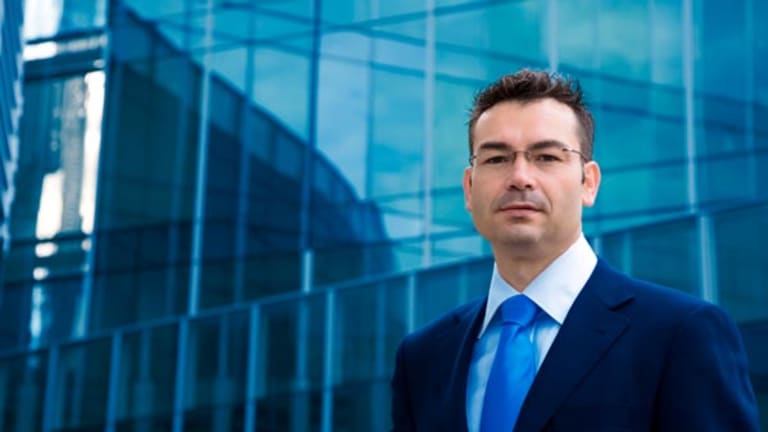 Is It Right to Bash Buffett?
If you can't keep up with Buffett, don't claim to be on his team.
This column was originally published on RealMoney on Dec. 13 at 1 p.m. EST. It's being republished as a bonus for TheStreet.com readers. For more information about subscribing to RealMoney, please click here.
Earlier this month, Morningstar published an article that didn't quite bash Warren Buffett's investment strategy, but the title gives an idea of its tenor: "Tough Times for Buffettology." The article focuses not on Buffett himself but on his strategy as used by various mutual funds, and how poorly these funds have done during the past three years.
This article made me wonder if people are truly questioning Buffett's grasp of the current market and how well his strategy might do from now going forward. I'm not going to speak for fund managers who say they emulate Buffett's strategy. But I have followed Buffett for years, and as readers of this column know well, I use a strategy to pick stocks that is based on a book by Buffett's former daughter-in-law, Mary Buffett, called
Buffettology.
While others say they follow Buffett, I sometimes wonder. The Morningstar article, which was published Dec. 6, 2006, looked at five funds that say they use Buffett's approach:
(WVALX) - Get Weitz Value Investor Report
Weitz Value, Torray, Oak Value, Legg Mason Growth and
(CAAPX) - Get Ariel Appreciation Fund Inv Report
Ariel Appreciation.
It reports that while each finished in the top quartile of their respective categories in the 10-year period ending Oct. 31, 2006, each was in the bottom 15% of its category over the trailing three-year period, which roughly parallels the three years we've been following our Buffett strategy.
I believe the strategy I use does an excellent job emulating Buffett's strategy, and there is no reason why following Buffett the past three years should have been a downer. Since we started using the Buffett strategy on Dec. 5, 2003, it has returned 55.8% vs. 33.1% for the
S&P 500
. Annualized, that's 15.9% for our Buffett portfolio vs. 10.0% for the S&P 500.
Buffett himself, as measured by the performance of his investment vehicle,
Berkshire Hathaway
(BRKA)
, has returned 49.3% since mid-2003, a bit less than our Buffett strategy's performance of 55.8%, but pretty damn close.
Further, my Buffett strategy has, whether by luck or design (you decide), been able to target companies that subsequently join Berkshire's portfolio of investments. Last year in columns I wrote for
MSN MoneyCentral
, I wrote about
Anheuser-Busch
(BUD) - Get Anheuser-Busch InBev SA/NV Report
,
Wal-Mart
(WMT) - Get Walmart Inc. Report
and
Home Depot
(HD) - Get Home Depot, Inc. Report
before it was disclosed that Buffett and Berkshire were scooping up shares of these companies. Additionally, I wrote about
Johnson & Johnson
(JNJ) - Get Johnson & Johnson Report
prior to it being publicly revealed that Berkshire was heavily re-accumulating shares in the drug giant.
I identified these stock picks and tracked the Buffett portfolio's return through Validea.com, which is my premium investment research Web site.
Don't get me wrong. I'm not claiming I can consistently predict what Buffett will buy in the future. I'm just pointing out that my picks, on more than one occasion, have presaged his picks. And the performance of my Buffett-based strategy closely mirrors Berkshire's performance. When you read of someone saying they follow Buffett's strategy but saying they haven't done well, I suggest questioning just how closely that investor is emulating Buffett.
What Forms the Buffett Strategy
Three overriding factors inform this strategy. One is the company's position in its market. To be a "Buffett-type company," it must have a "durable competitive advantage," rather than being in a price-competitive or commodity-type business. The company should have an edge -- pricing power -- over the competition. Such an edge can come from name brands, patents, a great corporate name, a cost-competitive advantage and the like. In a moment, I'll talk about some stocks this strategy likes, and you'll see illustrations of Buffett-type companies.
Once a company is deemed to have a durable competitive advantage, it must show it is strong financially. This includes having predictable earnings growth (EPS increases every year for the past 10 years), conservative financing (debt must be able to be paid from earnings in two years or less), a consistently higher-than-average return on equity, a consistently higher-than-average return on total capital (net earnings divided by total capital), positive free cash flow per share and a good return on retained earnings.
It is not enough that a company have a dominant market position and is doing well financially. There is a third factor to consider: a favorably priced stock. If the stock is too pricey, it will be hard to make a good profit, and that is why analyzing the price is so important for this strategy.
Two ways of analyzing a stock's price are used -- one based on return on equity and the other on EPS growth. They are averaged, and the final number indicates the rate of return an investor can expect when buying the stock. This expected rate of return should usually be about 15% or higher. If it is, the stock is a buy; if not, the stock is not worth the investment risk, because, although the company may be great, its price already reflects the quality of the company, and it will be hard to make a decent profit on the stock.
Buffett-Like Stocks
I just checked the strategy, and what do you know? It still likes Johnson & Johnson and retailers Home Depot and Wal-Mart. Another stock still in favor is software publisher SAP, which I wrote about in this column
last month. Two additional stocks it favors:
Abercrombie & Fitch
(ANF) - Get Abercrombie & Fitch Co. Class A Report
and
Capital One Financial
(COF) - Get Capital One Financial Corporation Report
.
I think all of these stocks I just mentioned closely hew to the way Buffett picks investments. They are all strong companies with stock prices currently low enough to make an attractive return over the long term and worthy of being in anyone's portfolio, including Buffett's.
At the time of publication, Reese was long Home Depot, Wal-Mart, Abercrombie & Fitch, Capital One Financial and Johnson & Johnson although holdings can change at any time.
John P. Reese is founder and CEO of
, an investment research firm, and
, an asset management firm serving affluent investors and companies. He is also co-author of the best-selling book,
The Market Gurus: Stock Investing Strategies You Can Use From Wall Street's Best
. Under no circumstances does the information in this column represent a recommendation to buy or sell stocks. Reese appreciates your feedback.
to send him an email.
TheStreet.com has a revenue-sharing relationship with Amazon.com under which it receives a portion of the revenue from Amazon purchases by customers directed there from TheStreet.com.