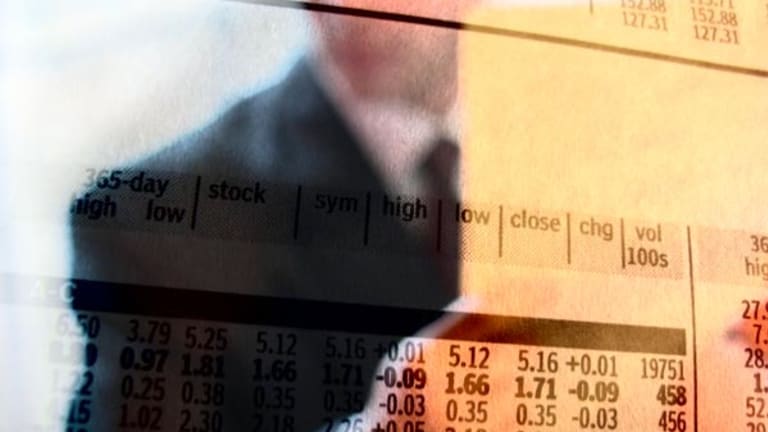 Europe, QE2 Worries to Dominate in Week Ahead
Investors will see a flurry of economic reports in the week ahead, but events in Europe and worries about QE2 likely will determine market sentiment.
Updated from 11/20/2010
Updated with news that EU ministers have approved a bailout package for debt-strapped Ireland.
NEW YORK (
) -- The coming week will be a short one, because of the Thanksgiving holiday, but it may not be a quiet one.
Investors will have a flurry of economic reports to digest, including revised estimates for third-quarter GDP, personal income and spending data, fresh news on home sales and the weekly jobless claims number in the early part of the week.
Still, resurgent concerns about European financial stability and continuing worries over the effectiveness of QE2 likely will dominate investor sentiment.
Stocks finished flat for the week on Friday, as debt problems in Ireland raised their ugly head once more.
After hectic negotiations,
Ireland Sunday appealed for a loan from the European Union and IMF
to help deal with those problems.
EU finance ministers quickly agreed to the bailout, hoping it will ensure stability in the eurozone, according to the
Associated Press
.
Commodities and commodity stocks took a drubbing as China took steps to cool its spiraling inflation. On Friday, China's central bank raised the reserve requirement for banks by 50 basis points.
> > Bull or Bear? Vote in Our Poll
Meanwhile, 10-year Treasury yields unexpectedly climbed over the week, sparking concerns that the
Federal Reserve's
second round of quantitative easing -- QE2 -- was not working.
Paul Ballew, chief economist at Nationwide and an adviser to the Fed, expects markets to remain choppy well into 2011 as the environment remains challenging. "This is an uncertain recovery with a lot of weight on its back," said Ballew, pointing to imbalances in U.S. and Europe and contractionary measures in emerging markets.
In the weeks ahead, Ballew says problems in Europe could continue to be the focus of the markets. "There is the dilemma of the other shoe drop," he said. Problems in Ireland could well segue into Portugal. Everything depends, he said, upon Europe's ability to instill confidence that there will not be a contagion or spillover effect.
Ballew also noted that problems in Greece and Spain would be more bad news compared with Ireland. "Spain is much more of a lynchpin just because of its size," he said.
The market's response to QE2 may also overshadow economic reports. The Fed has been criticized internationally for artificially driving down the value of the dollar through quantitative easing. In the U.S., markets have been concerned that the Fed's drive to pump liquidity into the markets could create asset bubbles in emerging markets and too much inflation.
Ten-year Treasury yields climbed to nearly 2.9% last week from lows of about 2.5% before the move, defying the Fed's efforts to keep long-term interest rates low.
Recent data have pointed to subdued inflation, but Ballew says retail inflation is not the problem. "I am not worried about retail inflation. There is enough slack in the economy
to keep consumer prices from rising," he said. "When the Fed is aggressive from a liquidity standpoint, it is not just about retail inflation ... it is about asset bubbles, the movement of the dollar and its impact on commodities."
Ballew says the Fed's ability to manage expectations will be key in the coming week. "Monetary policy is half real action, half expectations," he said. "The Fed has to convey that it will be responsible in its action, that it is thinking about commodities and the dollar."
On Friday Fed Chairman Ben Bernanke strongly defended QE2, laying the blame for global trade imbalances on countries with huge trade surpluses that insist on export-driven growth.
Other Fed officials have spoken about the effectiveness of quantitative easing. They include Philadelphia Fed President Charles Plosser, who was among the hawkish officials more opposed to QE2 and will be an FOMC voting member in 2011.
In an interview with
Bloomberg Television
Plosser said it was too early to assume that the Fed will fully go through with its $600 billion asset purchase program. "A lot will depend on how the data begin to unfold over the next several months as to whether or not we think it's necessary, whether the efficacy of the policy is doing what we thought it would do, whether we continue to think it's necessary," he told
Bloomberg
. He also said it was too early to read much into trends such as the rise in Treasury yields.
Analysts do not expect further aggressive action from China in the near term, so concerns on that front may deflate in the coming week.
Any sharp deviations in the economic reports would of course hurt sentiment. "We are in one of those periods between earnings, where the economic report of the day rules earnings," said Peter Tuz of Chase Investment Counsel.
Tuz says he will watch out for news stories on the run up to "Black Friday" and expects reports on retailer performance and consumer spending would likely guide market action towards the end of the week.
Tuesday and Wednesday will be heavy days for economic reports. The Commerce Department will announce its second estimate for GDP for the third quarter. Economists expect the revised estimate to come in at 2.4%, higher than the advance estimate of 2%, according to consensus estimates from
Briefing.com
.
At 10.a.m. EST, the National Association of Home Realtors will release the existing-home sales report for October. Existing-home sales are expected to drop to a 4.42 million unit annual rate from a 4.53 million unit pace in the previous month.
The weekly jobless claims report will be out a day early on Wednesday, because Thanksgiving is on Thursday. The number of Americans claiming unemployment benefits is expected to rise to 442,000 in the week ending Nov. 20. The report may gain focus as Congress discusses the issue of extension of the federally funded extended unemployment benefits, due to expire at the end of the month. Over 4.5 million people currently are taking advantage of extended unemployment benefits.
Personal income and spending data likely will remain subdued, registering increases of 0.4% and 0.5%, respectively. Durable goods orders -- excluding the volatile transportation sector -- are forecast to have risen 0.4% in October after dropping 0.8% in September.
Sales of new homes in October are projected to have increased to an annual unit rate of 312,000, compared with September's 307,000 pace.
Earnings reports of note include
Tyson Foods
(TSN) - Get Tyson Foods Inc. Report
,
Hewlett Packard
,
Medtronic
(MDT) - Get Medtronic plc. Report
, retailers
J.Crew
(JCG)
and
Guess?
(GES) - Get Guess? Inc. Report
and
Deere
(DE) - Get Deere & Company Report
.
--Written by Shanthi Bharatwaj in New York
>To contact the writer of this article, click here:
Shanthi Venkataraman
.
>To follow the writer on Twitter, go to
.
>To submit a news tip, send an email to:
.
Disclosure: TheStreet's editorial policy prohibits staff editors and reporters from holding positions in any individual stocks.