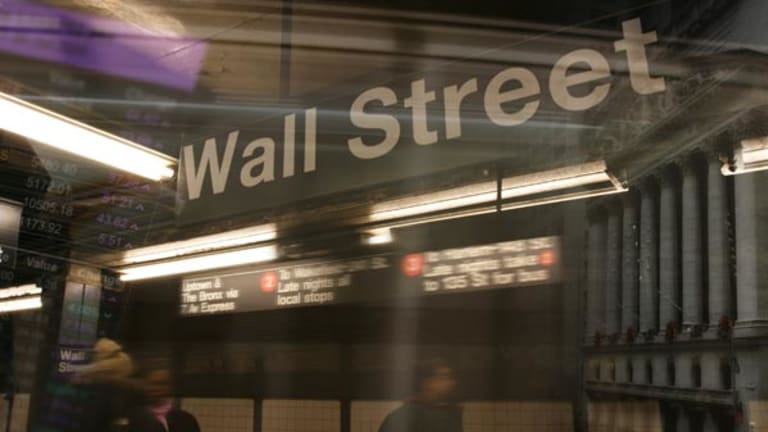 Iraq Lifts Stocks
Another round of M&A also adds to gains.
Updated from 4:08 p.m. EST
Tech stocks on Monday led a broad market celebration of the Iraqi elections amid another flurry of merger news as the indices ended a down month on an up note.
The
Dow Jones Industrial Average
added 62.74 points, or 0.6%, to 10,489.94; the
S&P 500
was higher by 9.94 points, or 0.85%, to 1181.27; and the
Nasdaq
rose 26.58 points, or 1.3%, to 2062.41. All three indices last week posted their first weekly gains of the year.
"This was an impressive gain today because the market was able to hold onto the early jump higher," said Ken Tower, chief market strategist with CyberTrader. "The S&P and Nasdaq are acting better than the Dow in that they spent the entire day above all of last week's trading action. So I think we began to see some better market action and it's confirming that we're in some sort of trading range market, if not a full-fledged uptrend yet."
Volume on the
New York Stock Exchange
was 1.68 billion shares, with advancers beating decliners by a ratio of 13-to-4. Volume on the Nasdaq was 1.82 billion shares, with advancers outpacing decliners 23-to-9.
For the month, the Dow lost 2.7%, the S&P 500 slid 2.5%, and the Nasdaq was down about 5.2%. All three major indices have posted January losses in three out of the past four years.
In other markets, the 10-year Treasury note was up 2/32 to yield 4.13% on the eve of a
Federal Reserve
meeting, while the dollar was higher against the yen and euro.
Oil reversed early losses even though OPEC held output quotas steady at 27 million barrels a day at a meeting held yesterday. The March crude contract closed up $1.02 to $48.20 in Nymex trading.
"Since the merger news started Friday, things have been good, especially with the peaceful election and oil prices staying down," said Jay Suskind, head of institutional equity trading with Ryan Beck & Co. "The market is on a relief rally since the election news. I see the market continuning on this trek, leading into the Fed meeting and the important nonfarming payroll numbers Friday."
Ballots continue to be counted in Iraq, where election officials estimate that more than half the eligible voters took part in parliamentary elections on Sunday. Though more than 40 people were estimated killed in election day violence, U.S. officials hailed the vote as a success in speeding the country's progress toward sovereignty.
"A lot of the January hesitancy was ahead of the weekend's Iraqi election and the OPEC decision," said Larry Wachtel, senior market analyst with Wachovia Securities. "Now that we've got a better feeling about these things, hopefully we'll have some buying power, and things won't be so stagnant."
Monday's corporate news was dominated by mergers and acquisitions, with
SBC Communications
(SBC)
agreeing to acquire
AT&T
for about $16 billion, mostly in stock. Total consideration in the deal is roughly $19.71 per AT&T share, equal to its Friday close and a 7% premium to the stock's level before the merger was reported. SBC rose 14 cents Monday, or 0.6%, to $23.76, while AT&T fell 52 cents, or 2.6%, to $19.19.
MetLife
(MET) - Get MetLife Inc. Report
agreed to acquire the Travelers Life unit of
Citigroup
(C) - Get Citigroup Inc. Report
for about $11.5 billion. Citigroup merged with Travelers and its Salomon Brothers unit in 1998 but has failed to unlock synergies with the insurance business, and it sold Travelers Property and Casualty to
St. Paul
(STA)
last year. MetLife lost 19 cents, or 0.5%, to $39.75.
Eastman Kodak
(EK)
has agreed to acquire
Creo
(CREO)
, a supplier of systems for commercial printers, for $980 million in cash, or $16.50 a share. The purchase is expected to boost Kodak's 2006 earnings by 5 cents a share. Kodak added 39 cents, or 1.2%, to $33.09, while Creo rose $1.82, or 12.7%, to $16.18.
In economic news, the Chicago purchasing managers index rose to 62.4 in January. A reading of 59.8 was expected, following the previous month's 61.2. In addition, the government said personal income for December rose 3.7%, mostly due to a one-time $32 billion dividend payment from
Microsoft
(MSFT) - Get Microsoft Corporation Report
. Consumer spending increased by 0.8%, matching economists' expectations.
The Commerce Department reported that December new-home sales were largely unchanged, up 0.1% to 1.098 million from November's revised 1.097 million. Economists had expected a rebound in new-ome sales to 1.20 million after November's large decline. For all of 2004, sales increased 8.9% to a record 1.183 million from 2003.
XM Satellite
(XMSR)
saw its shares downgraded to neutral from outperform at J.P. Morgan on Monday. XM probably will report higher customer-acquisition and content costs when it releases earnings next week, the brokerage argued. J.P. Morgan says the long-term prospects for satellite radio, which is dominated by XM and
Sirius
(SIRI) - Get Sirius XM Holdings Inc. Report
, continue to be good. Shares of XM still managed to gain 14 cents, or 0.4%, to $31.91.
In earnings news,
ExxonMobil
(XOM) - Get Exxon Mobil Corporation Report
reported fourth-quarter earnings of $8.42 billion, or $1.30 a share, the best quarter in the company's history. The company easily beat the Thomson First Call consensus of $1.07 a share. Revenue for the quarter was $83.4 billion, up from $65.9 billion a year ago, a 25% increase year over year. ExxonMobil added 33 cents, or 0.6%, to $51.60.
Toymaker
Mattel
(MAT) - Get Mattel Inc. Report
said fourth-quarter profits rose 33% from a year ago to $284 million, or 68 cents a share, thanks to a tax gain. Revenue rose 6% to $1.85 billion. Analysts had forecast earnings of 48 cents a share before the $65 million gain, an estimate that looks roughly in line with the result. Mattel rose $1.10, or 6%, to $19.45.
Wal-Mart
(WMT) - Get Walmart Inc. Report
tempered its sales outlook for January, predicting same-store results that are up just 2.5% from a year ago. The number is toward the low end of its previous 2% to 4% same-store sales-growth range, reflecting the impact of winter storms in the Northeast. Wal-Mart dipped 3 cents, or 0.06%, to $52.40.
Tyson Foods
(TSN) - Get Tyson Foods Inc. Report
reported first-quarter earnings of $48 million, or 14 cents a share, down 16% from $57 million, or 16 cents, a year ago. Earnings included a gain of 3 cents a share related to litigation and an asset sale. Sales were $6.45 billion compared with $6.51 a year ago. Analysts surveyed by Thomson First Call were expecting earnings of 25 cents a share on sales of $6.69 billion. Tyson dropped 58 cents, or 3.3%, to $17.17.
In analyst action, Legg Mason issued three upgrades for soft-drink companies on Monday. The broker raised
Pepsi Bottling
(PBG)
,
Coca-Cola
(CCE)
and
Cott
(COT) - Get Cott Corporation Report
to buy, citing improved outlook and valuation. CIBC, however, cut its rating for Cott to sector perform. Shares of Cott gained 55 cents, or 2.3%, to $24.25, Coca-Cola was rose 25 cents, or 1.1%, to $21.95, and Pepsi Bottling finished up 49 cents, or 1.8%, to $27.35.
Raymond James upgraded
VeriSign
(VRSN) - Get VeriSign Inc. Report
to a strong buy from outperform, citing healthy performance for the next few quarters. VeriSign added 25 cents, or 1%, to $25.84.
A.G. Edwards cut its rating for
Gillette
(G) - Get Genpact Limited Report
to hold, while UBS removed the company from its Select 20 list after finding limited upside to Gillette after its proposed acquisition by
Procter & Gamble
(PG) - Get Procter & Gamble Company (The) Report
. Shares of Gillette lost 88 cents, or 1.7%, to $50.72.
Looking ahead, to Tuesday, the FOMC starts a two-day policy meeting with economists, expecting the panel to raise interest rates a quarter of a percentage point for the sixth time in eight months. Companies reporting earnings Tuesday include
General Motors
(GM) - Get General Motors Company Report
,
Ford
(F) - Get Ford Motor Company Report
, and
Google
(GOOG) - Get Alphabet Inc. Report
, which is expected to post a blockbuster fourth quarter.
"The big surprise would be if the Fed lays off or gives some signal that they're less worried about inflation than their minutes from the last meeting," added Tower. "If we had a lessening concern of inflation and a statement from the Fed maintaining a watchful eye rather than being nervous about it, then some of the pressure would come off the short-term rates."
Overseas markets finished higher, with London's FTSE 100 gaining 0.4% to 4852 and Germany's Xetra DAX adding 1.3% to 4254. In Asia, Japan's Nikkei rose 0.6% overnight to 11,388, while Hong Kong's Hang Seng gained 0.5% to 13,722.