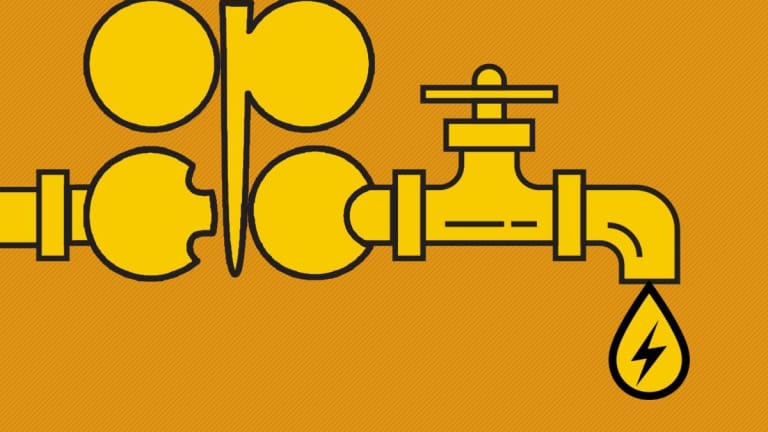 OPEC Deal Doesn't Boost Production Enough to Drive Down Crude, Gasoline Prices
OPEC agrees to target 100% compliance, which could lead to higher oil prices in the U.S.
OPEC's decision to target 100% compliance means the oil cartel and its allies likely won't boost production enough to drive down the price of crude, as recently demanded by U.S. President Donald Trump.
Crude futures rose, potentially heralding U.S. gasoline prices heading above an average of $3 a gallon this summer. 
The Organization of Petroleum Exporting Countries reached an agreement that restores the group's pact to its original levels after its historic deal in 2016 cut production by 1.8 million barrels per day. The new deal, which will go into effect as of July 1, did not specify how much each country would increase production, but infers a tightening of compliance from 152% in May to 100%.
"We did not mention a number, but you can do the math," OPEC president and UAE Energy Minister Suhail Al Mazrouei said during the group's press conference. "The (official report) recognizes the difference between compliance and where we are today is about 1 million barrels, but we did not target that number, we targeted 100% compliance."
A 1 million barrel-per-day increase would wind up equally about a 600,000- to 700,000 barrel-per-day rise as some members of the group lack spare capacity to ramp up production, according to analysts at KLR Group, Credit Suisse and Simmons & Co.
"Today was clearly a win for Iran, Iraq, and Venezuela, all of whom did not want to increase official production, especially as long as Saudi Arabia was over-complying," said Ashley Petersen, a senior oil market analyst at energy consulting firm Stratas Advisors.
"Some of the chatter we're already hearing around what the exact allocation per country is going to be is fairly irrelevant," Petersen said. "We know what countries were over-complying, and we know what countries would have trouble even meeting the allocation they've been given, it's a pretty simple deduction of what countries will be increasing production."
Output from Iran and Venezuela has declined recently as Venezuela's geopolitical and economic situation deteriorates and U.S. sanctions against Iran crippled production, which means Saudi Arabia might be forced to pump more oil to meet 100% compliance.
"With the IEA warning last week that Iran sanctions and Venezuelan production shut-ins will see a 'supply gap' of 1.5 million barrels per day by 2019 and the likelihood of further losses of replacement oil due to years of undercapitalization, look to speculators doing the math and energy prices rising, just in time for July 4," said Dan McTeague, a senior petroleum analyst at GasBuddy, a firm that monitors gasoline pricing, referring to a peak driving season in the U.S.
Global benchmark Brent crude futures for August delivery rose 3.6% to $75.68 at 4 p.m. New York time. West Texas Intermediate, the U.S. benchmark, jumped 5.6% to $75.68.
The agreement is "definitely going to be bullish on gasoline prices" because adding "a mere 600,000-barrel rise in crude output may do little to quench the ever-increasing thrust for oil," according to McTeague.
"We could see prices over $3 a gallon at points this summer," said McTeague. The current national average for gasoline prices is $2.89 a gallon.
This news may disappoint President Donald Trump who said in a Tweet that he hopes "OPEC will increase output substantially. Need to keep prices down!"
OPEC and non-OPEC members are scheduled to meet on Saturday, which "is now believed to be the basis for a super-OPEC in which 25 oil producing nations, representing over half of the world's producers could have greater sway in achieving a balance of interests, including producers, consumers and markets," said McTeague.
"If such formalization occurs, energy prices are likely to advance even further than what is transpiring now," McTeague said.