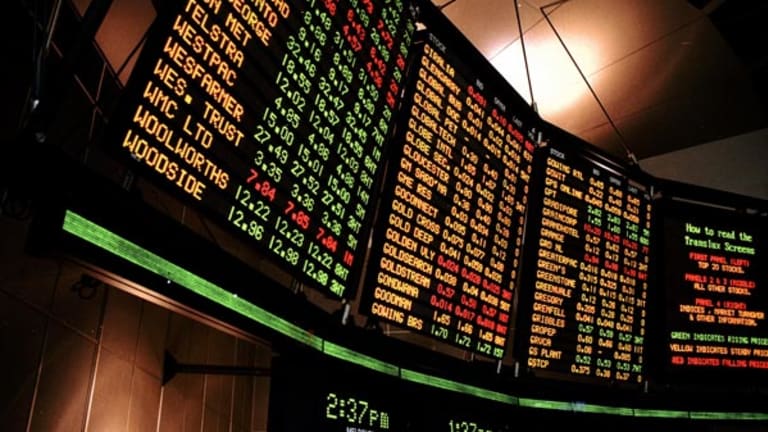 IRA Investing: Market Indicators Weaken
That makes a higher cash position look smart here.
This column was originally published on RealMoney on May 23 at 2 p.m. EDT. It's being republished as a bonus for TheStreet.com readers. For more information about subscribing to RealMoney, please click here.
Just on the heels of
my praise for the internal strength of the market, the indicator I presented (the advance/decline line) exhibited a negative divergence last week.
Even though the market averages were up strongly, there were more stocks declining than advancing for the week.
So far, this is only a one-week phenomenon, but it certainly bears watching.
Indicators Weaken
I still view the long-term market outlook as bullish, but there has been some further deterioration in the indicators that I use to forecast intermediate-term (two- to six-month) market moves.
I've only got one bullish indicator left, and it has declined from very bullish territory.
Let's look at it now.
Below is a five-year chart of the
(black) and a 10-week moving average of put volume divided by call volume (red). The green lines relate to the three-year average of this indicator and its standard deviations.
PUT/CALL RATIO VS. S&P 500
Source: TheAstuteInvestor.com
These volume figures include options on the indices, so, as buying puts on the averages has gained popularity, there has been an upward trend in this indicator. After a surge in put-buying related to the March decline in the market, this ratio has now subsided to a level that is still positive but just marginally so. Also, the direction of the indicator is clearly down, and it will fall into neutral territory soon if the market holds up.
With only one indicator bullish and two indicators neutral, my cash target has been raised to 8%. The actual cash position in my IRA was 7.1% at the end of last week.
A TBS International Adventure
Last week was the rebalance date for the five stock screens I have been using since last October. This rebalancing is a monthly screen that changes a few parameters in my main screen. Specifically, instead of relative strength benchmarks, I require that stocks be within 7.5% of their 52-week high. I also require that the ratio of average 10-day volume to average three-month volume be as high as possible.
Interestingly, one of the stocks that I had owned in this screen was
TBS International
undefined
. This particular company was due to report earnings last week on the day before I was to rebalance my screen. Usually, I wouldn't let this fact affect my actions, but I had a large gain in the stock and felt some insurance might be warranted, so I sold the stock a day early and waited for earnings.
As is usually the case when I try to second-guess short-term stock market action, earnings turned out to be great, and the stock just continued to move higher. Making things even more complicated, TBS had now qualified for my main screen as a buy, so I bought the stock back the next day for about 3% more than my sale price. Fortunately, the stock has continued to work its way higher.
TBS is a shipping company. Shipping rates have been quite strong recently, and this industry has been one of the best-performing stock market groups. My concern with the recently reported TBS quarter was that the company is undergoing a major drydock and vessel upgrade program. I was worried that increased drydock days might lead to earnings problems.
Indeed, drydock days more than doubled in the quarter from 94 to 212. But rates were so strong that revenue increased 11% and EBITDA was up 43.5%. The future looks bright as well, because this rehab program will start to wind down later in the year, and earnings should benefit well into 2008.
With increasing international trade, it doesn't seem likely that shipping rates are in for a major decline. In terms of valuation, TBS sells at a 20% discount to the median company in the shipping industry, using the EV/EBITDA metric.
My other monthly screen sales were:
Sales and Purchases
My five stock purchases, to be held for the next month, were:
Finally, I also took a new position in
W-H Energy Services
(WHQ)
. This is a conventional oil services company that has benefited, along with the whole industry, from the substantial increase in the prices of oil and natural gas.
The company has had outstanding average annual revenue growth of 20% over the last five years and has managed to achieve a 16.5% return on assets. In terms of valuation, though, the company sells at a 17% discount to the industry median.
In order to provide funds for my purchases last week, I reduced my position in
Spyders
(SPY)
.
Portfolio Performance
In the table that follows, I list all my current IRA holdings:
Please note that due to factors including low market capitalization and/or insufficient public float, we consider American Dental Partners, Amerisafe, Cal-Maine Foods, Integramed America, New Frontier Media, Quadramed, TBS International, Boots & Coots, Nexstar Communications and Nova American Steel to be small-cap stocks. You should be aware that such stocks are subject to more risk than stocks of larger companies, including greater volatility, lower liquidity and less publicly available information, and that postings such as this one can have an effect on their stock prices.
At the time of publication, Moore was long American Dental Partners, Apria Healthcare, Ameriprise Financial, Amerisafe, Becton Dickinson, Buckeye Technologies, Cal-Maine Foods, CF Industries, Consolidated Graphics, O'Charleys, CGI Group, ,Integramed America, Kinetic Concepts, Methode Electronics, New Frontier Media, Quadramed, Scholastic, Sauer-Danfoss, S&P Depository Receipts, TBS International, Boots & Coots, W-H Energy Services, Warnaco Group, Crane, Gardner Denver, Nova Chemicals, PepsiAmericas and Teleflex, although positions may change at any time.
Richard Moore, CFA, has 40 years of experience in various facets of the investment business. He has been employed by banks, mutual funds and investment advisory organizations during his career and has also owned retail and service businesses. Under no circumstances does the information in this column represent a recommendation to buy or sell stocks. Moore appreciates your feedback;
to send him an email.