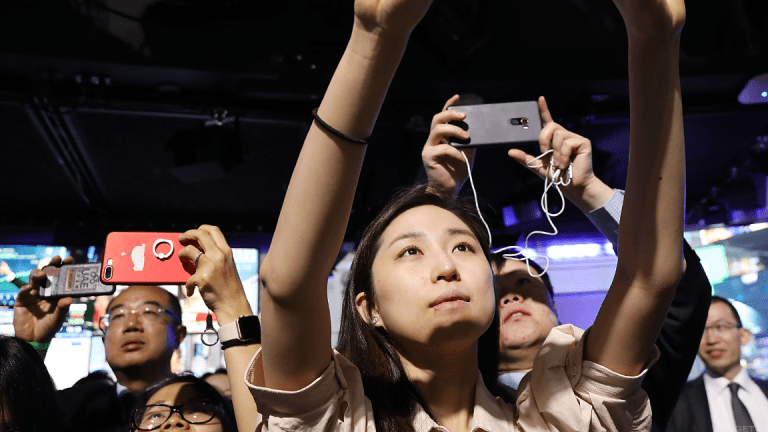 IQiyi, the Netflix of China, Marches Higher; Apple's WWDC, Fiat and More--ICYMI
Here's what you need to know for Monday, June 4.
Here's what you need to know for Monday, June 4.
IQ Test: Over the past few week you may have seen the ticker 'IQ' flash on your monitor or cell phone screen. It's one of the hottest stocks on Wall Street but one you may have no idea what it actually is. IQ is the ticker for iQiyi Inc. (IQ) - Get Report  , which for all intents and purposes is the Chinese version of Netflix (NFLX) - Get Report  . The company IPO'd on the Nasdaq on March 29, raising about $2.5 billion. It priced at $18 per share, right in the middle of its range, and has been on a tear ever since -- rising to $29.19 per share on Monday. Research firm China Renaissance Capital said just after the IPO that iQiyi was "the leader and innovator of original content among intense competition" in China. IQiyi, backed by Baidu -- China's Google (GOOGL) - Get Report  , is billing itself as a content company but it's as much a tech play. Among the company's initiatives is an artificial intelligence push that includes "building a casting database and casting auto-matching... automatic film editing, customized streaming... and creating innovative video-in/video-out ad formats," China Renaissance writes.
To be sure, Alibaba (BABA) - Get Report  and Tencent are looming in the world of content -- and just about all other facets of Chinese consumer tech -- and iQiyi's deal to stream content from Netflix isn't all that special. IQiyi competitor YouKu Toudu, which is backed by Alibaba, also has a deal with Netflix to stream some of its shows as the U.S. company hasn't penetrated the Chinese with its own platform. But iQiyi's growth prospects -- it's expected to double annual revenue from $2.4 billion to $5.7 billion by 2019 -- make it an intriguing company whether you're willing to put your money behind it or not.
Markets Today: Stocks rose on Monday, June 4, as stronger-than-expected jobs data from the U.S. overshadowed trade fears. The Dow Jones Industrial Average, S&P 500 and the Nasdaq all rose. Leading the Dow higher were Merck & Co. (MRK) - Get Report  , Walmart (WMT) - Get Report and Home Depot (HD) - Get Report  .
Apple's big day: Apple (AAPL) - Get Report  kicked off its Worldwide Developers Conference on Monday. CEO Tim Cook and Apple's executive team made announcements about the new iOS12, enhanced AR features, updated Apple apps and a new WatchOS.
Who's got the keys to the Jeep? Fiat Chrysler (FCAU) - Get Report  shares extended declines Monday as investors balked at the $52 billion in costs associated with the new five-year business strategy detailed last week by outgoing CEO Sergio Marchionne. Marchionne, who plans to leave the group in 2019 after 15 years at the helm, outlined plans to boot Jeep, Alfa Romeo and Maserati brand production over the next five years, good considering the lot -- plus Ram Trucks -- make up about 80% of the company's revenue. However, the $10 billion in costs associated with a long-term effort to invest in electric and hybrid cars, as well as plans to create a captive financing unit in the United States, has some investors concerned that the offsetting $11.7 billion in savings and cost cuts might not materialize as quickly under a new group CEO. That's just what an auto company needs in 2018, a financing arm, right 2008?
This is an excerpt from "In Case You Missed It," a daily newsletter brought to you by TheStreet. Sign up here.