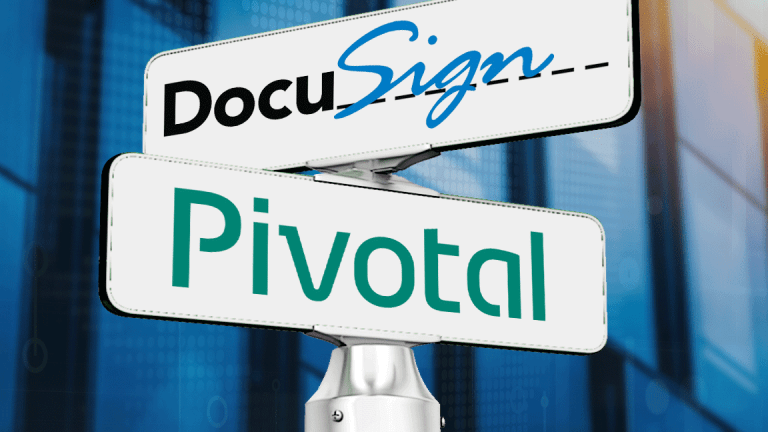 Two Enterprise Tech Companies That Look Poised for Strong IPOs
eSignature leader DocuSign and cloud app platform provider Pivotal Software look ready to join the list of enterprise tech firms to deliver robust debuts this year. DocuSign especially.
Though the IPO floodgates haven't quite opened up for consumer tech unicorns, they have for their enterprise tech counterparts.
This year has already seen web/cloud security software firm Zscaler (ZS) - Get Zscaler Inc. Report , subscription-management software firm Zuora (ZUO) - Get Zuora Inc. Class A Report and (with the qualifier that the company services both consumers and businesses) cloud storage giant Dropbox (DBX) - Get Dropbox Inc Report deliver strong IPOs. And several other enterprise software/services providers, confident that the waters are now safe to jump into, have filed to go public.
Here's a look at what are arguably the two most-well known firms in the group -- eSignature leader DocuSign and cloud app platform software provider Pivotal -- and why they appear set to join the companies mentioned above in seeing well-received IPOs. That's at least provided bankers don't get carried away when it comes to pricing the offerings.
DocuSign
Background: DocuSign has long been the top provider of subscription-based electronic signature (eSignature) software and services for SMBs and enterprises. The company has only one major enterprise rival -- Adobe's (ADBE) - Get Adobe Inc. Report Sign platform, formerly known as EchoSign -- and claims a large ecosystem of third-party apps and payment platforms that serves as a formidable moat.
DocuSign has also done a good job of crafting solutions tailored for verticals, including ones with strict security/compliance needs such as financial services, healthcare and government. The company claims over 370,000 clients, including over 30,000 that have 250 or more employees and over 200 that deliver an annual contract value (ACV) above $300,000.
The company plans to go public on the Nasdaq under the symbol DOCU. An IPO price range and date haven't yet been set. DocuSign's IPO filing can be found here.
Financials: Revenue, over 90% of which comes from subscriptions, grew 36% in fiscal 2018 (ended in January) to $518.5 million, and billings rose 39% to $599.1 million. A $52.3 million net loss was recorded, partly due to heavy sales spending, but that's 55% below what was recorded in fiscal 2017. And more importantly, DocuSign produced $36.1 million in free cash flow (FCF), after burning $48.1 million the year before.
Valuation/The Big Picture: DocuSign's IPO valuation will almost certainly be higher than the $3 billion valuation the company saw in a 2015 funding round. Markets tend to look favorably on fast-growing, cash flow-positive, market leaders with limited competition, large moats and plenty of headroom to profit from a big long-term trend (in this case, the replacement of paper-based signatures with eSignatures). With DocuSign likely to be closing in on $1 billion in billings next year, its post-IPO valuation could be well above $5 billion.
Pivotal Software
Background: Pivotal offers a popular distribution of the Cloud Foundry cloud app platform (PaaS), which is used by legions of developers to build and run apps on both private clouds and public cloud infrastructures. It also claims a healthy ecosystem of third-party apps, developer tools and cloud services that work with Cloud Foundry.
Pivotal's product line also covers the Spring Java app development platform and a distribution of the analytics-focused Greenplum database. The company has been focused on inking deals with large enterprises such as GE, Ford, Citi and FedEx, and claimed 319 clients as of the end of fiscal 2018 (ended on Feb. 2). Competition comes from alternative Cloud Foundry distributions from companies such as IBM (IBM) - Get International Business Machines Corporation Report and SAP (SAP) - Get SAP SE ADS Report , as well as from Red Hat's (RHT) - Get Red Hat, Inc. Report OpenShift PaaS solution and -- though Pivotal partners with these firms as well -- the PaaS offerings of public cloud giants such as Amazon (AMZN) - Get Amazon.com Inc. Report , Microsoft (MSFT) - Get Microsoft Corporation Report and Alphabet/Google (GOOGL) - Get Alphabet Inc. Report .
Pivotal was originally spun off by EMC and VMware (VMW) - Get VMware, Inc. Report in 2013. Various subsidiaries of EMC/VMware parent Dell Technologies will have a 70% post-IPO stake. Shares will begin trading on the NYSE under the symbol PVTL on April 19. Pivotal's IPO filing can be found here.
Financials: Revenue rose 23% in fiscal 2018 to $509.4 million, and the company's sales backlog grew 73% to $820 million. Net loss totaled $163.5 million, and free cash flow was negative $129.4 million. Sales/marketing spend equaled 43% of revenue (not unusual for a growth-stage enterprise software firm), and R&D spend was 32% of revenue.
Valuation/The Big Picture: Pivotal has set an IPO price range of $14 to $16, which at the midpoint implies a valuation of $3.8 billion. Concerns about the company's red ink and competitive environment might temper investor enthusiasm. But healthy growth, a blue-chip customer base and the strong enterprise and developer support enjoyed by Cloud Foundry should let Pivotal enjoy a post-IPO valuation that's soundly above $4 billion.
Amazon, Microsoft and Alphabet are holdings in Jim Cramer'sAction Alerts PLUS Charitable Trust Portfolio. Want to be alerted before Cramer buys or sells AMZN, MSFT or GOOGL? Learn more now.
This article was originally published by The Deal, a sister publication of TheStreet that offers sophisticated insight and analysis on all types of deals, from inception to integration. Click here for a free trial.
Watch all of Jim Cramer's full NYSE live shows right here: