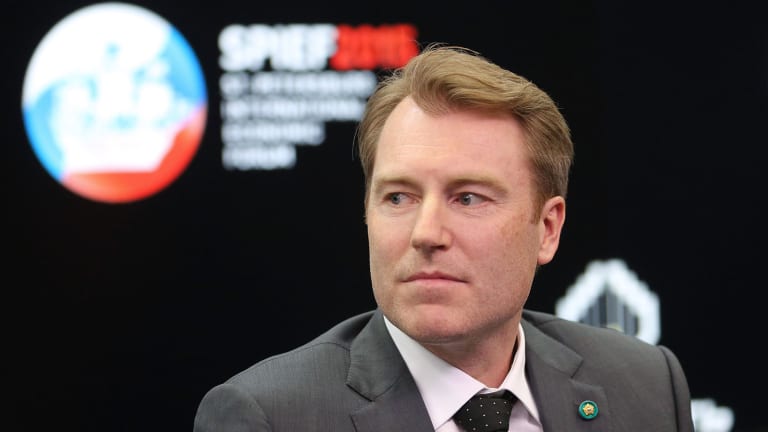 Schlumberger Stock Dips as Investors Ignore Start of 'Earnings Liftoff'
Shares had risen earlier in the day, bolstered by restructuring progress and a recovery in international markets revenue.
Schlumberger Limited (SLB) , the world's largest oilfield service company, slipped 1.24% in Friday trading to $66.09 after the company reported revenue results largely in line with Wall Street expectations. The stock had risen earlier in the day after the opening bell, bolstered by restructuring progress and a recovery in the international markets revenue.
"With significant mobilization underway (including an unprecedented level of integrated activity) and what appears to be a final restructuring for this downcycle now in the books, the company is positioning the second quarter as the start of the long-awaited earnings liftoff," says Sean Meakim, J.P. Morgan analyst in a note on Friday.
The company's second-quarter revenue of $8.3 billion increased 5.7% from $7.8 billion in the previous quarter, largely driven by the growth in OneStim in North America and higher reservoir characterization and drilling activity internationally, according to Chief Financial Officer Simon Ayat on a call on Friday. OneStim is a joint venture project with Weatherford launched last year, aimed at developing unconventional resource plays in the U.S. and Canada.
Schlumberger is a "good long-term investment based on a variety of factors, including expanding fracking operations in North America and involvement in deep water drilling expansions in the North Sea and West Africa, which will be supplying the world's demand in future years," says Eliecer Palacios, managing partner of Petro Rock Energy LLC.
A dramatic rise in the price of oil over the past year is allowing SLB to raise prices that were cut during the oil industry's downturn in 2014, says Bill Herbert, an analyst for Simmons & Company International, energy specialists for Piper & Jaffray. Herbert set a 12-month price target for SLB of $90 a share.
"The company is engaged in a very significant ramp up of activity and I think these earnings are a reflection of how grueling this downturn has been," Herbert said. "Street estimates have been pretty hard, and if SLB can actually deliver in line with a historical sense of consistency, I think the stock can start working again."
International Growth
CEO Paul Kibsgaard spoke about the need for increased exploration and production spending because new projects over the next few years won't meet growing international oil demand.
"The fundamentals of the global oil market continue to evolve favorably for our international business as the balance of crude oil supply and demand tightens further," Kibshaard told investors on a call on Friday, according to FactSet transcript. "These developments underline the growing need for increased EMP spending, in particular in the international markets, as it is becoming apparent that the new projects coming on line over the next few years will likely not be sufficient to meet the increasing demand."
International growth is strong with $4.4 billion in revenue, a 6% increase from the previous quarter.
"The broader based recovery in the international markets has now finally started, which led us to record sequential revenue growth in almost all geomarkets and nearly all product lines in the second quarter," Kibsgaard noted.
J.P. Morgan still noted they remain "circumspect" on the impact of competitive pricing of Schlumberger's recent contracts. Schlumberger's net income of $594 million fell 2% below J.P. Morgan's estimates for the second quarter.
Schlumberger is a part of Jim Cramer's Action Alerts PLUS member club.
"When it comes to Schlumberger, we place equal, if not greater importance on management commentary looking forward than on headline numbers as the nature of the company, being an oil services provider, gives management greater scope and a better view of the oil industry overall than just about any other management team out there," according to a research note to AAP club members on Friday.
Schlumberger Still Looks Ready to Move Higher (Real Money)