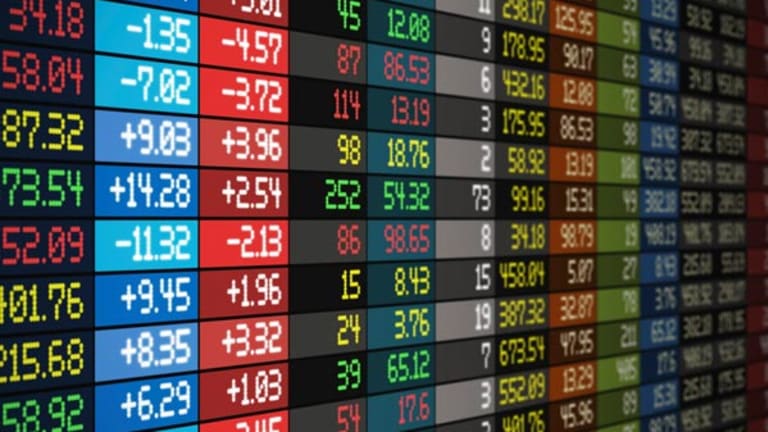 Investors Tune Out Greenspan
Stocks close virtually unchanged following the Fed chairman's comments on the economy.
Stocks close virtually unchanged following the Fed chairman's comments on the economy.
Updated from: 4:09 p.m. EST
Stocks closed flat Wednesday in the wake of
Fed
Chairman Alan Greenspan's relatively upbeat analysis of the economy.
The
Dow Jones Industrial Average
fell 2.44 points, or 0.02%, to 10,834.88, the
S&P 500
rose 0.22 point, or 0.02%, to 1210.34, good enough for a new 2005 high, while the
Nasdaq
shed 1.78 points, or 0.09%, to 2087.43.
Volume was light again on Wednesday. On the
New York Stock Exchange
, 1.49 billion shares changed hands. Volume on the Nasdaq was 1.86 billion shares. Declining shares were about even on both exchanges.
The 10-year Treasury bond was down 17/32 to yield 4.16% after Greenspan's comments, while the dollar rose sharply against the yen on a report the Japanese economy was in a recession last year. The dollar was lower against the euro.
"This is the first time Greenspan has hinted about being more aggressive, and that he himself was surprised at the way long term rates are behaving," said Peter Cardillo, chief market analyst with S.W. Bach & Co. "The market may have to become accustomed to a more aggressive Fed. I don't think he was too forceful, but he did bring it up more today than he's brought it up before."
In a speech before Congress, Greenspan said the economy continues to expand at a "reasonable pace" with inflation in check. He cited various threats to the prevailing calm, including the falling dollar, higher energy prices, rising labor costs and a possibly decelerating real estate market. Still, Greenspan seemed content to stick with the Fed's recent measured approach to monetary tightening.
"The evidence broadly supports the view that economic fundamentals have steadied," he said. "Consumer spending has been well maintained over recent months, buoyed by continued growth in disposable personal income, gains in net worth, and accommodative conditions in credit markets."
"The key for Mr. Greenspan is that productivity growth is slowing and unit labor costs are beginning to pick up," wrote Ian Shepherdson, chief U.S. economist with High Frequency Economics. "It is pretty clear that he expects to keep tightening for some time yet. If the labor market beings to tighten more rapidly, the Fed will have to act more aggressively. We don't expect to see much firmer data for another few months, but the risk is clear."
Elsewhere on the economic front, the Census Bureau said January housing starts increased 4.7% to 2.16 million units, a 21-year high, which easily beat economists' expectations of 1.93 million. Also, December's figure was revised up to 2.063 million. Permits in January rose 1.7% to 2.1 million units.
The Fed reported industrial production for January was unchanged; economists had expected a 0.3% increase in output. Capacity utilization was 79.0% for January, lower than projections of 79.3% and December's 79.1% level.
Oil was higher despite an Energy Department report that showed U.S. crude inventories jumped last week. The March crude contract closed up $1.07 to $48.33 a barrel. In the latest week, U.S. crude stocks increased by 2.1 million barrels, twice what was expected, while distillate stocks fell 3.1 million barrels.
In corporate news,
Coca-Cola
(KO) - Get Report
said fourth-quarter earnings jumped 30% from a year ago to $1.2 billion, or 50 cents a share, despite flat sales. The company also reported earnings of 46 cents a share that "excluded items that impacted comparability," which appeared to beat the Wall Street consensus by 6 cents. The stock added 65 cents, or 1.5%, to finish at $43.30.
After the bell Wednesday,
Hewlett-Packard
(HPQ) - Get Report
reported fiscal first-quarter earnings of $943 million, or 32 cents a share, on revenue of $21.5 billion. Excluding items, H-P earned 37 cents, compared with earnings of 35 cents a share on sales of $19.5 billion a year ago. Analysts had projected H-P, whose chairman and CEO Carly Fiorina was ousted on Feb. 9, to post a profit of 34 cents a share on sales of $20.96 billion. For the second quarter, the company expects to earn between 35 cents and 37 cents a share on revenue of $21.2 billion to $21.6 billion. Shares dipped 6 cents, or 0.3%, to $21.06 ahead of earnings data.
IAC/InterActiveCorp
(IACI)
swung to a fourth-quarter loss of $46 million, or 7 cents a share, weighed down by two impairment charges that reduced earnings by 28 cents a share. Revenue rose 9% from a year ago to $1.72 billion. On an adjusted basis, the Internet commerce company earned $250 million, or 33 cents a share, beating estimates by 7 cents. IAC fell $1.45, or 6%, to $22.55.
After the bell Tuesday,
Applied Materials
(AMAT) - Get Report
posted first-quarter earnings that beat consensus expectations and guided first-quarter earnings above forecasts. The chip equipment maker earned $289 million, or 17 cents a share, on sales of $1.78 billion in the quarter. During the same quarter last year, Applied Materials earned $82 million, or 5 cents a share, on sales of $1.56 billion. Analysts had expected earnings of 16 cents a share and sales of $1.74 billion. Shares gained 1 cent, or 0.06%, to $17.50.
Abercrombie & Fitch
(ANF) - Get Report
reported fourth-quarter earnings late Tuesday of $104.5 million, or $1.15 a share, an 11% increase from a year ago. Analysts surveyed by Thomson First Call projected earnings of $1.13. Sales for the company, including the Hollister chain, rose 23% to $687.3 million. Same-store sales also rose 9%.
Excluding the impact of accounting changes expected to go into effect in the third quarter, Abercrombie expects fiscal 2005 earnings in the range of $2.80 to $3.00 a share. Analysts were forecasting earnings of $2.92 a share. Abercrombie lost $1.60, or 3%, to $52.70.
Yankee Candle
(YCC)
reported a higher quarterly profit but was short of analysts' projections because of weak sales. The company posted fourth-quarter earnings of $48 million, or $1 a share, vs. $44.9 million, or 88 cents, from a year ago on sales of $218.9 million. The Thomson First Call consensus estimate was $1.05 a share on sales of $234.9 million. The candle maker expects 2005 sales growth between 10% and 11% and earnings growth between 11% and 12%. Shares dropped $4.17, or 12.4%, to $29.60.
Outback Steakhouse
(OSI)
said that net income decreased to $38.7 million, or 50 cents a share, from $45.3 million, or 58 cents a share, a year ago. Revenue increased 18% to $846.3 million, which includes $19.2 million from a change in accounting for joint venture stores. The Thomson First Call average earnings estimate was 57 cents a share on sales of $837.2 million. The company blamed higher tomato prices due to hurricanes in Florida, as well as a contribution made to hurricane relief efforts, for lower-than-expected earnings. Shares were off 55 cents, or 1.2%, to close at $45.97.
Nordstrom
(JWN) - Get Report
reported fourth-quarter earnings of $140 million, or $1 a share, a 34% jump from a year ago. Excluding a noncash expense related to the company's accounting policy, Nordstrom earned $144.7 million, or $1.03 a share, beating analysts' expectations by a penny. Sales for the quarter increased 9.4% to a record $2.1 billion from a year prior. For all of fiscal 2005, the company expects earnings of $3.25 to $3.35 a share, higher than analysts' projections of $3.23 a share. Nordstrom added 70 cents, or 1.4%, to $52.26.
Wendy's
(WEN) - Get Report
posted a fourth-quarter loss Wednesday, suffering an impairment charge for its Baja Fresh chain. The company reported a loss of $135.7 million, or $1.20 a share, compared with earnings of $64.7 million, or 56 cents a share, in the same quarter a year ago. Excluding the charge related to the Baja Fresh chain, Wendy's had a profit of 44 cents a share, a penny shy of the Thomson First Call consensus estimate. Wendy's lost $2.21, or 5.4%, to $38.62.
Retailer
Sharper Image
(SHRP)
named Jeff Nachbor as CFO effective Feb. 14. The company's shares, which plunged to two-year lows on projections of losses for the upcoming quarter, rose 30 cents, or 2%, to $15.53.
In brokerage action, Banc of America downgraded
Pixar
(PIXR)
to sell from neutral based on valuation. Shares finished down $1.15, or 1.3%, to $89.07.
On Thursday, weekly initial jobless claims for the week ended Feb. 12 will be released; the consensus expectation is 315,000 compared with 303,000 in the prior week. Later in the day, the January LEI and the February Philadelphia Fed Manufacturing index will be released. Companies reporting earnings tomorrow include
Wal-Mart
(WMT) - Get Report
, rival
Target
(TGT) - Get Report
, as well as
Nextel
(NXTL)
.
Overseas markets finished mostly lower, with London's FTSE 100 down 0.1% to 5053 and Germany's Xetra DAX falling 0.8% to 4368. In Asia, Japan's Nikkei fell 0.4% overnight to 11,602, while Hong Kong's Hang Seng added 0.1% to 14,015.