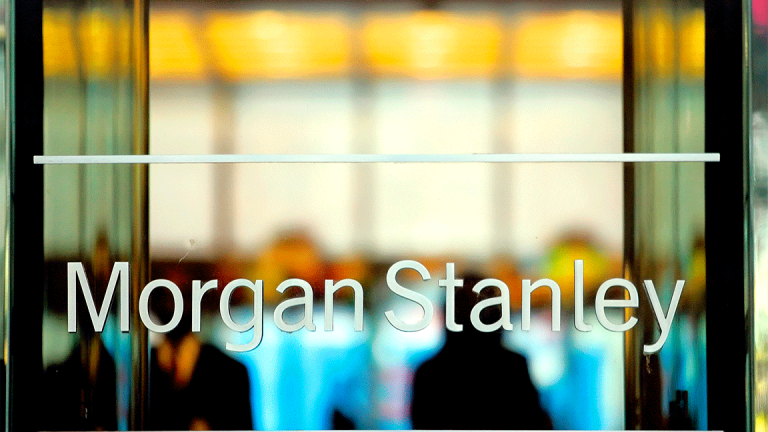 Investors Shrug Off Morgan Stanley Profit Jump; Oil and Metals in Rotation-ICYMI
Here's what you need to know for Wednesday, April 18.
Stocks were mixed on Wednesday as disappointing results from IBM Corp. (IBM)  weighed on the Dow but strong earnings lifted the S&P 500 and the Nasdaq.
You didn't miss it but Morgan Stanley (MS) put a bow on a glorious quarter for the banks today, reporting a 38% first-quarter profit surge... Three, eight. Thirty eight. A little less than forty. I digress but when Morgan Stanley's stock closed up just 13 cents, or 0.2%, to $53.38, you've got to say, "What gives?" Earnings per share climbed to $1.45, beating the $1.26 average estimate of analysts in a survey by database provider FactSet. Stock-trading revenue increased by 27% from a year earlier and revenue from fixed-income trading was up 9%, the New York financial institution said. Just another product of the continued theme of really, really high expectations for these institutions in the wake of volatile markets, rate hikes and deregulation. Still, the numbers are staggering, and they're worth going through ad nauseam.
Oil and precious metals were in focus on Wednesday, according to Real Money's James Deporre, pointing to action in silver trading and MLPs as investors rotate out of the banks and FANGs. Silver's spike can be attributed to some wonky pricing moves, while the MLP interest may be a little more difficult to decode especially as the moves impact players large and small including Boardwalk Pipeline Partners (BWP)  , Energy Transfer Partners (ETP)  and Hess Midstream (HESM)  . The real test for oil at least will be in the coming days when Schlumberger SLB, Halliburton HAL and Baker Hughes BHI report earnings.
Deal talk: If at first you don't succeed, try something else. That was the motto Emerson Electric (EMR)  lived by on Wednesday as it announced it would acquire the tools and test equipment business of Cessna jets maker Textron (TXT)  for $810 million in a bid to expand into European markets. For Emerson Electric, the move comes less than five months after a botched effort of acquiring competitor Rockwell Automation (ROK)  .
This is an excerpt from "In Case You Missed It," a daily newsletter brought to you by TheStreet. Sign up here.
Photo of the day: Steve and Elaine Wynn
Questions have emerged about the future of Steve Wynn's $18 billion luxury hotel empire in the wake of sexual harassment allegations that drove him out of his position atop Wynn Resorts (WYNN) . The plot thickened as Wynn's ex-wife, Elaine, a 9.25% shareholder who co-founded Wynn Resorts, sought to shake up the casino giant's board on Wednesday but apparently failed to gain enough support from shareholders. Her bid was denied and the company appointed new directors after market close. It seems Elaine may have to sue to get more say at the company she helped found now that her former husband has liquidated his stake. Read More
Read more from "In Case You Missed It." Sign up here.