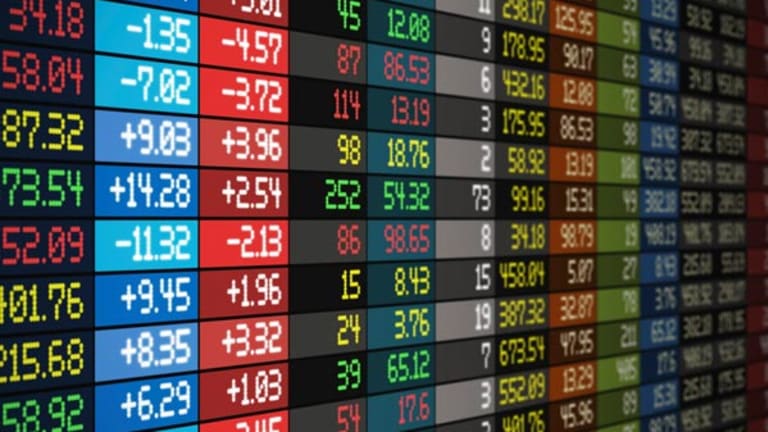 Investors Settle for Lower Close
The Dow and the Nasdaq end above their worst levels of the session.
Updated from 4:04 p.m. EST
Blue-chips and tech stocks briefly crossed into positive territory Tuesday afternoon, but the major averages couldn't hold their gains and closed lower.
Going into the last hour of trading, investors seemed to be shrugging off cautious comments from
Nortel
( NT) and renewed concerns about terrorism in the U.S. and abroad, but sellers regained control on Wall Street as trading neared the close.
The
Dow Jones Industrial Average finished with a loss of 21.04 points, or 0.2%, at 9863.74. The
Nasdaq lost 12.44 points, or 0.7%, to 1834.22, while the
S&P 500 was off 4.44 points, or 0.4%, at 1107.50.
The Dow ended with a triple-digit gain Monday as encouraging earnings news provided a spark on Wall Street. Tech stocks were also higher, with strength coming from semiconductors.
Before trading started Tuesday, equity investors had to deal with word that federal authorities believe another terrorist attack could occur any day. The FBI said that recent information suggests a planned attack may occur in the U.S. or against American interests in Yemen on or around Feb. 12.
Meanwhile, the news coming from the corporate world was doing little to spur buying interest. Nortel was among the biggest stories of the day, and as has been the case for months with the Canadian telecom equipment maker, the news wasn't good.
Nortel said decreased buying by the company's customers will make it hard to meet its sales targets for the first quarter. On Monday, Chief Financial Officer Terry Hungle resigned amid allegations he traded on inside information. The company's shares fell 42 cents, or 6.1%, to $6.42.
Lucent
( LU) was feeling the effects of Nortel's cautious comments, shedding 26 cents, or 4.2%, to $5.99.
Cult stock
Krispy Kreme
(KKD)
lost 87 cents, or 2.4%, to $36.11 after the company, which has had some of its accounting methods questioned in media reports, said it plans to use conventional financing for an Illinois factory, rather than a method called a "synthetic lease." Separately, the company said fourth-quarter revenue rose 40.3% to $114.9 million. The doughnut maker also said that it was comfortable with its guidance for 2002 and 2003.
Analysts at Thomas Weisel aided electronics manufacturing services providers Tuesday with an upgrade of
Sanmina-SCI
(SANM) - Get Sanmina Corporation Report
and
Jabil Circuit
. In other analyst actions, Goldman Sachs added
Overture Services
( OVER) to its recommended list, helping to boost the company's shares 27.2% to $27.66.
In the pharmaceutical sector,
Pfizer
(PFE) - Get Pfizer Inc. Report
was ticking higher despite the Food and Drug Administration's questions about quality-control problems at the company's prescription drug plant in Terre Haute, Ind. Shares of Pfizer were up 27 cents to $41.18.
Government fixed-income securities were losing ground. Around 4 p.m. EST, the 10-year Treasury was down 17/32 to 99 18/32, yielding 4.97%.