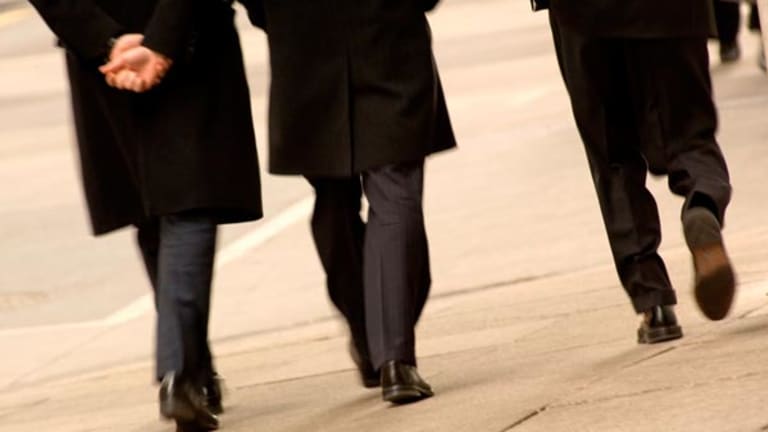 Investors Find Reasons to Buy
The Dow gains 0.9% and the Nasdaq jumps 1.5%, as the terror alert is lowered.
Updated from 4:07 p.m. EST
Stocks ended higher Thursday as investors latched onto a better-than-expected durable goods report and cheered news that the terror-threat alert has been lowered to "elevated" from "high."
The
Dow Jones Industrial Average
ended up 78 points, or 1%, to 7885, while the
Nasdaq
was up 20 points, or 1.5%, to 1324. The
S&P 500
was up almost 10 points, or 1.2%, to 837.
"Investors took comfort where they could find it today," said John Forelli, senior vice president and portfolio manager at Independence Investments.
Forelli said the strong durable goods report and the lowering of the terror level helped give the market a boost, but he doesn't believe the gains are meaningful.
"We're still stuck in a tight range and this is probably just a jittery market rebounding from yesterday," he said. "With no clear sense of how things will turn out on the geo-political front, an aggressive move into the market right now would be like laying a bet before the cards are dealt."
U.S. officials decided to lower the terror-threat alert level to yellow from orange Thursday, citing the end of the Muslim hajj pilgrimage as a key factor. The level had been raised to orange -- the second highest level -- on Feb. 7 after a number of reports suggested a "high" possibility of attack. Despite the move, U.S. officials cautioned that there is still a significant risk of an attack on U.S. soil.
Meanwhile, Iraq said it will respond to a United Nations order to destroy its al-Samoud missiles within the next two days in order to meet a deadline set by chief weapons inspector Hans Blix, according an unnamed Iraqi official who talked to Reuters. Baghdad said it would officially respond in a letter to the Security Council, but it is not yet clear what the response will be.
President Bush said talk about destroying banned missiles was part of Saddam Hussein's "campaign of deception." But delegates from the Security Council have not changed their position on the issue. After a meeting on Iraq, Russian Ambassador Sergey Lavrov said "there is no need at all for a resolution authorizing the end of inspections and basically leaving it to anyone to start using military means."
After soaring $2 to almost $40 a barrel earlier, crude oil prices pulled back in afternoon trade, falling 50 cents to $37.20.
The economic data was decidedly mixed Thursday. Sales of new single-family homes fell 15.1% in January -- the biggest drop since January 1994 -- to a rate of 914,000, the lowest since January 2002. Economists were expecting home sales to fall just 3% from December to a rate of 1.05 million. In a speech Thursday, Fed Chief Alan Greenspan said he doubted that a housing price bubble exists at the national level.
Also disappointing was a rise in initial jobless claims. New claims for unemployment climbed by 11,000 to 417,000 in the week ended Feb. 22, while economists were expecting a decline to 390,000. The number of help-wanted ads in major newspapers rose slightly in January, however, and durable goods orders came in strong.
The Commerce Department said orders for items designed to last three years or more rose 3.3% in January after falling the previous two months. Excluding orders for transportation equipment, the gain was 2.5%. Both estimates were well above economists' forecasts.
"I find the jobless numbers more worrisome than the durable goods numbers are impressive," Forelli said. "If jobs start disappearing, fears of falling consumer confidence and spending would be rekindled and the markets would hate to see that scenario unfold."
Among stocks to watch,
Lucent
(LU)
said it reached an agreement in principle with the
Securities and Exchange Commission
resolving the agency's investigation into revenue recognition issues at the company. Lucent would pay no fines or penalties and would not be required make any adjustments to financial statements. Lucent was up 6% to $1.61.
Shares of
EMC
(EMC)
were down, however, after Thomas Weisel downgraded the data storage giant to market perform, saying sales of the company's DMX product line have been slow and that quarterly results may not surprise on the upside as anticipated by investors. EMC fell almost 5% to $7.14.
In earnings news, game software maker
Take-Two
(TTWO) - Get Take-Two Interactive Software, Inc. Report
reported fiscal first-quarter earnings of $1.20 per share, or $50.5 million, compared with a year-earlier profit of 92 cents a share, or $34.8 million. Revenue topped estimates, rising 44.5% to $408 million. Take-Two shares were trading up 6% to $20.50. The company reaffirmed its guidance for second-quarter earnings of 34 cents a share.
Comcast
(CMCSK)
the largest cable television operator in the U.S., posted a bottom-line loss because of steep interest obligations, and said operating earnings rose to 21 cents a share, slightly below estimates. The company also bumped up its 2003 revenue estimate, and the shares rose 7% to $27.37.
Apparel retailer
Limited
(LTD)
posted fourth-quarter earnings of 67 cents a share, 3 cents above estimates. Sales rose 4.5% year-over-year to $2.97 billion, also beating the market's consensus of $2.93 billion. But Limited guided its full-year profit lower, saying it expects a 10% to 20% decline in next quarter's earnings.
Separately, Goldman Sachs said it has temporarily suspended research coverage on a number of companies including
AOL Time Warner
(AOL)
as it realigns its analyst coverage. Three U.S.-based analysts, two based in Canada and one in Latin America, have been let go, the firm said.
In other news, Salomon Smith Barney economist Steven Wieting lowered his 2003 earnings-per-share estimates on the S&P 500 to $51.25 a share from $52.10. He expects S&P earnings per share growth in the low- to mid single digits over the next three quarters.
"Optimism on the outlook post Iraq depends on a successful war or diplomatic victory, lower oil prices, and a rebound in confidence," Wieting said. "We are now counting on more fiscal stimulus than previous U.S. forecasts, arriving in late 2003."
Volume on the
Big Board
reached 1.28 billion, with advancers beating decliners by 2 to 1. On the Nasdaq, 1.26 billion shares changed hands, with winners outpacing losers by about 19 to 12.
Treasuries were lower, with the 10-year note down 3/32 to yield 3.76%. The dollar rose against the yen and the euro.
Thursday's gains follow Wednesday's loss of 1.3% to 7806 for the Dow, while the Nasdaq lost 1.9% to 1303. The S&P 500 shed 1.3% to 827.
Overseas markets were mixed, with London's FTSE 100 down 0.6% at 3569 and Germany's Xetra DAX almost 2% higher at 2497. In Asia, Japan's Nikkei closed 0.03% higher at 8359, while Hong Kong's Hang Seng gained 0.2% to 9134.