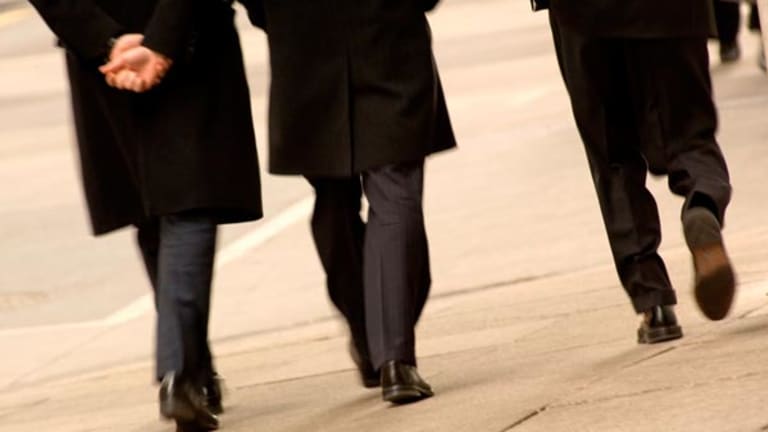 Investors Cheered by Fannie-Freddie Bailout
Stocks are staying positive after the U.S. government seizure of the mortgage giants goosed investors out of the gate.
Updated from 9:56 a.m. EDT
U.S. stocks were roaring higher Monday after the U.S. government said it would take over mortgage giants
Fannie Mae
undefined
and
Freddie Mac
undefined
.
The
Dow Jones Industrial Average
was rocketing up 292 points to 11,513, and the
was gaining 28 points at 1270. The
Nasdaq
added 28 points to 2284.
On Sunday, the Treasury Department and Federal Housing Finance Agency said they would temporarily seize
, replacing the mortgage giants' CEOs, buying preferred shares of the companies and offering additional capital support as Fannie and Freddie wade through increasing home-buyer defaults.
The two government-sponsored entities -- which have issued more than $5 trillion in mortgage-backed securities and credit -- are central to the health of the U.S. home-lending market and are lynchpins of the financial sector. Investment bank
(MS)
aided the government in its takeover of the firms.
Although news of their takeover was buoying the major indices, shares of Fannie and Freddie were getting destroyed. Fannie and Freddie were recently down 81% and 73%, respectively. Citigroup downgraded the stocks to sell from buy, and Lehman revised its rating on the pair to equal weight from overweight.
The takeover relieves some of the market's concern about the credit crisis and housing market, said Robert Pavlik, chief investment officer at Oaktree Asset Management. "However, I think it's going to take additional time before those concerns are fully resolved," Pavlik said. He expects stocks to get a short-term bounce on the takeover until the market redirects its attention to the global economic slowdown.
"There are still problems out there. Lending standards are still going to be high. Banks' balance sheets are still going to be screwy," said Pavlik. He predicts that high inflation and a weak labor market and high consumer debt will continue to hinder the economy. "Are people going to be able to refinance their homes to pay their credit cards and buy new cars? The answer's no," he said.
Pavlik said that the rally in the financial sector needs to be accompanied by substantial volume and solid breadth: "You could say there's a lot of cash sitting on the sidelines, but I think it's a lot of smart money that won't necessarily get drawn into a bounce in the market." He said that
(GS)
quarterly earnings, due next week, could let a lot of air out of its sector's recent rally.
In other company news, struggling brokerage
undefined
announced over the weekend that it would replace two members of senior management as it prepares to lay off between 1,000 and 1,500 employees.
Elsewhere in the financials,
(WM)
announced a shakeup in its top brass.
CEO Kerry Killinger , who oversaw $19 billion in mortgage-related writedowns during his tenure, is stepping down. Alan Fishman, chair of Meridian Capital and president of
Sovereign Bancorp
(SOV)
will take over the chief executive spot.
Financial names and homebuilding stocks were among the biggest gainers. The
(XLF)
, which tracks the financial-services group, was up 4.5%. Homebuilding names were also broadly rising. The
SPDR S&P Homebuilders
(XHB)
jumped 8.4%.
Cigarette maker
(MO)
said it would buy chewing-tobacco producer
UST
(UST)
for about $10 billion in cash.
Looking at the day's economic data, the
Federal Reserve's
measure of July consumer debt is expected to be released this afternoon.
As for commodities, the price of crude oil was up $1.79 at $108.02. Gold gained $15.20 to $818.
Longer-dated U.S. Treasury securities were mixed. The 10-year was down 6/32 to yield 3.72%. The 30-year was up 1/32, yielding 4.3%. The dollar was gaining on the euro and yen, but weakening vs. the pound.
Overseas exchanges, including the FTSE in London, the Dax in Frankfurt, the Nikkei in Japan and the Hang Seng in Hong Kong, were making substantial gains.