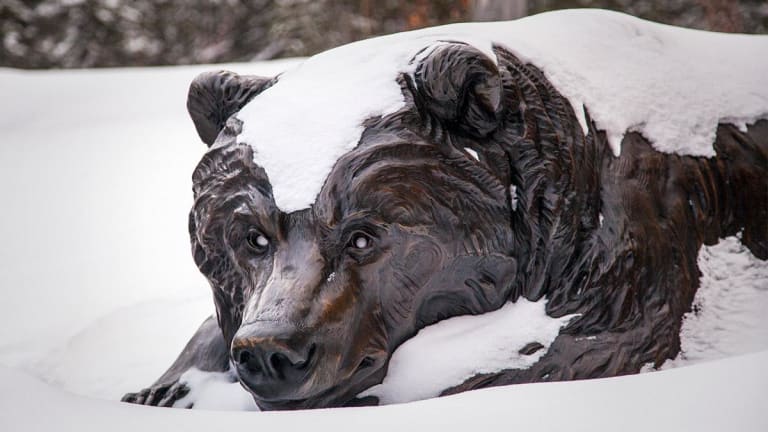 Inverted U.S. Yield Curve Turns Long-Time Bull More Bearish
Rising bond prices and slumping yields are fueling legitimate angst among U.S. stock investors, even as equities round out their best quarter in a decade.
Slumping global bond yields, weakening economic data and tepid inflation forecasts have not only tipped the U.S. Treasury curve into its first inversion in more than a decade, but they've also flipped one of the more notable bulls on Wall Street into having a more bearish stance on equities.
As confidence in economic growth and inflation deteriorates, investors are buying up long-dated U.S treasuries, and the yield gap between 3-month Treasury bills and benchmark 10-year treasury yields has inverted, a signal that has preceded every U.S. recession for the past 60 years.
"We are readjusting our recommended domestic equity allocations back to market weight," wrote LPL Financial's Chief Investment Officer John Lynch, in a recent client note. "One catalyst for falling longer-term yields has been the Fed's U-turn in policy since its December 2018 meeting; updates to policymakers' projections painted a strikingly different picture of the U.S. economy and future policy than what was seen in the last set of projections three months ago."
"Taking some pressure off rates and the tightening financial conditions was part of the Fed's intended effect, but it came at the expense of a gloomier outlook," Lynch added.
Federal Reserve Chairman Jerome Powell said earlier this month that not only will the U.S. central bank put rate hikes on hold for all of 2019, but also that it will likely stop shrinking its balance sheet by September of 2019, a decision that would further pressure interest rates. 
After having been slightly inverted last Friday, the inversion of the U.S curve worsened Wednesday, with the 3 month now yielding 2.44% and the 10 year yielding 2.39%.
Through downward revisions of U.S. GDP -- and as the Atlanta Fed expects first-quarter 2019 GDP growth of 1.5%, down from an initial forecast of 2.3% -- LPL had remained largely bullish, telling TheStreet in February it favored cyclical sectors like financial and industrials. 
Since the yield curve inverted Friday, bank stocks have continued to weaken.
Citigroup (C) - Get Citigroup Inc. Report is down 4.1% since Thursday's close, and is now trading right around its book value [total assets, less total liabilities]. Goldman Sachs (GS) - Get Goldman Sachs Group, Inc. Report is only down roughly 2.07% since Thursday's close, but is also trading just above book value. The SPDR S&P U.S. Bank ETF (KBE) - Get SPDR S&P Bank ETF Report is down 2.67% in the past five days. 
As for the broader market, the S&P 500, while down in the past few days, is up 12.33% year-to-date. "Following the stock market's recent move higher, coupled with a slightly weaker economic and corporate profit outlook, the risk-reward trade-off in stocks has become less attractive," Lynch wrote. 
Indeed, U.S. earnings growth for all of 2019 is expected to be 3.8% year-over-year, down from an initial forecast of 8.8% in November, according to FactSet. Meanwhile, the S&P 500 forward price-to-earnings ratio has expanded to 16.6, above both the five-year and ten-year average. 
While the currently inverted yield curve is making some investors anxious about risk assets, "I would say if we got two to three months into a curve inversion, that, to me, would be a troubling sign" for stocks, Mark Heppenstall, chief investment officer at Penn Mutual Asset Management, told TheStreet. 
In fact, it usually takes between six and 24 months for a recession to hit after an inverted yield curve. 
A chart from Commonwealth Financial Network shows that stocks usually do fall hard after a prolonged inversion, but usually not until one to two years after. "Yes, a recession is probably coming, but 2020 looks more likely than 2019," said Brad McMillan, chief investment officer for Commonwealth. 
His chart showed the yield curve inverted in 2006, but the stock market didn't crash until 2008, the start of the last economic recession. 
Also, see how the Fed's current interest rate path changes retirement investing for the long term here. 
Will You Have Enough Money to Retire?
Want to learn about retirement planning from some of the nation's top experts? Join TheStreet's Robert "Mr. Retirement" Powell live in New York on April 6 for our Retirement Strategies Symposium. For a limited time, tickets are available for $99 for this full-day event. Check out the agenda, learn about the speakers and sign up here.