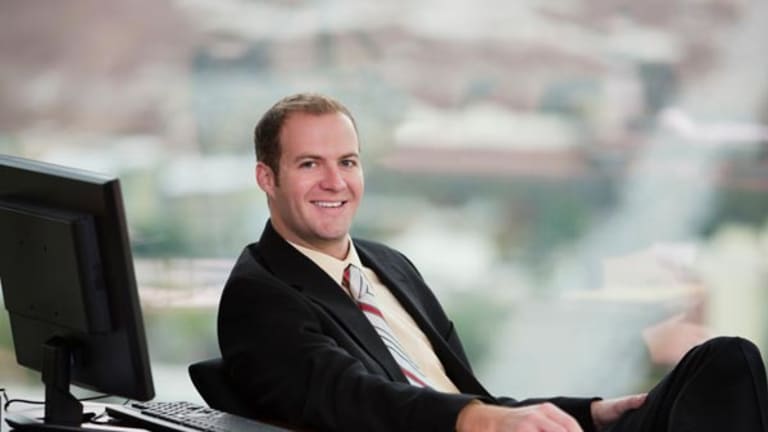 International Securities Exchange Finally Goes Global
The buyout by Deutsche Boerse lets the exchange live up to its name.
The buyout by Deutsche Boerse lets the exchange live up to its name.
This column was originally published on RealMoney on May 2 at 2:25 p.m. EDT. It's being republished as a bonus for TheStreet.com readers. For more information about subscribing to RealMoney, please click here.
When the
International Securities Exchange
(ISE)
first launched seven years ago, it was fully convinced that it would revolutionize the options industry by introducing the first and, at that point, the only all-electronic option exchange.
Indeed, it did. It not only grabbed nearly half of the
Chicago Board Options Exchange's
market share, which enjoyed nearly 70% of all option volume, within the first two years, but also forced all exchanges to upgrade their technology, lower transactions costs and basically bring option trading to the masses. The ISE played a large part in the 30%-plus volume growth in options trading over each of the past five years.
Back when the ISE was an ambitious upstart and I was a cub reporter, I first naively asked why the name of a strictly U.S.-based option exchange began with the two words "International Securities." Bruce Goldberg, the ISE's head of business development, responded with nothing more than a simple wry smile. That was enough to convey the message that the ISE had a bigger, broader and more ambitious business plan.
Well, yesterday's deal in which the ISE agreed to be acquired by the German-based Deutsche Boerse for $67.50 per share, about a 48% premium to Friday's closing price, the exchange has now truly grown into its name.
Stocks, Options, Currencies on a Global Scale
While the consolidation and globalization of financial exchanges has been happening at a frenzied pace for more than two years, it's important to distinguish between the two types of deals occurring. One is vertical, in which two exchanges with overlapping product lines combine to boost market share by taking a bigger piece of an existing pie and hopefully gain some pricing power. The other is horizontal, which combines exchanges that trade different products that don't overlap but can be complimentary.
The horizontal deal is better in that it creates a "one-stop-shopping" exchange, and adding new products is a superior way to drive trading volume and increase profits. Consider the ISE's recent launch of
dollar-denominated currency options; this will eventually dovetail nicely with the Boerse's currency trading, which is based on the euro and is clearly a global product.
In this sense, the ISE has again shown foresight into the best way to be positioned in exchanges' future landscape. The combination of the ISE with the Deutsche Boerse, which is also known as Eurex as it jointly owned by the Swiss Exchange, will create the world's largest equity options market in terms of volume, the third-largest fixed-income and the fifth-largest currency market.
"David Krell
the CEO of ISE has always had great vision and used a methodical approach to building the business," says David Kalt, president of
optionsXpress
. "These are not fixer-uppers; both exchanges have quality management, efficient operations and most importantly are profitable. They are two of the last of the class exchanges."
The deal benefits the ISE and its shareholders, who will obviously receive a huge pay-off in an all-cash deal that should close with the next month. In addition, though, the exchange will gain access to a new line of products and, more importantly, to new customers. These new customers, who are already active traders, come with little to no acquisition cost. The same goes for the Eurex, but in reverse. It is buying access to the U.S., market, which it has tried to get in a variety of ways with little success.
Together, they have achieved much of what the
NYSE's
(NYX)
merger with Euronext accomplished, but with much less ballyhoo. It clearly trumps the
Nasdaq's
failure to buy the
London Stock Exchange
and may complicate its recent overtures to buy the
Philadelphia Stock Exchange
over issues of control, certainly driving up the price.
Also, as the ISE becomes a private company, which flies in the face of the exchanges' rush to go public, it creates a new set of options for the Chicago Board Options Exchange, which was planning an IPO for sometime this summer, to consider. The ISE going private also might be beneficial in that it no longer needs to worry about quarter-to-quarter performance. "The company can now afford to take a longer-term view without worrying about short-term blips in its share price," says Henry Balzic, president of BAC Consulting, an industry research firm.
The price paid for the ISE clearly should raise valuation metrics, but the ISE becoming a global player may force the CBOE to consider a merger as the better long-term path. Laurie Kulikowski has a great
article discussing the implications for the CBOE.
What Does It Mean to Me?
Initially, customers of both exchanges should expect no immediate changes and for business to continue as usual. "It should take six to nine months before customers start seeing some promotions and cross-marketing of products," says Peter Lawler, director of institutional development at OptionsHouse, an electronic trading platform company. Lawler thinks the first notable change will be more liquid markets as the additional customers create a deeper pool.
To view yesterday's video discussing the ISE buyout, please
click here.
Steven Smith writes regularly for TheStreet.com. In keeping with TSC's editorial policy, he doesn't own or short individual stocks. He also doesn't invest in hedge funds or other private investment partnerships. He was a seatholding member of the Chicago Board of Trade (CBOT) and the Chicago Board Options Exchange (CBOE) from May 1989 to August 1995. During that six-year period, he traded multiple markets for his own personal account and acted as an executing broker for third-party accounts. He appreciates your feedback;
to send him an email.
To read more of Steve Smith's options ideas take a free trial to
.