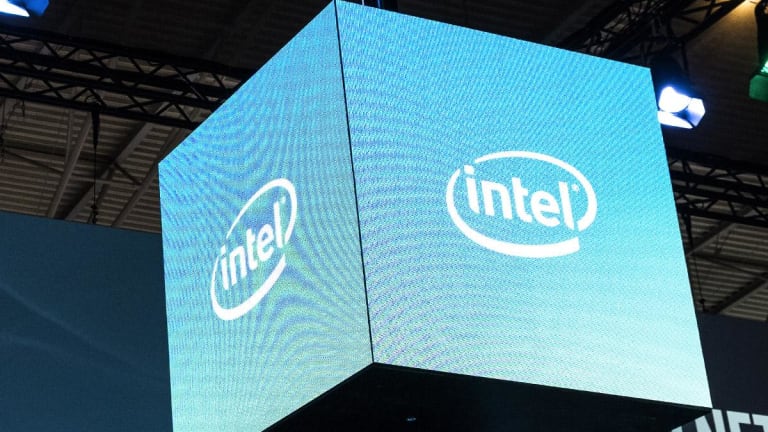 Intel Reportedly Seeking Buyers for Its Connected Home Division
The chipmaker's connected home division has annual sales of about $450 million.
The chipmaker's connected home division has annual sales of about $450 million.
Intel (INTC) - Get Report  is seeking buyers for its connected home division, according to a report from Bloomberg.
The giant chipmaker has hired a financial adviser and is seeking to sell the unit that makes chips used in home internet access gear and has annual sales of about $450 million, Bloomberg reported, citing people familiar with the matter.
The stock fell 0.26% in trading Tuesday to $58.66.
The company's connected home business makes semiconductors that provide wireless connections for WiFi technologies and routers. Competitors include Broadcom (AVGO) - Get Report and Qualcomm (QCOM) - Get Report , Bloomberg noted.
Intel late last month posted third-quarter earnings and sales that topped expectations, and the chipmaker raised its fourth-quarter guidance.
Revenue in the quarter was $19.2 billion, and the company's Internet of Things division had sales of $1 billion, a gain of 9% from a year earlier.
Data center revenue in the third quarter was $6.4 billion, up from $5.6 billion in the year-earlier quarter.
Intel CEO Bob Swan described the quarter as the "best quarter in our company's history," with "data-centric" lines of businesses making up more than half of the overall revenue for the quarter. Within the data center group, Intel said that its cloud and comms segment - a services segment that the company has aggressively sought to expand amid wavering demand in other areas of its business - makes up over two-thirds of the group's revenue.
On a shareholder call, Intel management acknowledged a more competitive environment in data center businesses, and elsewhere, but said that it's not complacent heading into 2020.
"We do know that going into next year that our role is to dramatically expand the role we play in our customers' success, so we're expanding the product, the architecture, the packaging technologies, the process capabilities, and the software that we build so we can continue to deliver better and better product performance for our customers," Swan said.