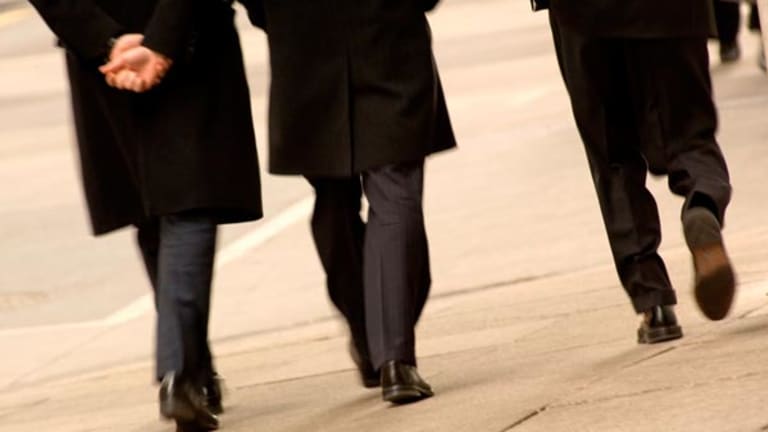 Intel Not Enough as Stocks Dip
The chipmaker's guidance can't keep tech stocks afloat.
Updated from 4:11 p.m. EDT
News that
Intel
(INTC) - Get Intel Corporation Report
raised its sales guidance for the current quarter helped push the market higher in the first hour of trading, but investors took profits and stocks closed lower Friday after rallying all week.
The
Dow Jones Industrial Average
, which broke from a trading range this week to hit a series of 14-month highs, fell 74.81 points, or 0.8%, to 9348.87. The
Nasdaq
pushed past 1800 for the first time since April 19, 2002, but pulled back sharply and dropped 12.24 points, or 0.7%, to 1765.31. The
S&P 500
was down 10.22 points, or 1%, at 993.05.
Despite today's session, all three major market indices posted gains for the week, with the Nasdaq leading the way, gaining 63.30 points, or 3.7%. The broader market also performed well. The Dow was up 27.25 points on the week and the S&P added 2.36 points.
Intel raised its revenue forecast to a range of $7.3 billion to $7.8 billion, from $6.9 billion to $7.5 billion previously. The company also said gross margins would be better than expected, lifting its shares $1, or 3.8%, to $27.39, while boosting a variety of tech-related companies, from PC makers to software names.
The Philly chipmakers, led by Intel, were up 4% at one point, but ended up just 0.9%. The Nasdaq Computer Index, once up 3%, closed higher by 0.5%. As the tech rally faded throughout the afternoon, the market's underlying negative trend picked up steam and stocks dropped.
"If Intel had not made that announcement, we would have had a drab, kind of tilting-around day. So Intel makes the announcement, and we got the corresponding reaction. But breadth is still negative," said Larry Wachtel, senior vice president at Prudential Securities. "That doesn't tell me this market has gone berserk."
Indeed, both volume and breadth were weak on Friday. Both the
New York Stock Exchange
and Nasdaq Stock Market traded fewer shares than usual, while losers beat advancers. On the Big Board and Nasdaq, losers beat winners by a better than 2-to-1 margin.
"The Nasdaq has gained 35% in a six-month advance ... and the implication of the Intel announcement is to take the entire market up another notch? We've already done that. Valuations are getting stretched," Wachtel continued. "The fact that breadth is down on a day like today means people are simply taking profits. They're not willing to chase the market."
For drugmaker
Schering-Plough
(SGP)
, the outlook wasn't as uplifting. The company warned that its profit in the second half will fall from last year, and it set plans to reduce its quarterly dividend by 68%. The company also will lay off 1,000 workers. Shares plunged $1.51, or 9.2%, to $14.97.
A host of companies released quarterly earnings after the close Thursday. Among them,
Gap
(GPS) - Get Gap Inc. (The) Report
said second-quarter net income practically tripled from a year earlier on strong revenue growth, which prompted Wachovia Securities to upgrade the company to outperform from market perform. A.G. Edwards disagreed, criticized Gap management and downgraded shares to hold from buy. Shares were off 43 cents, or 2.2%, at $19.22.
Also from the retail front,
Nordstrom
(JWN) - Get Nordstrom Inc. Report
beat Wall Street's estimates in its second quarter and raised its guidance for the full year. Shares rose $1.10, or 4.6%, to $25.10.
Duane Reade
(DRD) - Get DRDGOLD Limited American Depositary Shares Report
announced that last week's blackout cost the company $3.3 million, which, when combined with lost inventory and other blackout-related expenses, will lower earnings by 3 cents a share in the third quarter. Shares fell 27 cents, or 1.5%, to $17.40.
In retail research, CIBC upgraded
Linens 'N Things
to sector outperform from sector perform, saying the company's turnaround was working, while downgrading
Kirkland's
(KIRK) - Get Kirkland's Inc. Report
to sector perform from sector outperform, citing valuation concerns. Linens rose $1.44, or 5.4%, to $28.09, while Kirkland's fell 85 cents, or 5%, to $16.15.
Also,
Foot Locker
(FL) - Get Foot Locker Inc. Report
rose 14 cents, or 0.9%, to $16.25, after being upgraded at Merrill Lynch. The brokerage firm cited earnings momentum and expected margin expansion.
Elsewhere,
TiVo
(TIVO) - Get TiVo Corp. Report
topped second-quarter earnings estimates and raised its subscriber target. The digital recorder company lost $4.4 million, or 7 cents a share, in the quarter. Analysts were expecting a loss of 13 cents. Shares rose $1.21, or 12.5%, to $10.91.
Marvell Technology
(MRVL) - Get Marvell Technology Inc. Report
rose $3.33, or 8.7%, to $41.69, after posting a profit in the second quarter and beating expectations for earnings and revenue. Net income totaled $9.4 million, or 7 cents a share, compared with a loss of $9.3 million a year earlier.
Meanwhile,
Novell
(NOVL)
reported a fiscal third-quarter loss, reversing a year-earlier profit, and said it will cut 600 employees in an effort to contain costs. Shares gained 60 cents, or 15.9%, to $4.37.
Battery maker
Rayovac
undefined
liked Remington Products so much it decided to buy the shaver maker for $322 million on Friday. Rayovac shares gained 65 cents, or 4.8%, to $14.25.
LookSmart
(LOOK)
shares jumped 30 cents, or 9.4%, to $3.51 after a
Microsoft
(MSFT) - Get Microsoft Corporation Report
executive said the company would be continue to work with LookSmart at a conference for search engine strategies in San Jose.
Abbott Labs
(ABT) - Get Abbott Laboratories Report
announced plans to spin off its hospital-products business, paving the way for the division to begin trading on the open market in early 2004. Abbott shares gained 38 cents, or 1%, to $38.98.
3M
said the Minnesota Supreme Court ordered 29 insurers to cover claims against the company related to breast implants. 3M said it expects to collect about $250 million, but that the amount won't affect its earnings. Shares fell $1.15, or 0.8%, to $143.54.
Treasuries were little changed, with the yield on the 10-year note at 4.45%. Crude oil prices rose in London. The dollar was weaker against the Japanese yen, but stronger vs. the euro.
Overseas markets mixed. London's FTSE 100 ended up 0.1% to 4236, while Germany's Xetra DAX dropped 0.5% to 3549. In Asia, Japan's Nikkei closed down 0.8% at 10,281, and Hong Kong's Hang Seng rose 1.1% to 10,760.
On Thursday, the Dow gained 26.17 points, or 0.3%, to 9423.68. The Nasdaq added 17.01 points, or 1%, to 1777.55, while the S&P 500 rose 2.97 points, or 0.3%, to 1003.27.