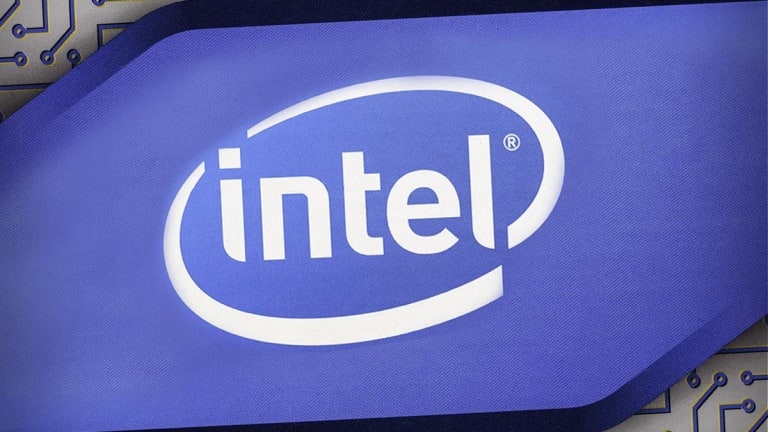 Intel Analysts Cut Price Targets Following Disappointing Earnings Report
The chipmaker saw four analysts move their targets down after disappointing earnings and guidance.
The chipmaker saw four analysts move their targets down after disappointing earnings and guidance.
Analysts were not kind to Intel (INTC) - Get Report after the giant chipmaker posted an earnings report in which it missed revenue expectations and issued weaker-than-expected guidance.  
Five Wall Street analysts reduced their price target on Intel following the chipmaker's fourth-quarter report after the close on Thursday. 
Shares of Intel Corp. (INTC) - Get Report  slumped 5.47% to close at $47.04 Friday.  
Intel beat earnings estimates by 5% Thursday afternoon, but missed revenue expectations, reporting $18.66 billion, short of Wall Street's expected $19.02. Intel guided for first quarter revenue of $16 billion and earnings-per-share of 87 cents, missing Wall Street's expected $17.3 billion in revenue and EPS of $1.01. Management guided for full year 2019 revenue of $71.5 billion and EPS of $4.60, compared to Wall Street's expected $73.19 billion of revenue and $4.53 EPS. 
Analysts reaffirmed the market's sentiment Friday morning. 
Goldman Sachs
Goldman analyst Toshiya Hari lowered his price target on Intel to $40 a share from $44. "Weakening demand in the company's datacenter business, a shortfall in modems, and declining NAND prices" were the key drivers of Intel's disappointing report and therefore Hari's lowered estimates. Perhaps more importantly, the business looks to be a slower growing one for the future. "Management's expectations for 2019 point to a modest 1% revenue growth rate and a contraction in operating margin, which we view as a significant change in tempo following ~2 years of meaningful expansion," Hari wrote.
He also mentioned rising competition, as Advanced Micro Devices Inc. (AMD) - Get Report is expected to launch a competing chip in mid 2019. Plus, data center weakness was partially a result of weakening demand in China. 
Hari changed his full year 2019 EPS estimate to $4.06 from $4.37. 
JPMorgan Chase
JPMorgan analyst Harlan Sur lowered his price target to $64 from $70. "Demand weakness in data center ('pause' in cloud spending and weakness in China enterprise) and weak smartphone demand (Apple) is expected to continue in the quarter," Sur wrote. He mentioned Intel is expected to put a lot of cash to work in 2019, with an expected double digital capital expenditure growth rate. Plus, Intel is releasing new products this year. "We continue to expect Intel's overall competitiveness in client and data center markets to remain very strong in 2019," Sur said. 
Still, Intel management's expected revenue growth rate of just 1% for the full year of 2019 was enough to prompt Sur to lower his EPS estimate for the year to $4.60 from $4.67. 
CFRA
Analyst at CFRA, Angelo Zino, downgraded Intel to hold from buy, keeping his price target of $55. Like other analysts, Zino's concerns are about competition and weakness in China. "Our downgrade reflects our growing concerns surrounding INTC's data center business given increasing competitive pressures and a pause in spending from China customers," Zino wrote. 
Baird & Co. 
Baird analyst Trsitan Gerra lowered his price target to $60 from $64, but maintained his outperform rating on the stock. 
Susquehanna Financial 
Susquehanna analyst Christopher Rolland downgraded Intel to neutral from positive and lowered his price target to $50 from $58.