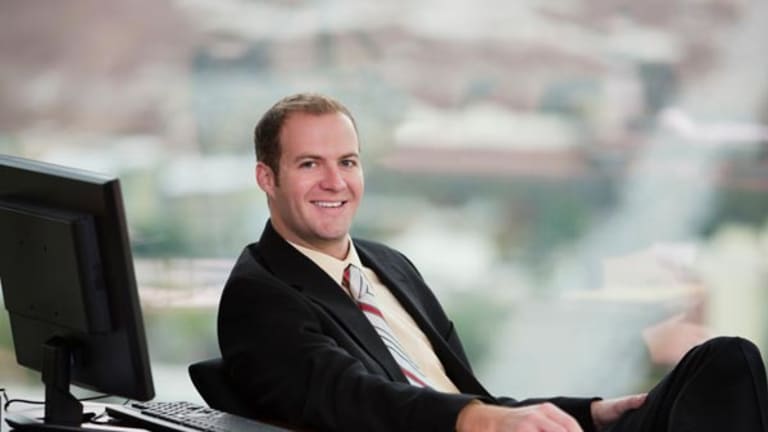 Inflection Point for Energy Investors
Chesapeake's results and rhetoric hint at more bullish times for the space.
This column was originally published on RealMoney on Oct. 27 at 11:04 a.m. EDT. It's being republished as a bonus for TheStreet.com readers.
Chesapeake Energy
(CHK) - Get Chesapeake Energy Corporation Report
spoke, and investors are likely to listen.
After Thursday's close, Chesapeake reported earnings well ahead of expectations for a third quarter that many felt could be a turbulent one for energy companies. In fact, the number was so far above estimates that one investor told me he thought there was a mistake in the press release.
There's no mistake: Chesapeake's spate of acquisitions, its ability to harvest natural gas from those properties, and its smart strategy to lock in lofty natural gas prices are beginning to impact the bottom line. This morning's conference call will probably further articulate a strategy that looks to be among the most powerful in the business.
Macro Views
Many investors now look to Chesapeake for insight on the broader energy markets. In Chesapeake's nearly ream-sized press release, it didn't disappoint them.
The message appears to be bullish. Early this fall, the company announced it was shutting in production because of low prices. However, the company now says that's a distant memory, as all production is back on line.
"The V-shaped recovery in natural gas has been remarkable," said Jeff Mobley, Chesapeake's senior vice president of investor relations and research, in an interview late Thursday. "Today's prices support additional production, production that was not economic at significantly lower prices a month ago."
Those wanting to turn bullish on natural gas markets were hoping for just that kind of signal. The decision to resume production should serve to spur hopes of increased activity in oil and natural gas fields, just as its previous announcement of a shut-in raised concerns about a slowing drilling and energy services market.
Chesapeake also plans to continue expanding its drilling program through at least 2007. "We currently have 120 operated rigs working, up from an average of 73 operated rigs in 2005 and an average of 89 operated rigs to date in 2006," said Chesapeake CEO Aubrey McClendon. "We anticipate increasing our drilling activity to approximately 133 operated rigs by year-end 2006 and up to 150 operated rigs in 2007."
That type of continued drilling growth -- especially given Chesapeake's diverse areas of operations from South Texas to Appalachia -- should support land contract drillers such as
Nabors
(NBR) - Get Nabors Industries Ltd. Report
and
Helmerich & Payne
(HP) - Get Helmerich & Payne Inc. Report
as well as ancillary service companies such as
Halliburton
(HAL) - Get Halliburton Company Report
,
Schlumberger
(SLB) - Get Schlumberger N.V. Report
and
BJ Services
( BJS).
Chesapeake also hints through action as much as rhetoric that the service market remains tight. Chesapeake has taken a stake in a private well-stimulation and pressure-pumping company as a hedge against oilfield service availability and cost, indicating its belief that services will remain tight for months to come. McClendon's recent savvy in making profitable investments in the oilfield suggest his actions will be carefully watched -- and likely mimicked -- by other investors. If so, these announcements could prove bullish for the services sector.
Finally, Chesapeake's acumen in making smart hedging decisions around weather forecasts has become influential. Discussions with the company on Thursday suggest Chesapeake believes we're in store for relatively normal weather when compared to the past 30 years. If true, winter may be modestly colder than the 10-year average, which most traders follow closely. That would be another bullish indicator for natural gas in the coming months.
If traders listen to what Chesapeake has to say, these results and the supporting rhetoric may be an inflection point for energy investors.
At time of publication, Edmonds had no positions in the stocks mentioned, although holdings can change at any time.
Christopher S. Edmonds is partner and managing director of research at Pritchard Capital Partners, a New Orleans energy investment firm. He is based in Atlanta. Under no circumstances does the information in this column represent a recommendation to buy or sell stocks. While Edmonds cannot provide investment advice or recommendations, he appreciates your feedback;
to send him an email.