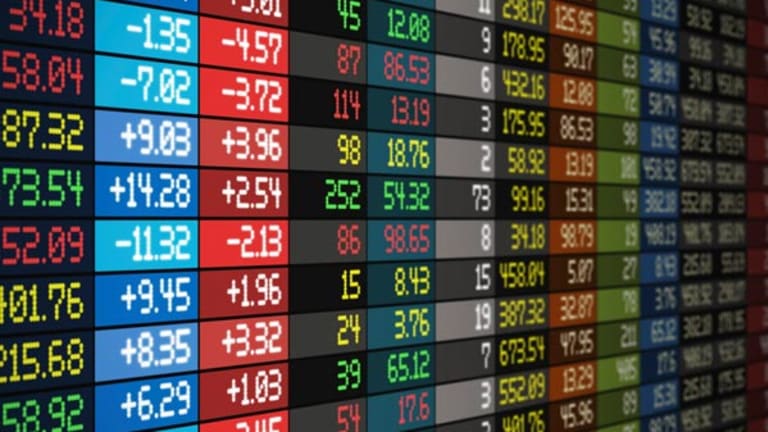 Inflation Alarms Spook Investors
Weak jobs growth eases some worries, but soaring oil and other economic data fuel new concerns.
Updated from 4:04 p.m. EST
An opening rally turned into a rout Friday as surging oil prices and signs of inflation in Institute of Supply Management data erased a weak employment report's benign impact.
The
Dow Jones Industrial Average
fell 99.46 points, or 0.95%, to 10,404.30, just some 36 points above its 2005 low set Jan. 24; the
S&P 500
shed 7.67 points, or 0.65%, to 1172.92; and the
Nasdaq
dropped 14.42 points, or 0.72%, to 1984.81, a new five-month low. Only the S&P 500 escaped a fourth straight losing week, if only by a point or so. The Dow and Nasdaq closed fractionally lower for the week.
Trading volume on the
New York Stock Exchange
was 2.16 billion shares, with decliners matching advancers. Closing volume on the Nasdaq was 1.86 billion shares, with decliners outpacing advancers by almost a 2-to-1 ratio.
In other markets, the 10-year Treasury note was up 8/32 in price to yield 4.45% in a volatile trading session, while the dollar rose against the yen and euro.
In the oil market, the May crude contract, which rose $1.41 on Thursday, added another $1.87 to close at $57.27 a barrel -- topping its record closing high of $56.72. The contract also touched a new intraday high of $57.70. Crude rose 4.4% on the week. Producer
Occidental Petroleum
(OXY) - Get Report
was upgraded to buy from hold Friday morning at Deutsche Bank, raising the stock $2.47, or 3.5%, to close at $73.64.
"There's some trepidation about extreme higher prices in crude," said Brian Williamson, equity trader with Boston Company Asset Management. "I would lessen the impact of just the crude price; it's more the inflationary fears that have the market falling. We went from one point this morning with the impression that the Fed would ease, to now the Fed being more aggressive. Obviously, coupled together, they are spooking equities. There just isn't a lot of good news at all today."
The government said nonfarm payrolls grew by 110,000 in March, half of what was expected. The jobless rate fell to 5.2% from 5.4%, vs. a 5.3% forecast by economists. Average hourly earnings rose 0.3%. The average work week was unchanged. Some traders had bought stock futures ahead of a March employment report that has proven particularly nettlesome for economists.
The report initially eased concerns that the Fed may become more aggressive in raising interest rates.
"I think this is what we should've expected," said Richard Yamarone, chief economist with Argus Research. "The economy is in a decelerating mode and has hit an oil-induced slow patch. You can't expect the economy, mired in such conditions, to generate 200,000 or more
jobs a month. I think it rules out a 50-basis-point move in this cycle by the Fed. January and March were weak payroll numbers, so it makes it harder for the Fed to justify a move. I think they will be less hawkish in their tightening campaign."
That school of thought was quickly put to the test when the Institute of Supply Management mistakenly released its services industry index for March, instead of the scheduled one for manufacturing. The services -- or nonmanufacturing -- index showed a reading of 63.1 -- much higher than the previous month.
In fact, the ISM's manufacturing activity index for March registered 55.2 -- when it was expected to fall to 54.9 -- vs. a reading of 55.3 in February. The survey's employment index slumped to 53.3, from 57.4. On the negative side, however, the survey's price index jumped to 73.0, vs. 65.5, which appeared to renew worries about inflation.
"There's nothing surprising that prices jumped like they did," added Yamarone. "Also, the increase in new orders is positive and encouraging, but at the first sign of a slowdown, businesses will start slashing those orders."
"The price rise almost certainly reflects the leap in oil prices in recent weeks," said Ian Shepardson, chief economist with High Frequency Economics.
"The problem was created with the reporting of the ISM services, which is supposed to come out next Tuesday," said Robert Pavlik, portfolio manager with Oaktree Asset Management. "The ISM services coming out early added concern to the bond market. The 10-year rate back up is from concern that manufacturing is still growing but there are no new jobs there. The ISM services increase from the previous month almost contradicts what the payroll numbers said this morning."
"In essence, it's only one report, and certainly there are other economic reports," said Peter Cardillo, chief market analyst with S.W. Bach & Co., referring to the nonfarm payrolls data. "With oil hovering near the higher end of the trading range, inflation fears won't disappear that quickly, but for the moment our fears are relieved. I would think that the focus would turn now to oil. If oil prices run up, we could see this relief dissipate."
While stocks wilted, bonds bounced back from early losses.
"I think we're looking at short covering at the end of the future's close," said John Canavan, market analyst with Stone & McCarthy Research Associates. "It follows up what we've seen the last week. We had a very volatile morning, so the market topped out at a yield perspective. Today's data got a great deal of attention, trading in the confusion of the ISM data. We've seen a creeping back from the lows for the remainder of the session."
Stronger sectors Friday afternoon include energy, materials, and utilities. Weaker sectors include semiconductors, biotech, retail, transportation, and health care.
In corporate news,
Biogen
(BIIB) - Get Report
, which Wednesday night reported another death linked to its Tysabri multiple sclerosis treatment, said investors should no longer rely on the earnings guidance the company released in early February. Biogen added 23 cents, or 0.7%, to $34.74, while Elan was up 14 cents, or 4.3%, to close at $3.38.
After a two-day delay,
Best Buy
(BBY) - Get Report
reported fourth-quarter earnings of $572 million, or $1.69 a share, up from $469 million, or $1.40 a share, a year ago. Overall revenue was $9.23 billion in the quarter ended Feb. 26, 2005, compared with $8.45 billion a year ago. Same-store sales rose 2.8% in the quarter from a year ago. Excluding discontinued operations and several one-time items, Best Buy earned $522 million, or $1.55 a share, in the quarter, matching the Thomson First Call consensus estimate. Shares of the retailer lost $3.41, or 6.3%, to $50.60.
MCI
(MCIP)
confirmed that
Verizon
(VZ) - Get Report
has allowed it to review
Qwest's
(Q)
new $8.9 billion bid to acquire the company. On Thursday, Qwest made the new bid for the long-distance phone company, raising its offer to $27.50 a share in cash and stock, or $8.9 billion. The bid includes $13.50 a share in cash and $14 in stock.
MCI was up 39 cents, or 1.6%, to finish at $25.29; Qwest fell by 6 cents, or 1.6%, to $3.64; Verizon was down 31 cents, or 0.9%, to closet at $35.19.
Taser
(TASR)
fell in premarket trading after it guided first-quarter revenue down to about $10 million, roughly $3 million short of forecasts. The stun-gun maker cited negative publicity that has led to a "temporary disruption in our sales pipeline." Shares of Taser dropped $1.58, or 13.2%, to $10.42.
Red Hat
(RHAT)
said Thursday night that fourth-quarter earnings doubled from a year ago to $11.8 million, or 6 cents a share, on a 56% jump in revenue to $57.5 million. Analysts were expecting 6 cents a share and $56 million. Red Hat rose $1.25, or 11.5%, to $12.16.
Blockbuster
(BBI) - Get Report
on Friday announced plans to cut 300 jobs at its corporate headquarters to help offset higher marketing costs for its online rental service. Shares gained 9 cents, or 1%, to $8.92.
Two retail stocks that have traded with potential take-out premiums recently,
Saks
(SKS)
and
Dillard's
(DDS) - Get Report
, were upgraded to hold from sell at Deutsche Bank on Friday. The brokerage said neither has seen the turnaround progress achieved at
J.C. Penney
(JCP) - Get Report
but noted that investors aren't likely to care in the current environment. Saks rose 55 cents, or 3%, to $18.60, while Dillard's was up 32 cents, or 1.2%, to finish the session at $27.22.
Late Thursday,
PalmSource
(PSRC)
posted a third-quarter loss of $700,000, compared with a profit of $600,000 in the same period a year ago. Excluding items, PalmSource earned $600,000, or 4 cents a share. Sales for the company also fell to $17.2 million from $21.6 million a year ago. Analysts expected PalmSource to earn 4 cents a share on revenue of $18 million. Shares added 74 cents, or 8.2%, to $9.78.
In other economic news, the Commerce Department released February construction data, showing a 0.4% increase, short of the 0.6% consensus. There were also downward revisions to December and January. Construction spending in February was held back by a 3.2% drop in private commercial sector activity.
Also, the University of Michigan sentiment survey for March came in at 92.6, vs. a forecast of 92.5, a decrease from 92.9 earlier in the month.
Overseas markets were mostly higher, with London's FTSE 100 closing up 0.4% to 4914 and Germany's Xetra DAX adding 0.6% to finish at 4373. In Asia, Japan's Nikkei rose 0.5% overnight to 11,724, while Hong Kong's Hang Seng dipped 0.2% to 13,491.