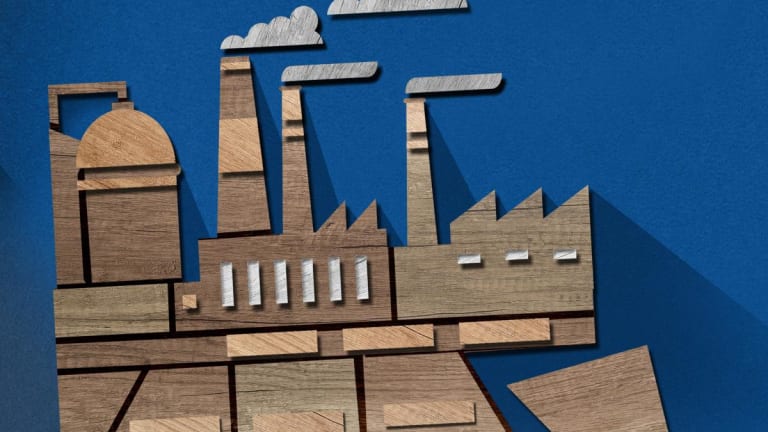 Industrial Production Unexpectedly Declines in July as Key Trump Sector Sags
U.S. industrial production unexpectedly contracts in July, hitting President Donald Trump's economy in a sector known for its abundance of high-paying blue-collar jobs.
U.S. industrial production unexpectedly fell in July, hitting President Donald Trump's economy in a sector that has been a key priority of his policies since the 2016 campaign trail.
Industrial production declined by 0.2% from the prior month, the Federal Reserve said Thursday in a statement, even though economists, on average, had projected an increase of 0.2%. The contraction represents a reversal from June's revised growth rate of 0.2%, which had previously been reported as flat. 
The stakes are high because the U.S. manufacturing sector, while employing just 8% of the workforce nationally with some 12.9 million jobs, accounts for some 11% of total economic output, and as a result has historically been a font of well-paying jobs.
Some economists attribute the industry slowdown to Trump's trade war with China, since the U.S. is a big exporter to the country of manufactured goods like transportation equipment, computers and electronics.  
Since 2016, Trump has appealed to factory workers as a core base of political support, promising that his battles to reduce foreign countries' allegedly unfair trade balances would lead to a revival of U.S. manufacturing, producing good jobs and stimulating the overall economy.   
Manufacturing output decreased by 0.4% in July, the fourth decline in the past six months, while mining industries registered a 1.8% drop, according to the Federal Reserve. 
According to the statement, the figures were affected by Hurricane Barry, which caused a temporary but sharp decline in oil extraction in the Gulf of Mexico.