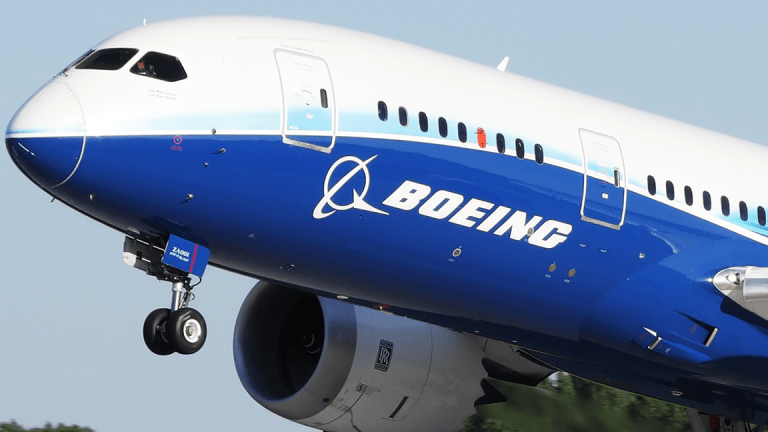 Industrial Giants Take Down Dow, but Await Cooler Heads on Trade
Boeing and Caterpillar are the leading laggards in the Dow Jones Industrial Average.
Boeing and Caterpillar are the leading laggards in the Dow Jones Industrial Average.
Down goes the Dow.
Boeing Co. (BA) - Get Report and Caterpillar Inc. (CAT) - Get Report , often believed to be the bellwethers of the industrial sector, are the leading laggards in the Dow Jones Industrial Average on Tuesday, June 19, as investors sell on concerns over an escalating trade dispute with China.
The index comprised of 30 large-cap companies fell by about 285 points to 24,702.74 at 3:15 p.m. New York time. Boeing, the aerospace and defense company, tumbled 3.8% to $341.28 and Caterpillar, which makes heavy construction equipment among other things, declined by 3.7% to $143.27.
The Dow and other major U.S. indexes fell sharply after President Donald Trump said Monday evening that if China follows through with its promise to impose retaliatory tariffs against the U.S., he will impose additional tariffs at a rate of 10% on $200 billion worth of goods from China. Last week, the Trump administration said it will impose a 25% tariff on $50 billion of Chinese exports, to which China vowed to reciprocate.  
"We are at a very delicate point in trade tension," said Dec Mullarkey, managing director of investment strategies at Sun Life Investment Management, which manages $60 billion of assets. "If the next move is aggressive, the consequences will be damaging to both countries and to global trade and growth."
Caterpillar declined to comment on the escalating trade dispute between China and the U.S.
Chicago-based Boeing, meanwhile, does a fair amount of business with China as it builds up its airline industry. About 70% of Boeing's planes delivered in 2017 were to countries outside the United States, and of that, 22% were directed to China.
Boeing CEO Dennis Muilenburg told TheStreet's Brian Sozzi that China is "an important relationship for us."
"The world will need 41,000 new airplanes and more than 7,000 of them will be in China," Muilenberg said.
But as the potential for a trade war increases, Boeing reiterated its statement from last week, saying it is assessing the effect of the U.S. tariffs and any reciprocal action. "We will continue to engage with leaders in both countries to urge productive dialogue to resolve differences, highlight the mutual economic benefits of a strong and prosperous aerospace industry," the company said.
Separately, TheStreet founder Jim Cramer named both Boeing and Caterpillar to his so-called GLUM index, a compilation of about a dozen companies that "can be bought every time we feel gloomy, which, sadly, is pretty much every day."