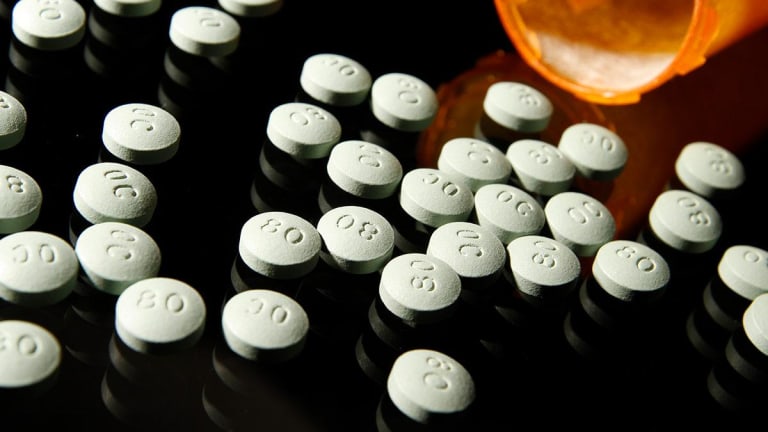 Indivior Plummets on Charges of 'Illicit Nationwide Scheme'
U.K. drugmaker balks at Justice Department claims it misled health care providers to push its treatment for opioid addiction.
Shares of Indivior  (INVVY) fell hard and fast Wednesday after news that a federal grand jury in Virginia indicted the drugmaker for allegedly "engaging in an illicit nationwide scheme" to push prescriptions of a drug used in the treatment of opioid addiction.
Shares lost more than 60% of their value and were hovering around $2.29 by afternoon. That's compared to Tuesday's close of $6.78 and a 52-week high of $33.83.
Indivior, said prosecutors, pulled in billions in revenue from Suboxone Film prescriptions by "deceiving health care providers and health care benefit programs" who had believed that Suboxone Film, which can become addictive itself, was safer and less likely to be abused than other treatments for addiction to opioids. 
"The indictment alleges that, rather than marketing its opioid-addiction drug responsibly, Indivior promoted it with a disregard for the truth about its safety and despite known risks of diversion and abuse," said Assistant Attorney General Jody Hunt in a statement. 
The U.S. is seeking "not less than" $3 billion in fines over the allegations. 
The British company, however, defended its practices and said it will "vigorously" contest the charges. 
"We are extremely disappointed in this action by the Justice Department, which is wholly unsupported by either the facts or the law," said the company in a statement.
Indivior contends that the Justice Department's allegations are "contradicted by the government's own scientific agencies" and based on past events prior to 2014, when Indivior became an independent company.
"The department has apparently decided it would rather pursue self-serving headlines on a matter of national significance than achieve an appropriate resolution, but we will contest this case vigorously and we look forward to the full facts coming out in court," said the company in a statement, adding that its "top priority" has always been the treatment of patients struggling with opioid addiction.
Saying that Indivior's medications such as Suboxone play a critical role in treating opioid abuse, the company also said that it sells no painkillers in the U.S and "is not a contributor to the opioid crisis."