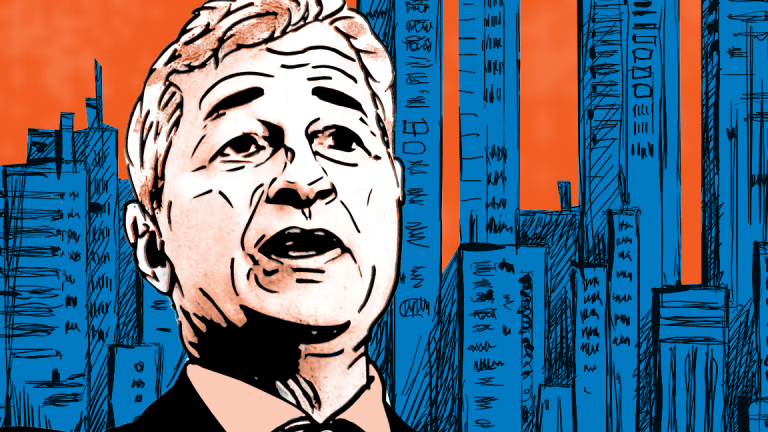 In Trump Era, Managing JPMorgan Is As Unpredictable As a Midnight Tweet
President Donald Trump's tax cuts delivered a windfall to big banks like JPMorgan, and he has slashed financial-industry regulations. Now he's making bank executives' lives complicated.
It's Trump's schizophrenic economy. Bankers are just living in it.
A trio of earnings reports on Friday from U.S. banking behemoths JPMorgan Chase & Co. (JPM) - Get Free Report , Citigroup Inc. (C) - Get Free Report and Wells Fargo & Co. (WFC) - Get Free Report showed just how tricky the finance business has become for executives trying to navigate the twists and turns of President Donald Trump's policies, for better or worse.
Profits are soaring, thanks to the president's steep tax cuts in December. But the big banks' stock prices are down on the year, due to concerns that Trump might start a trade war with China while cozying up to Russian leader Vladimir Putin and alienating traditional military allies in Europe.
An even more vexing conundrum is how to manage a big bank in an era where fiscal stimulus -- tax cuts and Trump's $300-billion-plus spending bill -- is piled on top of an already hot economy, with unemployment at an 18-year low but worker wages essentially stagnant. 
The Federal Reserve has been raising interest rates to head off a steep acceleration in inflation, but so far consumer-price increases have barely met the central bank's target of 2%. Corporations are flush with cash, but the national debt is soaring rapidly above $20 trillion.
Interest rates are still historically low. But few corporations and companies are seeking new loans, since they're also flush with cash from the tax cuts and newly repatriated foreign profits. Consumer confidence is up, but households are taking out fewer mortgages, leading to increased competition - and shrinking profit margins - on the loans that banks make. There's a lot of buts. 
Some investors worry that yields on 10-year U.S. Treasury bonds are poised to surge -- a trend that could wreak havoc on big banks' loan portfolios and trading desks. Others worry that yields on the bonds aren't rising as fast as short-term rates, traditionally a warning sign of a coming recession, which would be even worse for the banks.
It's the job of any financial-company CEO to navigate the economy. JPMorgan CEO Jamie Dimon, who is widely regarded as a titan of corporate America and often gets mentioned in the same breath with billionaire investor Warren Buffett and Amazon.com Inc. (AMZN) - Get Free Report CEO Jeff Bezos, got paid $29.5 million last year to do just that.
But this economic cycle is different. Because, with Trump, everything is different.
"Things are always a little bit different," Dimon told investors on a conference call Friday.
It's Tough Out There
It's not like banks don't already face a complex enough job managing multi-trillion-dollar balance sheets through a period of rapid societal change. 
For example, JPMorgan, Wells Fargo and Bank of America Corp. (BAC) - Get Free Report have giant, sprawling retail-branch networks at a time when Internet commerce is rapidly becoming the norm. They've kept interest rates on savings accounts close to zero for most of the past decade, claiming that their branches provide a necessary convenience. But now Goldman Sachs Group Inc. (GS) - Get Free Report , the Wall Street trading firm, is trying to outflank them by offering top-of-the-market rates on deposits through an entirely online banking platform.
Cyber attacks are on the rise, not to mention cybercurrencies. 
All this comes as the Federal Reserve moves to shrink its $4 trillion-plus balance sheet, under a policy considered experimental at best. Trump's unpredictable policy maneuvers just make bankers' job that much more fraught -- or dependent on luck.
The president's promise to renew sanctions against Iran, a major oil producer, has pushed up gas-pump prices, hitting consumer wallets. Yet Trump has also jawboned OPEC producers, including Saudi Arabia, to increase oil supplies and bring prices back down. A gas-price shock ahead of November's mid-term elections in the U.S. could sap consumer confidence, hurting Republicans' chances of keeping control over both chambers of Congress. 
JPMorgan's trading business was well positioned for the twists. Second-quarter trading revenue climbed 12% to $6.5 billion, bolstered by "improved commodities revenue," JPMorgan said in a press release.  
Citigroup appears to have been less lucky; total trading revenue fell by 1% to $4.5 billion in a "more challenging market environment," according to the bank's own press release.
Dimon has his own challenges. He said Friday that he wants to build up a Wall Street-style trading business in Shanghai but needs approval from authorities in China, who have threatened Trump with retaliation over his order for tariffs on some $250 billion of imports from the country.
Citigroup CEO Michael Corbat, meanwhile, faced questions about the prospects for the bank's business in Mexico, where a national backlash against Trump recently led to the election of a leftist president. Mexico's currency, the peso, has weakened by nearly 5% over the past three months.
"What we're probably watching more short- to intermediate-term is the business reaction," Corbat told investors Friday.
The Reality
At a meeting last month in Washington, Federal Reserve officials discussed their concerns that some business executives domestically might be scaling back or postponing investments in new plants and equipment, due to worries that a Trump-provoked trade war might hurt the economy. The tariffs could raise prices for American consumers, while retaliation by China would hurt profits for U.S. exporters, according to economists.
Those worries are now front and center for bank investors, Erika Najarian, an analyst at Bank of America, said on JPMorgan's conference call. Many of them are worried that "now is not the time to invest in banks because we are late in the game from an economic standpoint."
Dimon did his best to reassure her, while acknowledging that concerns over Trump's trade war may have recently weighed on consumer and business confidence - the same confidence that was engendered by the president's tax cuts.
"People are going back to the workforce," he said on the conference call. "The consumer balance sheet is in good shape. Capital expenditures are going up. Household formation is going up. Homebuilding is in short supply."
To that bullet-pointed riff, he added: "I don't worry about the 10-year bond or all these various things. We try to manage those risks."
Wells Fargo CEO Tim Sloan, for his part, told investors that loan-underwriting standards in the commercial real estate business are deteriorating -- a telltale sign of an overheated economy. It's not just banks competing to supply the cash for loans, but real-estate investment trusts, money managers and sovereign wealth funds, CFO John Shrewsberry added.
"Any pool of capital that's out there looking for a return has got its finger in the pot of commercial real estate finance," Shrewsberry said.
In residential real estate, meanwhile, commodity prices are up, and labor for construction is in short supply, slowing the pace of new home construction, Sloan said.
"That's a little bit different than in prior cycles at this time, I would say," Sloan said.
The trade question is especially important for Citigroup, which has the biggest international branch network among U.S. banks and makes ample profits from letters of credit and other forms of trade financing.
Yet according to the bank's CFO, John Gerspach, a surge in trade within Asia and elsewhere could help offset any lost business due to a slowdown in imports and exports between the U.S and China.
The trade tussle "certainly has had some impact on the overall feeling in the market, it's created some uncertainty, and it's probably had some impact on people making decisions," Gerspach told reporters on a conference call. "But so far we've seen very little direct impact from the talk."
There's a lot of talk. And a lot of money at stake. And a lot more tweets to come. 
JPMorgan Chase, Citigroup, Goldman Sachs and Amazon are holdings in Jim Cramer's Action Alerts PLUS member club. Want to be alerted before Jim Cramer buys or sells these stocks? Learn more now.