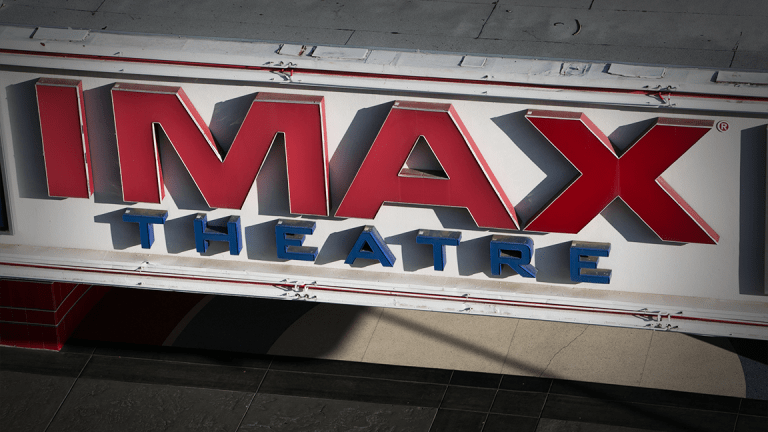 IMAX Posts Mixed Earnings but Lifts Box Office Guidance
IMAX raises full-year box office guidance but first-quarter results were mixed.
IMAX  (IMAX) - Get IMAX Corporation Report  , the movie theater operator, raised its full-year guidance but missed on the top while beating on the bottom line in its first-quarter results.
The stock was down 0.2% to $24.98.
IMAX said it will see low double-digit percent growth in its box office business for full-year 2019. As for total sales, analysts are looking for just 4.7% year-over-year growth for all of 2019, according to FactSet data. 
Earnings per share for the quarter ended March 31 came in at 18 cents, beating Wall Street estimates of 17 cents. Total revenue was $80.2 million, missing analysts' expectations of $81.21 million. Still, this was a record quarter for the traditional theater company in terms of box office sales, as IMAX brought in $106 million, a 19% year-over-year increase. The movie, "Avengers: Endgame," delivered its biggest IMAX open ever in China, bringing in $21 million of revenue in its first two days. 
"Our achievements in 2018 set the stage for IMAX to have a blockbuster year in 2019," said CEO Richard L. Gelfond. "Given our better than anticipated start in the first quarter, we are even more confident that 2019 will deliver strong growth in EBITDA margins and return on capital." Avengers may be a big part of 2019 as well. "With a robust lineup of tentpole films ahead, like the highly anticipated Avengers: Endgame, which opens this weekend, we anticipate delivering our strongest box office year ever in 2019," Gelfond added. 
IMAX shares have risen 34% year to date.