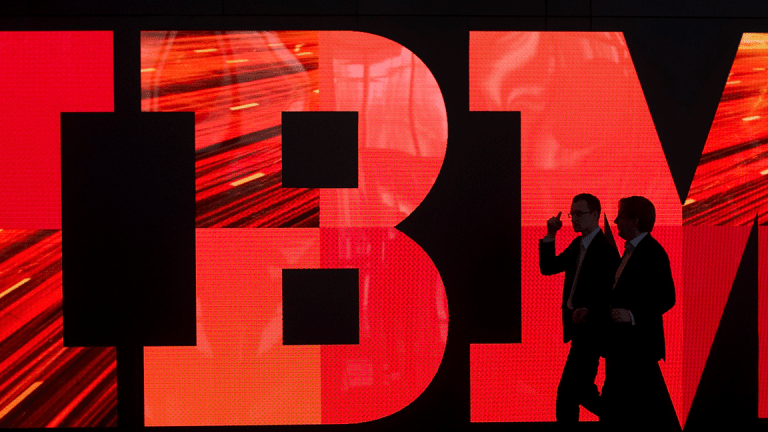 IBM to Run Vodafone's Cloud Business, Offer Solutions to Its European Customers
Vodafone will pay $550 million to IBM, but the opportunity for IBM could be bigger than that.
IBM Corp (IBM) - Get Report is entering into a strategic partnership with British telecom giant Vodafone Group PLC (VOD) - Get Report to provide sophisticated cloud and hosting solutions for business customers in Europe, giving IBM quick access to a new market.
IBM shares rose 0.5% to $122.19 at the close of trading on Thursday, as the broader market rose. 
As part of the deal, IBM will run Vodafone's cloud business, with Vodafone paying IBM a total of $550 million over the next eight years in exchange.
The companies will combine IBM's cloud offerings with Vodafone's network and connectivity to provide Vodafone's enterprise customers a more efficient connection between their cloud environments and their actions on devices. The service will be provided to Vodafone customers in the U.K., Ireland and Germany.
"IBM has built industry-leading hybrid cloud, AI and security capabilities underpinned by deep industry expertise," said IBM Chairman, President and CEO Ginni Rometty in a statement. "Together, IBM and Vodafone will use the power of the hybrid cloud to securely integrate critical business applications, driving business innovation -- from agriculture to next-generation retail."
Vodafone emphasized the objective was to simplify things for its customers. "Through this new venture we'll accelerate our growth and deepen engagement with our customers while driving radical simplification and efficiency in our business," Vodafone CEO Nick Read said.
Vodafone needs IBM's technology in order to accomplish this. "It was a decision of like mindedness," Michael Valocchi, the co-leader of Venture, IBM told TheStreet.
But for IBM, which has seen its stock decline 28% in the past year, the partnership gives way for an opportunity overseas.
Since the joint offering will go through Vodafone's channels and to its customer base, IBM will immediately gain access to Vodafone's sizable cloud customer base in Europe, which would have been harder to achieve had IBM simply decided to spend big marketing dollars on reaching those customers, Valocchi said.
IBM wants to offer other cloud products to Vodafone's customer base. Many of those offerings will  be combinations of IBM's and Vodafone's technology, which will create premium solutions for customers. IBM will use Vodafone's salesforce, already in place, to accomplish this, and IBM will also put some of its sales force to work with that of Vodafone's.
IBM announced in October its decision to acquire cloud provider Red Hat Inc. (RHT) - Get Report for $34 billion, a 60% premium over Red Hat's price before the deal was announced. IBM has been expanding its cloud business as Amazon.com Inc (AMZN) - Get Report and Microsoft (MSFT) - Get Report storm ahead as leaders in the space. "I would predict that RedHat capabilities will be part of this venture," Valocchi said.
On Thursday morning, IBM also announced it had signed a $325-million agreement with Juniper Networks (JNPR) - Get Report to help the network technology company manage multiple cloud environments over the next seven years. 
Amazon and Microsoft are holdings in Jim Cramer's Action Alerts PLUS member club. Members of Cramer's Action Alerts Plus club can watch Cramer's exclusive call on Thursday, Nov. 17.