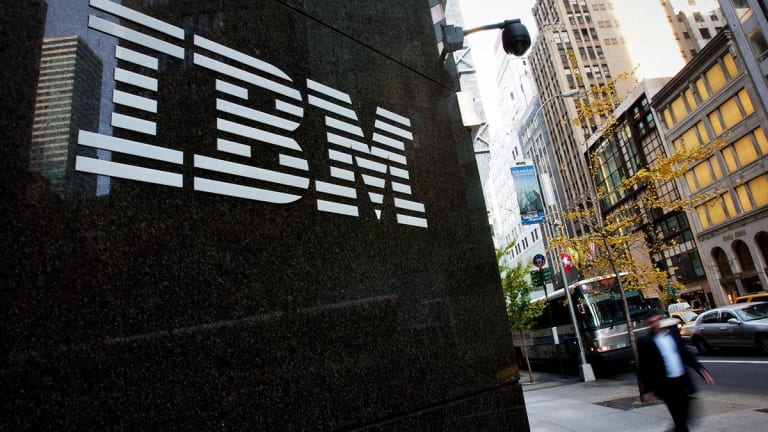 IBM Reports Earnings on Tuesday: 7 Key Things to Watch
Software growth, margin trends and China commentary are among the things to watch as Big Blue reports.
IBM's (IBM) - Get International Business Machines (IBM) Report stock is going into earnings down about 9% on the year. And even after accounting for dividend payments, Big Blue's shares are down slightly over the past five years.
Against this backdrop, IBM might only need to deliver solid numbers, rather than superb ones, to get a post-earnings pop when it reports after the close on Tuesday. At the same time, just as the July gains that IBM saw following a Q2 beat proved short-lived, any gains seen following a Q3 report are unlikely to drive a sustained rally unless it leads investors to rethink their outlook for a company expected by analysts to see minimal top-line growth over the next two years.
On average, analysts polled by FactSet expect IBM to report Q3 revenue of $19.1 billion (down fractionally annually) and non-GAAP EPS of $3.40 (up 3%). IBM also usually provides full-year guidance within its report: In July, the company reiterated guidance for 2018 EPS of "at least" $13.80 and free cash flow (FCF) of roughly $12 billion.
Along with IBM's core numbers and guidance, here are some things for investors to watch as the company reports on Tuesday and hosts an earnings call at 5 p.m. Eastern.
1. Software Growth
Though the company beat Q2 revenue and EPS estimates, IBM's Cognitive Solutions segment, which covers much of its software operations and is easily its most profitable reported segment, reported revenue of $4.58 billion, up less than 1% annually and below a $4.76 consensus. On the call, CFO Jim Kavanaugh said that Cognitive Solutions was hurt by product "transitions" in its talent, collaboration and commerce software businesses, while asserting IBM is working to modernize its products within these fields.
Following the Q2 shortfall, the consensus is for Cognitive Solutions, whose struggles come as many enterprise software peers are delivering much healthier growth, to report Q3 revenue of $4.3 billion (down 2%). If the business managed to deliver positive growth, markets could react favorably.
2. Hardware Growth
IBM's Systems segment, which covers sales of hardware and operating system software, was a standout in Q2. With the help of a strong mainframe cycle and a favorable IT hardware spending environment, Systems revenue rose 25% to $2.18 billion, topping a $1.85 billion consensus.
With IBM having passed the 1-year anniversary of the start of shipments for its z14 mainframe in September, the consensus is for Systems revenue to rise just 4% in Q3 to $1.79 billion. In addition to lifting hardware sales, demand for the z14 and its powerful encryption features has boosted IBM's total security-related revenue; it rose 81% in Q2.
3. Gross Margin Trends
IBM's gross margin (GM) fell by 0.6 percentage points annually in Q2 to 46.5%. The company blamed revenue mix changes (Cognitive Solutions has a high GM), as well as cloud investments.
Can IBM, which has promised its GM will improve during the second half of 2018, turn in a better performance in Q3? The consensus is for a Q3 GM of 47.1%, up sequentially but down 0.5 points annually.
4. The Impact of Currency Swings
With the dollar having strengthened this year, Kavanaugh cautioned on the Q2 call that forex swings -- a 2-percentage-point tailwind to revenue growth in Q2, and a 5-point tailwind in Q1 -- will become a 1-to-2 point headwind during the second half of the year. A larger or smaller-than-expected forex impact could spell the difference between IBM reporting positive or negative revenue growth for Q3.
5. Services Signings and Backlog
IBM's services signings, which can be lumpy from quarter to quarter, grew 6% in Q3 to $11.5 billion. However, its backlog fell 1% to $116 billion.
Will IBM post positive backlog growth for Q3? The company insists the quality of its backlog mix is improving even as total growth remains under pressure, with a greater portion of the backlog consisting of cloud deals and signings meant to be fulfilled in a short amount of time.
6. "As-a-Service" Cloud Revenue
The annual revenue run rate for IBM's "as-a-service" cloud revenue streams, which covers things like cloud app subscriptions, cloud infrastructure services and the Bluemix platform for cloud app developers, was up 26% annually in Q2 and 25% in Q1. Can IBM deliver another quarter of 25% or greater growth?
7. China Commentary
IBM doesn't have major direct exposure to the tariffs that Washington and Beijing have imposed on each other. However, it does do a fair amount of business in the Middle Kingdom. For that reason, it's worth paying attention to any comments the company offers on whether it has seen changes in Chinese demand trends amid worries about both Chinese macro pressures and a potential backlash to U.S. companies.