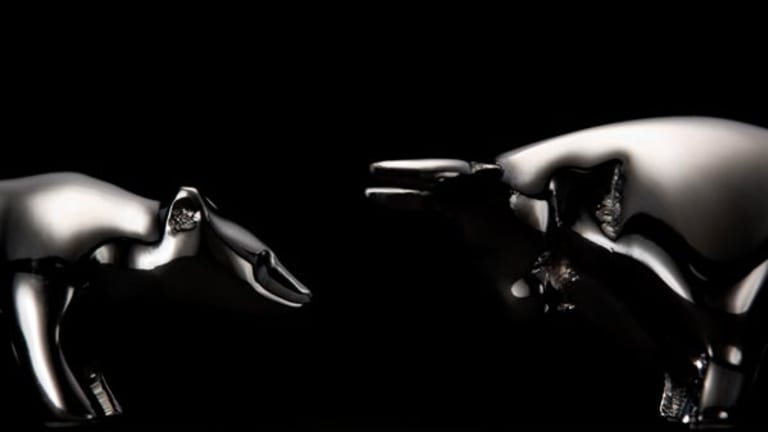 Huge Comeback Saves Stocks
The Dow erases most of a 400-point loss, and the Nasdaq finishes with a slight gain.
The Dow erases most of a 400-point loss, and the Nasdaq finishes with a slight gain.
Updated from 4:03 p.m. EDT
Stocks staged a stunning comeback late Monday that left the
Dow Jones Industrial Average
, which had been down more than 400 points during the day, only modestly lower. Meanwhile, the
Nasdaq Composite
broke into positive territory just before the closing bell.
For the sixth session in a row, the Dow closed down, ending off 45.34 points, or 0.5%, to 8639.19. The Nasdaq gained 8.99 points, or 0.7%, to 1382.49, while the
S&P 500
fell 3.47 points, or 0.4%, to 917.92.
Traders had various explanations for the late-day rebound. "We got down to the Sept. 21 low on the Dow," said Dave Memmott, a trader at Morgan Stanley. "And the market just rebounded from there."
Memmott also said short covering was probably responsible in part for the surge on the indices. "The short base probably got just a little too crowded," he said. "That created a squeeze at the end of the day." In his view, there was also probably some overseas capitulation related to concerns about the dollar.
Earlier in the day, fear about corporate accounting outweighed news from
Pfizer
(PFE) - Get Report
that it would acquire
Pharmacia
(PHA)
, and a statement from President Bush that the economy was fundamentally strong.
Worries about the financial health of U.S. corporations took its toll on the dollar, which slid against other major currencies. The greenback hit parity with the euro, the first time that has happened since February 2000, and dropped to a 17-month low against the Japanese yen.
Going into the day, U.S. stocks were coming off one of their worst weeks of the year. The Dow last week lost 695 points, or 7.4%, to close at 8684, while the S&P plunged through its Sept. 21 low of 965, falling 67 points to 921. In a trend that continued Monday, the Nasdaq fared somewhat better, sliding 75 points, or 5.2%, to 1373.
Among the latest companies to come under investigation,
Duke Energy
(DUK) - Get Report
and
El Paso
(EP)
said they received subpoenas on Friday from prosecutors, who are looking into their trading operations.
On the accounting front, investors had little reason to cheer up after word emerged over the weekend that
WorldCom
(WCOME)
executives had ignored internal pressure to fix the company's accounting as far back as April 2000, and that Vice President Dick Cheney was aware of the bookkeeping at
Halliburton
(HAL) - Get Report
that recently drew scrutiny from the
Securities and Exchange Commission
.
The market took little encouragement from a blockbuster acquisition in the pharmaceuticals industry. Pfizer announced that it will acquire Pharmacia for stock worth $60 billion. The deal bolsters Pfizer's drug arsenal and comes despite recent weakness in pharmaceutical shares.
The merger creates a pharmaceutical giant with revenue topping $48 billion annually, with a dozen blockbuster drugs that each generate more than $1 billion in sales annually. Pharmacia shares jumped 20% to $39.25. Pfizer ended down 11% at $28.78.
Earnings season got under way Monday, and among the companies to release their quarterly numbers was
FleetBoston
(FBF)
, which reported a loss of $386 million. The result reflects its decision to close its Robertson Stephens investment bank and charges related to Argentina.
Fannie Mae
(FNM)
said second-quarter earnings were up on high volumes, a rising net interest margin and a low level of credit losses. The mortgage market-maker said it earned $1.46 billion, or $1.44 a share, in the quarter, up 4.4% from $1.40 billion, or $1.36 a share, in the year-ago period.
Excluding special charges, the company earned $1.57 billion, or $1.55 a share, up from $1.31 billion, or $1.27 a share, last year. On that basis, analysts had been looking for $1.52 a share.
Overseas, stocks were lower across the board. Most exchanges in Europe closed while the U.S. averages were hitting their worst levels of the day. London's FTSE 100 ended down 5.4% at 3995, and Frankfurt's Xetra DAX fell 5.3% to 3913. Japan's Nikkei lost 2.1% to 10,375, and Hong Kong's Hang Seng shed 0.6% to 10,582.