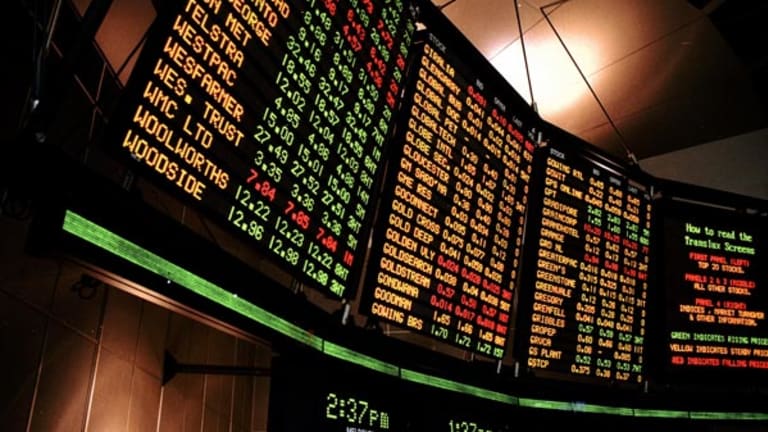 Publish date:
How to Spot the Top
It's good to know the indicators that can point to a potential reversal.
It's good to know the indicators that can point to a potential reversal.
This column was originally published on RealMoney on May 24 at 10:06 a.m. EDT. It's being republished as a bonus for TheStreet.com readers. For more information about subscribing to RealMoney, please click here.
As we've all been watching this amazing run in the market, everybody with a portfolio has wondered when it all will end. We've heard it over and over: The high cost of gasoline, reduced growth rates, subprime and general real estate problems, the shrinking dollar and meager chances of a rate cut. What the heck is making this market continue to scream?
Plenty of people can make a bull case or a better bear case, for that matter. That's not why I'm writing this. What I would like to discuss is a couple of indicators that could show when this market might be reaching a top, so you can consider lightening up into what will be the inevitable necessary corrections -- if not an altogether necessary and overdue at least midterm turnaround.
I've seen a lot of markets as a commodity trader, and the swings inside them are usually a lot more vicious than in equities. But I've also noticed the equity markets are trading much more familiarly to me -- much more
like
the commodity markets I've traded for the past 25 years -- and that makes me think that the signposts that I've used to spot potential tops and bottoms might be applicable.
So, let's talk about a few classic signs of markets reaching the end of an arc.
Island Reversals
This pattern has several names, but for straight bar-charters, it is most often called an island reversal; for Japanese candlestick charters, it's known as the "evening star" (I like that one). All of them are basically referring to the same kind of action.
For a bull market, this would represent a trading day that acts exceedingly well, for our purposes, at least a 50- to 125-point up move in the
Dow Industrials
or 10-25 points in the
S&P
. The range for the day creates a "gap" from the day before it. It becomes a more powerful signal if the open and closing prices are very closely spaced, but it is the next day's action that is indicative of the pattern: The relatively large up day is followed by a significant down day, also creating a "gap." On a bar chart, the pattern looks like this:
One also finds multiday islands with collective sessions displaying the same basic "look." The chart for such a formation looks like this:
What is absolutely essential is that volume for the sessions in question is unusually large. Of course, with all indications of market action, heavy volume is a key confirmation tool, but particularly with reversal indicators.
More interesting than a bar-chart pattern is the explanation of what's actually going on. Confident players are backing up the truck to continue pushing a good market higher. In addition, the last couple of people on the sidelines tend to come in, afraid of waiting any more and missing what has become a very hot market. There could be a good amount of "throwing in the towel" short-covering as well.
In the subsequent sessions, some of these late partygoers will come immediately out of trades they exuberantly made the previous day or two. They will be joined by bulls taking profits out of a market that has gapped lower, and by the end of the day, will be "helped" by bear players who see an opportunity to finally take control of a market that's been entirely out of their control. There's a snowball effect that can cause the very high volume numbers you might see.
Key Reversal
This single-session indicator also requires heavy volume to legitimize its value. The equivalent candlestick pattern is known as an "engulfing pattern." No matter the name, the action is the same: The market, in a bull scenario, will open higher on the day and, under high volume, will finish lower on the day, closing
below
the previous day's low. The chart pattern will look like this:
It's a rare event, but a pretty powerful indicator when you see it.
But more than these purely technical indicators, be sure to use your intuitive indicators, too. As a trader, I always became wary when everybody was in agreement. In the stock market, we seem to be very close to that now. All I hear is about the incredible liquidity, the private-equity money, the stock buybacks, the desire for companies to go private and endless M&A stories. When Doug Kass starts to buy stocks, you're at the end of the road, my friend.
I'm not bearish on the market -- not at all. I think there's plenty of value out there in specific issues. But markets need time to digest even the most bullish of environments, and this market has had little time to do that. Markets tend to move in waves and are never entirely one way.
Also, remember that technical indicators are really just visual indicators of human reaction and emotion. You'll have much more confidence in your trading decisions if you can confirm the technicals you see with the real human discussion you're seeing around you.
You'd be foolish to trade these markets from the short side. But you'd be more foolish not to keep an eye out for some indications of a changing wind. Use some of these indicators to keep you a step ahead of the game.
At the time of publication, Dicker had no positions in the stocks mentioned, but positions can change at any time.
Dan Dicker has been a floor trader at the New York Mercantile Exchange with more than 20 years' experience. He is a licensed commodities trade adviser. Dan's recognized energy market expertise includes active trading in crude oil, natural gas, unleaded gasoline and heating oil futures contracts; fundamental analysis including supply and demand statistics (DOE, EIA), CFTC trade reportage, volume and open interest; technical analysis including trend analysis, stochastics, Bollinger Bands, Elliot Wave theory, bar and tick charting and Japanese candlesticks; and trading expertise in outright, intermarket and intramarket spreads and cracks. Dan also designed and supervised the introduction of the new Nymex PJM electricity futures contract, launched in April 2003, which cleared more than 600,000 contracts last year alone. Its launch has been the basis of Nymex's resurgence in the clearing of power market contracts over the last three years. Dan Dicker has appeared as an energy analyst since 2002 with all the major financial news networks. He has lent his expertise in hundreds of live radio and television broadcasts as an analyst of the oil markets on CNBC, Bloomberg US and UK and CNNfn. Dan is the author of many energy articles published in Nymex and other trade journals. Dan obtained a bachelor of arts degrees from the State University of New York at Stony Brook in 1982.