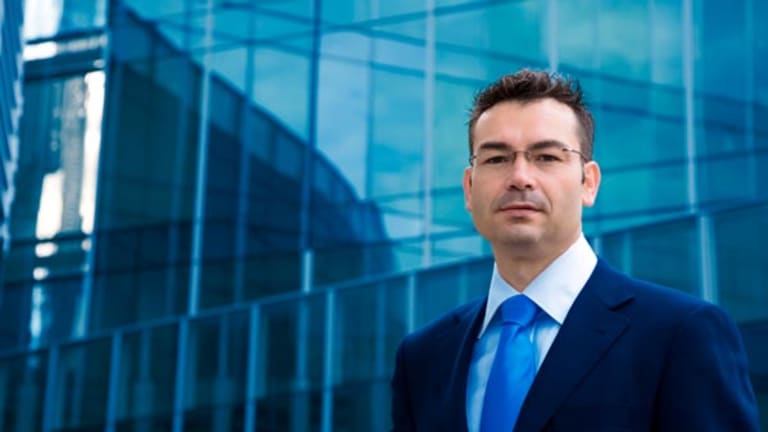 How to Outperform Hot Indices
Some individual stocks may be best for running with the bulls.
This column was originally published on RealMoney on Feb. 21 at 10:36 a.m. EST. It's being republished as a bonus for TheStreet.com readers. For more information about subscribing to RealMoney, please click here.
The broader markets continued to wear their rally caps after a long weekend. While there is certainly nothing wrong with the uptrends in the
S&P 500
and the DJ-30, they are at the top of their channels, and I would like to have seen a pullback Tuesday. But it's as if Mother Market has been reading my mind and doesn't like me very much. She never gives me what I want. So the uptrend continues, and it does not pay to stand in the way -- instead, just hop on board and enjoy the ride as long as it lasts.
But here's one question you might ask yourself: How can you outperform the major indices when they just seem to keep running higher? With the Dow and S&P up almost 3% and the NDX up more than 4% since the beginning of the year, it seems like the only way to really outperform the averages is to take on excessive risk and ride the high-beta roller coaster.
I think there's a better way to get the job done. Participate in the upside by staying long leading stocks. But don't get greedy and overconfident. The market is rarely easy, and when it starts to seem too easy, you get chopped off at the knees. So, ride the uptrend, but never lose your discipline.
Keep stops running higher along with your positions, and do not compromise on your entries. Don't expect the market to make up for your ill-timed buys. Sooner or later, your lack of discipline will hurt you.
Focus on
not
participating in the inevitable pullback. Think about it -- the only reason to even use stop losses at all is because you believe that your positions can move against you. So why is it that so many traders simply don't believe the reversal when they see it? They lift their stops to avoid selling for less than the recent high, thereby allowing their positions to fall along with the market. Don't do that.
If you feel the market is peaking, don't just sell everything and wait for the pullback -- that technique is actually perpetuating the rally as traders raise cash ... and then get impatient because the market continues to run away from them. Instead of selling, honor your stops. As the market pulls back, you'll wind up with a high cash position when stocks have corrected. That's right where you want to be. Then you can snatch up the bargains and get your portfolio working again.
Let's look at some reader picks.
ANADIGICS
(ANAD)
has advanced on 10 of the last 11 days. That's accumulation! When a stock is trending this strongly, I like to use an eight-day moving average to define my trailing stop. As the eight-day moving average advances, I'd keep my stop parked right underneath.
Bear Stearns
(BSC)
fell out of a well-defined channel. This type of selloff happens more than you think, and the next rally often has trouble getting back into the channel. But there's no reason to sell BSC now. It's getting the job done and moving higher. However, I'd watch the $170+ level carefully. Prior resistance has a way of perpetuating itself.
This weekly chart of
Digene
(DIGE)
shows a stock that's been trading sideways for a while. It's too early to argue about whether the stock is forming a double top or simply consolidating, but it is bouncing off support right now, and that makes it a buy in my book. Try keeping your stop just below support.
Gilead Sciences
(GILD) - Get Gilead Sciences, Inc. (GILD) Report
broke out in January on very high volume. Since then, the gap has been holding. If you're long, try putting a stop just below $70. If the stock falls back into the gap, you don't want to be in this stock.
Hasbro
(HAS) - Get Hasbro, Inc. (HAS) Report
is one of those stocks that's been lulling everyone to sleep over the past three months. But the stock is gradually climbing between the middle and upper Bollinger Bands, and that makes it a buy. Try keeping a stop just below $28, and allow it to rise along with the 50-day moving average.
Be careful out there.
At the time of publication, Fitzpatrick held no positions in the stocks mentioned, though positions may change at any time.
Dan Fitzpatrick is the publisher of StockMarketMentor.com, an advisory newsletter and educational forum dedicated to teaching effective risk management and trading methodologies to aspiring traders and investors. He is a former hedge fund manager and a member of the Market Technicians Association, and he now trades from his home in San Diego, Calif. While Fitzpatrick holds various securities licenses, he does not give recommendations to buy or sell stocks. Under no circumstances does the information in this column represent a recommendation to buy or sell stocks. He appreciates your feedback;
to send him an email.