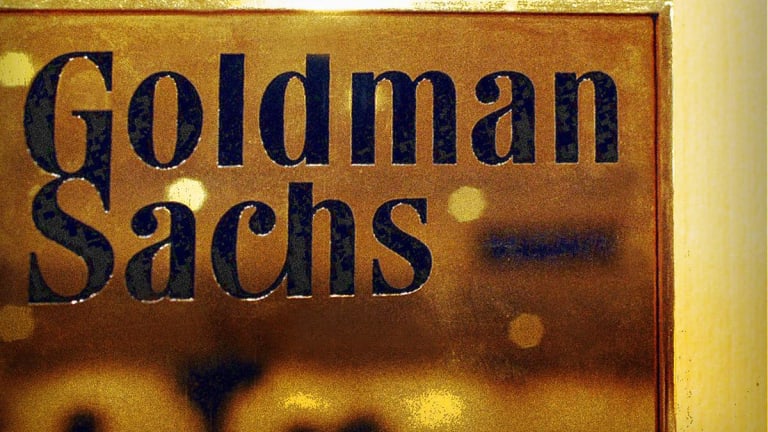 How to Get a Top Job at Goldman Sachs - No Application Necessary
Goldman Sachs doesn't make many acquisitions, but when it does buy a company, the founders often end up working at the Wall Street firm, as appears to be the case for Joe Duran, founder of United Capital.
Here's one way to jump the line of grunt investment bankers and traders on the way to the top of Goldman Sachs Group (GS) : Sell your company to the legendary Wall Street firm and score a big job there as part of the deal.
That was the formula for Joe Duran, who started the wealth-management firm United Capital in 2005, spent more than a decade assembling a team of more than 220 advisors with a book of 21,000 clients and then agreed this week to sell the company to Goldman for $750 million.
Buried six paragraphs into the Goldman press release were the following lines: "As part of the transaction, Joe Duran, Founder and CEO of United Capital, will join Goldman Sachs. The firm will also welcome the team of employees at United Capital, including its advisors in offices across the United States."
According to a spokesman for the New York-based bank, Duran will be a "partner." The generic title is a vestige from the days before Goldman converted into a publicly traded company from a private partnership; now, the designation typically comes with annual compensation pushing $1 million or far more.      
It's not unprecedented for entrepreneurs to join Goldman as part of a roll-up. Last year, Adam Dell, the brother of personal-computer impresario Michael Dell, sold his personal-finance app Clarity Money to Goldman and got a job there, according to a company spokesman.
Aaron Frank joined Goldman after selling his credit-card startup, Final, to the firm. (Per his LinkedIn page, his title there is "sweeper.") Another hustler, David Haber, is now Goldman's vice president for firmware strategy and corporate development after the Wall Street firm bought his online small-business lender, Bond Street. 
It's hard to imagine how Goldman's buttoned-up corporate culture wouldn't benefit from fresh blood in the executive suite. Ostensibly its shareholders would too.
Goldman is arguably one of the world's most competitive workplaces. The high-paying Wall Street firm recruits from top universities like Harvard and then asks the entry-level bankers and traders to work grueling hours; it was a major news story in 2013 when Goldman told the junior analysts that they shouldn't work past 9 p.m. Friday and shouldn't return to their desks until 9 a.m. Sunday.
The goal for many junior employees, of course, is to outwork (and crawl over) peers and eventually get promoted to lead a lucrative unit of merger dealmakers, initial public offering underwriters or bond traders. And then, make a whole lot of money -- upwards of $20 million a year or more for divisional heads. Rainmakers sometimes pull down more than CEO David Solomon's 2018 compensation of $23 million. 
Duran's career offers an alternative path.
According to a profile of Duran on United Capital's web page, Duran grew up in Zimbabwe and made extra cash selling hot dogs and later overseeing the night shift at a clothing factory.
After attending Missouri's St. Louis University (a thousand miles, more or less, from most Ivy League colleges), he moved to Los Angeles, started as an intern (grunt) at the wealth management firm Centurion Capital and worked his way up to president. Centurion was sold to General Electric (GE) in 2001, netting Duran $13 million, the publication Wealth Management wrote in 2014.
As part of the deal, he got a job at GE. 
He left soon afterward, and soon after that he founded United Capital. And now, he's selling out to Goldman, which not coincidentally is under pressure from shareholders to diversify away from its heavy reliance on volatile revenue from slinging stocks and bonds.
All the while, Duran has taken time to run with the bulls in Pamplona, Spain, 10 times, according to his profile. 
Beats working on Sundays.