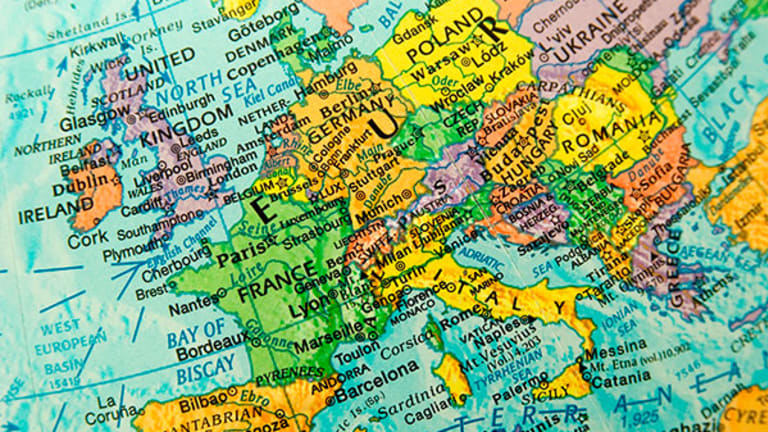 How Spain's Economy Managed to Recover, While Greece's Did Not
Spain's economy is recovering, while Greece's continues to languish. Here's why the two eurozone nations have taken different paths.
NEW YORK (TheStreet) -- After three years in a recession, Spain's economy is growing again. That makes it one of the few countries in the eurozone besides Germany to have a positive GDP.
In fact, Spain's economy grew 0.7% in the fourth quarter from the quarter before. That matched Germany's quarterly growth and helped the eurozone's GDP to grow 0.3% on a quarterly basis, better than what economists were expecting.
Not long ago, Spain and Greece were among a handful of eurozone members in dire straits in the wake of the global financial crisis. But Spain's economy is recovering and is now viewed as an attractive target for foreign investment.
Meanwhile, Greece continues to flirt with economic collapse.
How did this happen? There was a number of factors, experts say, including Spain's willingness to implement reforms in labor and financial markets.
"The reform that Government approved in 2012 made the labor market much more flexible than before, as the hiring and firing of workers is now far easier," says Marcel Jansen, a professor of economics at the Autonomous University of Madrid. "Financial reforms, moreover, have been fundamental."
Jansen says the European Union had injected 40 billion euros into Spain's banking system, while the government put an end to the political control of savings banks and created a so-called bad bank to manage toxic assets.
José Luís Martínez Campozano, an analyst at Citibank, explains why Spain has become appealing for foreign investors.
"Labor unit cost decreased in Spain by six percentage points in comparison with 2007, a rate unmatched by other large EU economies," he says. "Stock revaluation is going slower than in the rest of European countries, although Spain is growing faster than them. The public debt interest rate is around 1%, while in other European countries it's negative."
Jaime Malet, president of the U.S. Chamber of Commerce in Spain, says Spanish companies are recovering and now hold good assets. Foreign investments have been increasing, especially in real estate and banking, and the depreciation of the euro against the dollar will only help, he says.
"Capital-intensive U.S. companies can surely take advantage of this improving situation, focusing especially on these sectors."
Some of them already have. For example, Mark Fields, president and CEO of Ford (F) , last month announced a 40% increase in vehicle production at the automaker's plant in Valencia. The U.S. car manufacturer will produce around 400.000 units in 2015.
Fields said the Spanish plant, which employs 8,000 workers and has created 1,500 new jobs since 2013, will be the center of innovation for the company. He said the plant doesn't just make cars for Europe, either, but exports 80% of its production to 75 countries.
Spain's has a "greatly diversified" economy, and it's "by far the best-performing country in Southern Europe," says Jansen. "New jobs, however, are mainly precarious, and unemployment will unlikely drop below 20% in the short run."
Even though unemployment remains high -- currently at 23.7% -- that "represents a potential engine for growth," says Citibank's Campozano. It only helps that in Spain many unemployed workers are highly qualified.

Greece isn't doing so well. Its fourth-quarter 2014 GDP decreased by 0.4% compared with the previous three months, according to Greece's national bureau of statistics, while unemployment rose to 26% in December.
Three weeks ago, the new government of Prime Minister Alexis Tsipras agreed with the rest of eurozone to extend the $264 billion bailout by four months. The move received fierce criticism from many members of the majority supporting the Greek government, who accused Tsipras of betraying his main electoral pledges. The final approval of the extension is still pending, as the Eurogroup (which is composed of eurozone financial ministers) has to accept the list of reforms that Greece sent to Jeroen Dijsselbloem, Eurogroup president.
"The main problem for Greece is that its public and external debt, more than 170% of its GDP, is basically impossible to pay," Jansen says. "Wages decreased even more than in Spain, but the economy is so undiversified that it was not enough to make exports grow."
Jansen also says the Greek bureaucracy makes it difficult to do business, and the country has a "huge" black economy.
"There is simply no comparison," he says. "Greece is collapsing, while Spain, even if there is still a lot to be done in terms of reforms, is a better place to invest than before the crisis."
This article is commentary by an independent contributor. At the time of publication, the author held no positions in the stocks mentioned.