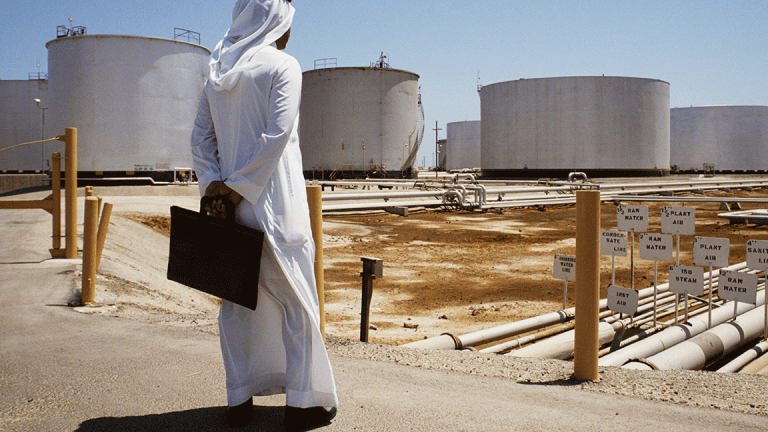 Hot Saudi Aramco IPO on Ice; Stocks Set Records -- ICYMI
Here's what you need to know now for Friday, Aug. 24.
The much speculated about IPO of Saudi Arabia's national oil company Aramco is not happening for now, or ever, depending on whom you ask. To understand the delay in the IPO, which was initially valued at $2 trillion, writes RealMoney's Sabah Al-Binalli, you need to understand first why it was planned, the main challenges it faced and the solution that is now being deployed. Aramco's planned IPO had both a short-term goal and a long-term goal. The short-term goal was to raise funds for Saudi's sovereign wealth fund PIF, famous for its $45-billion commitment to Softbank's Vision Fund as well as multi-billion-dollar investments in Uber and more recently in electric carmaker Tesla. The longer-term goal for Aramco's IPO was to diversify away from oil as the country would continue to sell shares in Aramco and invest globally into a diversified portfolio.
As Foot Locker (FL) - Get Report shares retreated after its earnings report on Friday, some analysts were seeing it as the perfect opportunity to buy. "Absolutely, this is a buying opportunity," Wedbush Securities' analyst Christopher Svezia told Real Money in an interview. "Last quarter when it went down like this it ripped up into the $50s." Foot Locker shares ended the day at $49.33 per share on Friday, down more than 9%. Svezia added that his thesis that Foot Locker Inc. stock could grow beyond the $50-mark remains intact, as he reiterated an outperform rating and a $63 price target. "The company has succeeded in overcoming fears among some investors of continued negative comparable sales that would have put the outlook at risk,"Svezia explained in his note this morning. "FL reported a second quarter beat on most lines as the company critically delivered an inflection to positive [same store sales] and commented on providing stronger growth in the second half."
Markets Today: Stocks rose to record levels on Friday, August 24, after Federal Reserve Chairman Jerome Powell said gradual interest rate hikes were appropriate to keep inflation under control as long as growth in the U.S. economy remained strong. Both the S&P 500 and the Nasdaq indexes set record closing highs.
Nelson Wang, Tech Editor, TheStreet Inc.
Not already receiving In Case You Missed It daily?Sign up here for this newsletter and other great free content from TheStreet