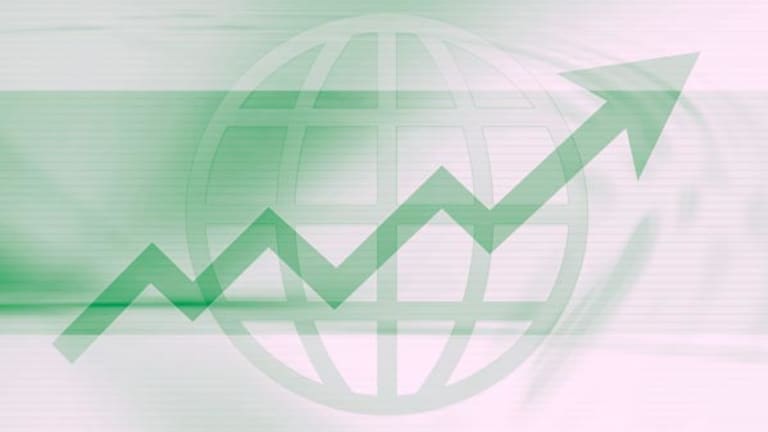 Hong Kong Turns Red After Fed
The US rate cut drove sharp selling in the Hang Seng. Other Asian markets fell more moderately.
Red digits filled the trading screens of Hong Kong dealers on Wednesday, as the Hang Seng Index tumbled 705 points overnight, following a steep decline in U.S. markets after disappointment over the 25-basis point interest rate cut by the Federal Reserve.
Other Asian markets fared better. In China, the Shanghai Composite Index lost 79 points, or 1.54%, to 5,095, while the Nikkei ended down just 112 points, or 0.7%, at 15,932, and the South Korean Kospi touched into the green, by 2 points, or 0.12%, to 1,927.
The Hang Seng's 2.41% drop gave back all of last week's gains, although still holding up to end 200 points above Friday's sell-off, which was the worst so far in December. Property stocks such as
Hang Lung Properties
(HLPPY)
and momentum blue chips like
China Mobile
(CHL) - Get China Mobile Ltd. Report
, led the steep selling.
"I think most people expected such a decline after Wall Street's sell-off, but it's still a bit surprising to me," says Alex Wong, a director at Ample Financial Group in Hong Kong, and prominent local market commentator. "I am not too bearish. Actually, I would buy here and venture for a rebound, even though today we see a sharp decline on the negative reaction to U.S. rates."
Hong Kong's banks cut lending rates for the third time in six weeks, following the U.S. interest rate cut.
HSBC Holdings
(HBC)
, subsidiary
Hang Seng Bank
(HSNGY)
, and
Standard Chartered
(SCBFF)
all reduced by 25 basis points, to a new rate of 6.75% that is due to take effect on Thursday. Most market participants now expect banks to hold off further rate cuts until the next Federal Reserve decision to do so.
In financials, HSBC fell 1.6%, to HK$134.50, while Hang Seng Bank tumbled 2.9%, to HK$160.20, and
China Life Insurance
(LFC) - Get China Life Insurance Co. Ltd. Report
dipped 1.9%, to HK$43.10.
In property stocks, Hang Lung Properties was one of the day's biggest losers, diving 3.4%, to HK$35.25, while real estate conglomerate
Swire Pacific
(SWRAY)
lost 2.5%, to HK$107.80.
Sun Hung Kai
(SUHJY)
gave up 1.6%, to HK$10.80,
Hutchison
(HUWHY)
slipped 1.9%, to HK$90, and
Cheung Kong
(CHEUY)
fell 2.1%, to HK$143.50.
In telecoms, China Mobile, which is one of the largest weights in the Hang Seng Index, dropped 1.7%, to HK$143, while
China Unicom
(CHU) - Get China Unicom (Hong Kong) Ltd. Report
dived 3.4%, to HK$15.84,
China Telecom
(CHA) - Get China Telecom Corp. Ltd. Report
lost for the second day running, by 1.95%, to HK$60.40, and
China Netcom
(CN) - Get Xtrackers MSCI All China Equity ETF Report
eased 1.6%, to HK2405.
"The negative reaction in Hong Kong equities will be short term, and after that, the market will come back to focus on the fundamentals," says Conita Hung, head of equities at Delta Finance Asia.
Hung cautions that further volatility can be expected for the rest of the year, with the Hang Seng trading in bands of 1000 points, upwards and downwards. In January, investors may resume major buying activity, she says.
In China, energy stocks were hammered, with
Aluminum Corp of China
(ACH) - Get Aluminum Corp. of China Ltd. Report
down 2.9%, to 38.64 yuan, and
PetroChina
(PTR) - Get PetroChina Co. Ltd. Report
losing 2.5%, to 31.14 yuan. PetroChina has been one of the mainland's worst performing high-profile IPO's this year, having lost 30% since its debut in Shanghai on Nov. 5.
Retail spending in China rose to a record high in November, surging 18.8% on the year vs. analysts' expectations of 18%. Higher inflationary numbers released earlier in the week however subdue the effect of the increase.
In Japan, some shares managed to claw back into the green on positive economic data. The current account surplus rose to 2.22 trillion yen, or $19.83 billion, higher than analysts' estimates of 2.03 trillion yen, or $17.89 billion.
Sony
gained 0.16%, to 6,240 yen, helped by a weaker price of yen, while
Sumitomo Mitsui Financial
( SMFJY) inched 0.5% higher, to 675 yen, and
Kobe Steel
(KBSTY)
jumped 1.35%, to 376 yen.
The yen was slightly weaker in Asian trading, at 111.07 vs. the dollar, down from 110.60-territory after Wall Street's sell-off.
Ample Financial's Wong says that losses will be short lived, in both Hong Kong and U.S. trading.
"The tone in Asia is not that bad. I expect we will see some pickup," he says. "The initial correction in the last hour of U.S. trading
on Tuesday looks overdone, now we will see a normalization."
Daniel M. Harrison is a business journalist specialising in European and emerging markets, in particular Asia. He has an MBA from BI, Norway and a blog at
. He lives in New York.