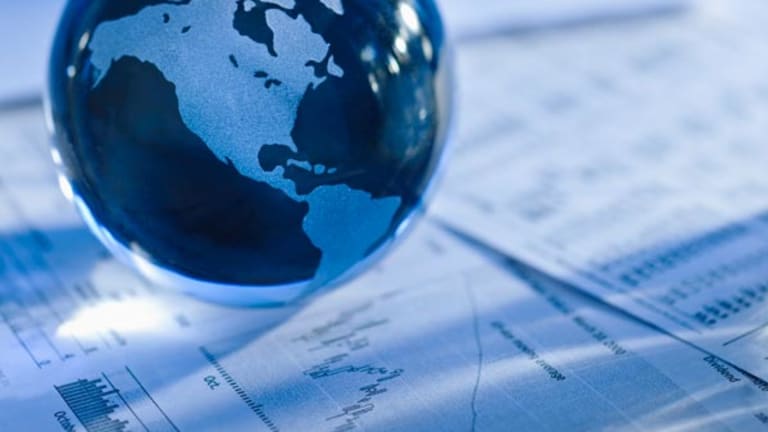 Hong Kong Phooey
Investors flee more established Asian markets and boost China and India.
HONG KONG -- Markets in Hong Kong and Japan fell on Monday over heightened U.S. recessionary fears, but China and India, the less-mature emerging market giants, continued to buck the bearish trend by delivering modest gains.
The Hang Seng recovered half its morning losses by the close, but dropped 340 points, or 1.2%, to 27,179, while China's Shanghai Composite Index rose 31 points, or 0.6%, to 5393.
Volumes on the Shanghai Composite Index were 161.4 billion yuan, or $22.2 billion, which is about 2.5% shy of levels in October 2006, when the market reached a record high, while the Bombay Sensitive Index gained 108 points, or 0.5%, and hit an all-time high of 20,795. Indian shares were led higher by
ICICI Bank
(IBN) - Get ICICI Bank Ltd. Report
, which leapt 4.7%, to 1,285 rupees, after investors looked for bargains in the day's early dip.
In Taiwan, the Taiex tumbled 338 points, or 4%, to 7883, as dealers said they were unloading heavy positions in electronics stocks like
Hon Hai Precision
(HNHPF)
and
Taiwan Semiconductor Manufacturing
(TSM) - Get Taiwan Semiconductor Manufacturing Co. Ltd. Report
, on anticipation of weaker orders, Hon Hai Precision fell 6.3%, to T$171.50, while Taiwan Semiconductor Manufacturing plunged 7%, to T$55.80. The South Korean Kospi fell in line with other Asian markets, down 1.8%, to 1831.
"Hong Kong is more likely to benefit from China, and more likely to be hurt from the U.S. right now," says Richard Lee, an analyst at Core Pacific Yamaichi in Hong Kong. "In China, you're dealing with a different group of investors who are more concerned with China itself, and who think the economy can benefit from the Olympic games."
The biggest losers in Hong Kong were commodity stocks, as the price of gold fell to $862.10 an ounce vs. $863.20 on Friday, and crude oil, which lost 0.6%, to $97.33, by the end of Asian trading.
PetroChina
(PTR) - Get PetroChina Co. Ltd. Report
dipped 2.3%, to HK$13.86, while shares in
Sinopec Shanghai Petrochemical
( SHL) dropped 3.4%, to HK$11.26, after posting big gains last week. Gold miners
Zijin Mining
(ZIJMF)
and
Sino Gold
( SIOGF) tumbled 3%, to HK$13.04, and 3.6%, to HK$50.95, respectively.
Financial stocks also fared badly on apprehension over the global impacts of Friday's U.S. jobs data.
Hang Seng Bank
(HSNGY)
fell 1.9%, to HK$155.70, while parent
HSBC Holdings
(HBC)
declined 1.8%, to a 2-year low of HK$127.80, and
China Life Insurance
(LFC) - Get China Life Insurance Co. Ltd. Report
slipped 2.7%, to HK$38.60.
Property stocks recovered in the afternoon session on rumors that the U.S.
Federal Reserve
may cut interest rates as much as 50 basis points by the end of January. Conglomerate
Swire Pacific
(SWRAY)
jumped 3.6%, to HK$111.8, while
Cheung Kong
(CHEUY)
rose 1.9%, to HK$147, and
Hang Lung Properties
(HLPPY)
clawed back from losses to close 1% lower, at HK$34.15.
China-related stocks were insulated from the day's selloff, too. Railway operator
MTR Corp
(MTRJY)
jumped 9.1%, to HK$34.90, as Chinese railway companies were pushed higher by
China Railway
, which rose 2.1%, to HK$11.60, and was the day's most actively traded stock. China Railway rose on reports that the company won 22 billion yuan, or $3 billion, in undisclosed contracts on the mainland.
"Domestic capital is sitting on the sidelines, as well as foreign capital, which is still waiting for U.S. subprime stabilization," says Jackson Wong, investment manager at Tanrich Securities in Hong Kong. "Chinese consumer stocks and Hong Kong property stocks will be better performing than the Hang Seng overall, until volumes pick up."
Volumes on the Hang Seng were HK$113.5 billion, or $14.6 billion vs. HK$99.8 billion, or $12.8 billion on Friday. Still, Wong says that volumes will have to reach HK$150 billion ($19.2 billion) per day before they can be considered "aggressive" and substantial buying enters the market. Core Pacific Yamaichi's Lee says that the Hang Seng will continue to trade between a band of 25,000 points and 28,000 points for the time being.
In China, shares gained broadly, with the exception of banking stocks, which fell to profit-taking, and
Air China
(AIRYY)
and
China Eastern Airlines
(CEA) - Get China Eastern Airlines Corp. Ltd. Report
, which were down 1%, at 28.89 yuan, and flat, at 20.63 yuan, after reports circled that shareholders in China Eastern will reject a $920 million share sale to
Singapore Airlines
(SINGF)
and
Temasek
on Tuesday. If the deal is rejected, Air China will make a counter-bid, the company announced yesterday.
In Japan, the Nikkei hit a fresh 17-month low for the second straight session, ending 190 points, or 1.3% lower, at 14,500. Share prices were rocked the most of all the big indices in Asia by Friday's selloff on Wall Street, and by a strong yen. The yen gained 0.5% vs. the dollar in Asian trading, to 109.44, but still remains weaker than the 110 benchmark.
Nintendo
(NTDOY)
led the selling, shedding 5.7%, to 59,900 yen, despite reports by Japanese gaming magazine
Enterbrain
that the Wii outsold Sony's Playstation 3 by more than 3-to1 in Japan over the holiday season. The magazine said that the Wii sold 774,123 units vs. 232,421 units for the Playstation. Shares in
Sony
rose 0.7%, to 5,830 on bargain hunting, however.
Among other exporters,
Kobe Steel
(KBSTY)
lost 0.3%, to 346 yen, while
Honda
(HMC) - Get Honda Motor Co. Ltd. Report
, slid 0.8%, to 3570 yen, but
Canon
followed Sony's lead, rising 0.2%, to 4950 yen.
The Nikkei Weekly
reported this weekend that Japan's share of GDP fell 4%, to $4.4 trillion, and that the country's share of growth in terms of the global economy is now at a 24-year low. In contrast to the rest of the world, it also forecast fears of deflation in 2008.
Daniel M. Harrison is a business journalist specialising in European and emerging markets, in particular Asia. He has an MBA from BI, Norway and a blog at
. He lives in New York.