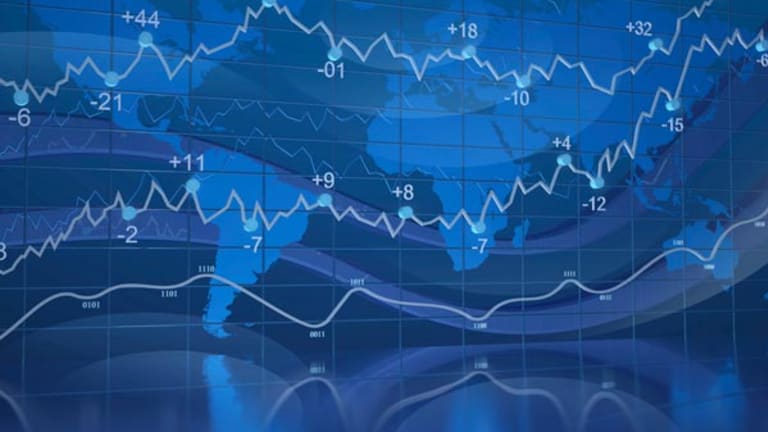 Hong Kong Leads Asia Rally
The Hang Seng soars 1,356 points, or 6.4%.
Shares in Hong Kong surged Tuesday as the Hang Seng reopened for business after a four-day Easter holiday, lifting most markets across Asia.
The Hang Seng soared 1,356 points, or 6.4%, to 22,464.52, prompted mainly by heavy short-covering in beaten-down momentum stocks such as
China Mobile
(CHL) - Get China Mobile Ltd. Report
. In China, the Shanghai Composite Index held up after Monday's fall -- when the index ended at a nine-month low -- and finished up 3 points, or 0.01%, at 3629.62.
Traders acknowledged short sellers were being hit by margin calls, but they advised investors to exercise caution over jumping straight on to the back of the rally.
China Watch: A Lot to Like About Nike
var config = new Array(); config<BRACKET>"videoId"</BRACKET> = 1469604189; config<BRACKET>"playerTag"</BRACKET> = "TSCM Embedded Video Player"; config<BRACKET>"autoStart"</BRACKET> = false; config<BRACKET>"preloadBackColor"</BRACKET> = "#FFFFFF"; config<BRACKET>"useOverlayMenu"</BRACKET> = "false"; config<BRACKET>"width"</BRACKET> = 265; config<BRACKET>"height"</BRACKET> = 255; config<BRACKET>"playerId"</BRACKET> = 1243645856; createExperience(config, 8);
"We're unlikely to see much action except late covering in the next few weeks," says Bryan Watkins, a trader at Daiwa Bank in Hong Kong. "Value
investors are not buying here yet."
Telcos saw most of the day's action after
China Netcom
(CN) - Get Xtrackers MSCI All China Equity ETF Report
reported its results. Shares in China Netcom jumped 9.6% to HK$21.80, while
China Unicom
(CHU) - Get China Unicom (Hong Kong) Ltd. Report
gained 9.8% to HK$17.24.
China Telecom
(CHA) - Get China Telecom Corp. Ltd. Report
rose 9% to HK$4.96, and market leader China Mobile surged 7.8%, to HK$112.50.
China Netcom's news sent shares in
Alibaba.com
( ALBCF) spiking 12.3% to HK$15.20, while Frankfurt-listed ADRs in
Baidu.com
(BIDU) - Get Baidu Inc. 百度 Report
were up 15.9%.
Among financials, strong earnings and a positive news flow contributed to big gains across the sector.
Industrial & Commercial Bank of China
(IDCBF)
jumped 8.6% to HK$5.20 on expectations of strong earnings, as did
Bank of China
(BACHF)
, which rose 7.3% to HK$3.24. Industrial & Commercial, the world's largest bank by market cap, had a better-than-expected profit report after the close.
China's largest insurer,
China Life Insurance
(LFC) - Get China Life Insurance Company Limited American Depositary Shares Report
, said that it invested $300 million in
Visa's
initial public offering, which debuted in New York late last week. China's sovereign wealth fund is also a shareholder in Visa.
Aluminum Corp. of China
(ACH) - Get Aluminum Corporation of China Limited American Depositary Shares Report
said it may spend between 20 billion and 30 billion yuan on more acquisitions this year, following the purchase of a stake in
Rio Tinto
( RTP) in 2007. Shares in Aluminum Corp. surged 7% to HK$11.90 in Hong Kong, but fell back slightly, by 0.4% in Shanghai.
In other Chinese news, declining exports due to a slowing U.S. economy and a high yuan price are expected to weigh on China's GDP, which will grow 10.5% this year vs. 11.4% in 2007, according to estimates. Tibetan riots continued to escalate, with sympathizers to Tibet's cause also demonstrating in Greece, home to the Olympic games. China branded those trying to disrupt the games "shameful."
Commodity prices were mixed in Singapore, where contracts are traded in Asia. Gold was selling for as high as $927.20 an ounce, while oil was 53 cents lower, at $100.33 a barrel during the Asian afternoon.
In Japan, shares gained as the yen weakened through the psychologically crucial benchmark of 100 yen to the dollar for the first time in more than a week. The Nikkei gained 265 points, or 2.1%, to 12,745.22.
Sony
gained 2.9% to 4,260 yen, while
Honda
(HMC) - Get Honda Motor Company Ltd. Report
motored ahead 4.4% to 3,080.
Canon
(CAJ) - Get Canon Inc. American Depositary Shares Report
added 3.9% to 4,780.
In other Asian trading, India's Bombay Sensitive Index tracked Hong Kong, rising 6.1%. South Korea's Kospi rose 1.2%, and Taiwan's Taiex fell 0.8%.
Be sure to check out the Far East Portfolio at Stockpickr.com to find out which stocks in India and China are making big moves and announcing major news.
Daniel M. Harrison is a business journalist specialising in European and emerging markets, in particular Asia. He has an MBA from BI, Norway and a blog at
. He lives in New York.