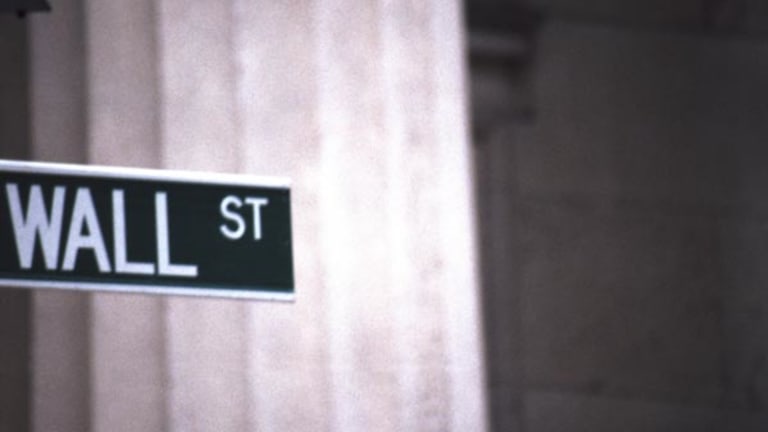 Home Sales Subdue Stocks
Stocks give up early gains as existing-home sales fall short of expectations.
Stocks give up early gains as existing-home sales fall short of expectations.
(Updated with Research in Motion earnings and stock prices.)
NEW YORK (
) -- Selling in housing, materials and commodity-related stocks stifled the major averages Thursday. Oil plunged more than $3 a barrel, and existing-home sales dropped unexpectedly.
The
Dow Jones Industrial Average
gave up 44 .11 points, or 0.4%, to 9707.44, while the
S&P 500
shed 10.09 points, or 1%, to 1050.78. The
Nasdaq Composite
edged down 23.81 points, or 1.1%, to 2107.61.
Research in Motion
(RIMM)
shares were recently falling 9% in post-close trading, after the Blackberry maker reported a 4% decline in second quarter earnings on a $112.8 million legal settlement charge.
Stock Wrap: The Real Story, September 24
Meanwhile, a slide in commodities continued, with
crude oil
futures falling $3.08 to $66.07 a barrel a day after data showed an unexpected build in inventories. Gold dropped $15.50 to $999.80 an ounce. The Philadelphia Oil Service Sector Index and Gold and Silver Index fell 2.8% and 2.3%, respectively.
"The quarter is drawing to a close, there were no major surprises from the Fed, and I think institutions have continued to fuel the rally as they put
money that's parked on the sidelines to work," says Peter Cardillo, chief market economist, Avalon Partners. "That's what it's all about, it's momentum buying based on the recovery story -- and the debate of the strength of the recovery."
That debate continued midmorning Thursday as the National Association of Realtors said
fell to 5.1 million in August from 5.24 million the month prior, short of expectations for a rise to 5.35 million.
Home stocks
Lennar
(LEN) - Get Report
and
DR Horton
(DHI) - Get Report
fell 4.6% and 4.5%, respectively.
"Some of the giveback in closed sales appears to result from rising numbers of contracts entering the system, with some fallouts and a backlog contributing to a longer closing process, but the decline demonstrates we can't take a housing rebound for granted," said Lawrence Yun, NAR chief economist, adding that with an expected rise in foreclosures over the next year, an extension of the tax credit is "critical to preserve incentives for financially qualified buyers to enter the market."
It may be that higher sales have emboldened sellers to hold firm to their prices, says Jack Ablin, chief investment officer, Harris Private Bank. "So we're just trying to find the right balance between prices and sales, because we did start to see them rise. What that suggests is that we can have a robust housing market, but it's going to come at a cost of home prices."
The home-sales data squashed initial gains that came as
fell unexpectedly to 530,000, vs. expectations for an increase of 5,000 to 550,000. Continuing claims fell more than expected to 6.14 million, vs. expectations for 6.18 million and 6.23 million the month prior.
The Federal Open Market Committee said Wednesday that economic activity has "picked up" -- a change of wording from the previous release, which said things were "leveling out" -- and extended its timeline for buying mortgage-backed securities. As expected, it left its key interest rate unchanged.
Meanwhile, the Federal Finance Agency in Frankfurt said Germany has reduced its planned fourth-quarter debt issuance by 22%, to 59 billion euros ($87 billion), because of a reduction in funding requirements.
Investors will continue to watch Friday for any developments in financial regulation that come out of a meeting between President Obama and the Group of 20 leaders in Pittsburgh.
Among stocks making headlines, lithium-ion car battery maker
A123
(AONE)
sytems surged 50.3% to $20.29 on
its first day trading
on the Nasdaq after pricing a $378 million IPO late Wednesday, selling 28.1 million shares at $13.50 each, which was a higher price than expected.
Meanwhile,
Electronic Arts
(ERTS)
fell 2.7% to $19.29 after
Microsoft
(MSFT) - Get Report
said it
to acquire the video-game maker.
Stocks in Europe were lower, with London's FTSE 100 and the DAX in Frankfurt falling 1.2% and 1.7%, respectively.
In Asia, the Hang Seng in Hong Kong slumped 2.5%, while the Nikkei in Japan advanced 1.7%.
-- Written by Elizabeth Trotta in New York.