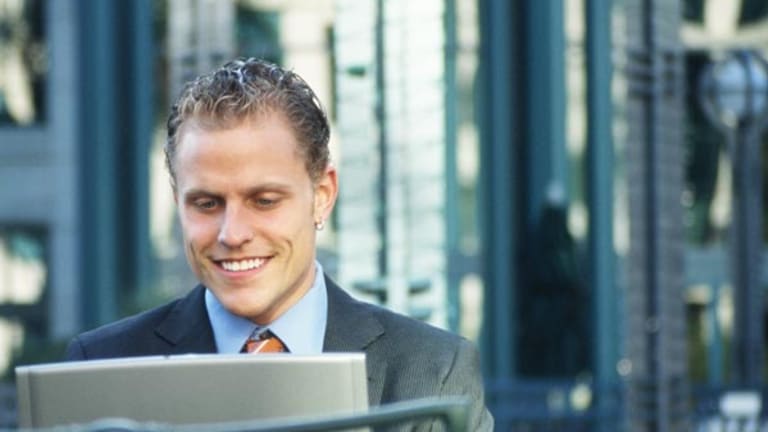 Higher Yields Will Dog Investment Banks
WIth rates moving up, it's time to take profits.
This column was originally published on RealMoney on March 13 at 1:30 p.m. EST. It's being republished as a bonus for TheStreet.com readers.
Higher U.S. Treasury yields could prevent investment banks from reaching new highs despite a surge in initial public offerings and mergers and acquisitions. I recommend booking profits.
According to Thomson Financial, as many as 300 new companies could go public this year. M&A activity appears to be heating up, with Monday morning's offer by
Capital One Financial
(COF) - Get Capital One Financial Corporation Report
for
North Fork Bancorp
undefined
and last week's deal between
AT&T
and
BellSouth
(BLS)
the latest highlights. More deals are widely expected in all sectors.
The finance sector ended last week 6.2% overvalued; investment banks were 17.5% overvalued. One of my reasons for caution in these sectors is higher U.S. Treasury yields, which reached the 4.80% area across the coupon curve last week, within 5 basis points of monthly support on the 10-year at 4.853% and 4.798% on the 30-year.
Yields should move even higher. The
Federal Reserve
is expected to raise the funds rate to 4.75% on March 28. Most economists now project a funds rate north of 5.00% -- the FOMC could hit that on May 10.
Yields should exceed 5% across the curve this year, which will pressure stock valuations. One of the three most important inputs for my fair-value calculations for stocks is the 30-year yield. As this yield moves higher, the fair value for stocks will be dragged lower.
Investors should reduce holdings and raise cash in stocks that have become overvalued and overbought. Sell on strength to my risky levels and set sell stops below key pivots or the five-week modified moving average. Investors can increase holdings in stocks that are undervalued and oversold, adding to these holdings on weakness to value levels.
Goldman Sachs
(GS) - Get Goldman Sachs Group Inc. (The) Report
is expected to report EPS of $3.29 premarket Tuesday. ValuEngine recently downgraded it to a hold, and it's trading 12.4% over its fair value of $125.92. The weekly chart profile shows overbought momentum, with the five-week MMA at $140.34. It set a 52-week high on March 3 of $147.48. If it closes the week below the five-week MMA, it could drop to my quarterly value level, $128.50, and potentially to my semiannual value levels of $102.71 and $101.89.
Lehman Brothers
undefined
is expected to report EPS of $3.17 before the open Wednesday. Lehman is rated a buy by ValuEngine and is 10% overvalued. The weekly chart shows overbought momentum. The five-week MMA is $141; it hit its 52-week high of $149.58 on Feb. 27. If it closes the week below the five-week MMA, it could fall to my annual value levels, $124.09 and $111.09.
Merrill Lynch
(MER)
was recently downgraded to hold by ValuEngine. It's 15.4% overvalued, with fair value at $67.37. The weekly chart shows overbought momentum, with the five-week MMA at $74.63. It set a 52-week high of $78.73 Monday morning.
Merrill is above my annual pivot of $71.79. Investors should consider reducing positions if it hits my annual risky level, $80.94. A weekly close below $71.79 could augur a slide to my quarterly value level, $62.55. My semiannual value level is $56.32.
Owners of North Fork should take the money and run.
Capital One was recently downgraded to a hold by ValuEngine and is trading 3.8% over its fair value of $86.60. The weekly chart is nearly overbought with rising momentum. The five-week MMA is $87.15; it hit a 52-week high Friday of $90.04. Investors should consider selling if it rises to my quarterly and annual risky levels of $94.94 and $95.99. My semiannual value level is $80.86.
Capital One's offer values North Fork at $31.18 a share, which would make it 20.6% overvalued. My model suggests that owners of North Fork should take the money and run, as its upside should be limited to my semiannual and annual risky levels of $30.81 and $31.88 vs. the $31.18 deal price.
P.S. from TheStreet.com Editor-in-Chief, Dave Morrow:
It's always been my opinion that it pays to have more -- not fewer -- expert market views and analyses when you're making investing or trading decisions. That's why I recommend you take advantage of our
to TheStreet.com's
RealMoney
premium Web site, where you'll get in-depth commentary
and
money-making strategies from over 50 Wall Street pros, including Jim Cramer. Take my advice --
Richard Suttmeier is president of Global Market Consultants, Ltd., chief market strategist for Joseph Stevens & Co., a full service brokerage firm located in Lower Manhattan, and the author of
TheStreet.com Technology Report
newsletter. At the time of publication, he had no positions in any of the securities mentioned in this column, but holdings can change at any time. Early in his career, Suttmeier became the first U.S. Treasury bond trader at Bache. He later began the government bond division at L. F. Rothschild. Suttmeier went on to form Global Market Consultants as an independent third-party research provider, producing reports covering the technicals of the U.S. capital markets. He also has been U.S. Treasury strategist for Smith Barney and chief financial strategist for William R. Hough. Suttmeier holds a bachelor's degree from the Georgia Institute of Technology and a master's degree from Polytechnic University. Under no circumstances does the information in this commentary represent a recommendation to buy or sell stocks. While he cannot provide investment advice or recommendations, he invites you to send your feedback --
to send him an email.