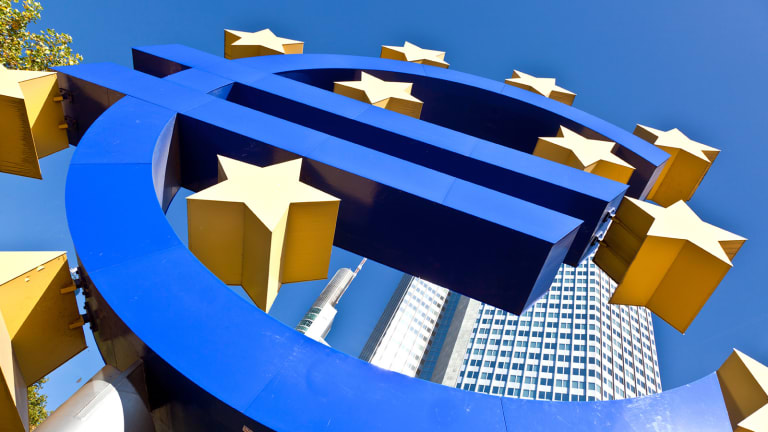 Higher Euro Area Lending Could Spell End to Negative Rates
The European Central Bank says corporate and household lending in the euro zone is increasing at the fastest rate in many months.
The European Central Bank said Friday that corporate lending increased at the fastest pace in four and a half years last month as banks took advantage of record low rate and robust liquidity to pump money into the real economy.
In its regular monthly survey of the Eurozone economy, the ECB said lending to non-financial companies rose 2.3% in December, up from 2.1% in the previous month and continuing the rapid pace of acceleration seen in the second half of last year.
Wider lending to euro area residents, including companies, government and households grew 4.7% in December from 4.4% in November, the ECB said while the rate of growth of adjusted loans to households alone was 2% last month compared with 1.8%
The rise comes as inflation is also beginning to take off within the euro zone, having risen to 1.1% in December, its highest level since 2013.
The combination of higher lending and faster inflation may begin to take the pressure of the ECB to keep buying bonds through its massive €1.5 trillion ($1.6 trillion) quantitative easing program and allow it to restore one its key interest rates, a deposit facility charge of -0.4%, into positive territory. 
There are increasingly differing views withing the ECB's Governing Council, the collection of 27 national central bank Governors who set monetary policy for the whole of the Eurozone, as inflation accelerates and the economy improves.
Earlier this week, Jens Weidmann, who heads Germany's powerful Bundesbank, said that if consumer prices rises were shown to be sustainable, "the prerequisite for the withdrawal from the loose monetary policy is created".
However, his opposite number in Paris, Banque de France Governor Francois Villeroy de Galhau, told French radio Thursday that while "some seem to fear a resurgence of inflation; this is very exaggerated."
"Although quantitative easing will obviously not last forever, we clearly did not discuss tapering or any exit strategy," Villeroy said.