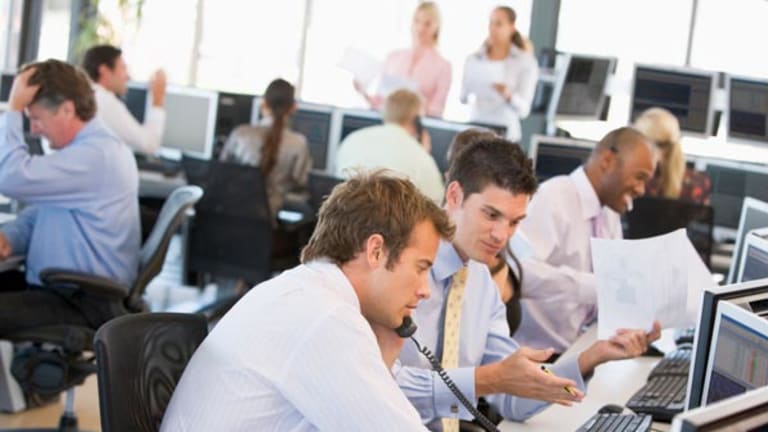 High Times for Blue Chips
The Dow closes at a new 2004 high as the end-of-year rally roars on.
Updated from 4:04 p.m. EST
Stocks closed sharply higher Tuesday with the
S&P 500
regaining the 1200 level while an upgrade of
Intel
(INTC) - Get Report
helped lift the
Dow
to a new 2004 high.
The Dow Jones Industrial Average added 97.83 points, or 0.9%, to 10,759.43, passing its previous 2004 closing high of 10,737 touched in February and the best close since June 13, 2001. The S&P 500 climbed 10.78 points, or 0.9%, to 1205.43 -- just shy of its recent 40-month high of 1205.72, reached on Dec. 15 -- while the
Nasdaq
added 23.06 points, or 1.1%, to 2150.91, its largest single-session gain since Dec 1. The 10-year Treasury note was recently up 3/32 to yield 4.17%, while the dollar rose against the yen and euro.
Volume on the
NYSE
was 1.48 billion shares, with advancers beating decliners by a ratio of 8-to-3. Volume on the Nasdaq was 1.98 billion shares, with advancers outpacing decliners by about 2-to-1.
Oil was flat Tuesday amid a lingering cold snap in the Northeast. Crude for February delivery closed down 2 cents to $45.76 a barrel in Nymex floor trading.
"You had the midafternoon fadeout yesterday, but the bid today has been sustained," said Bryan Piskorowski, market analyst with Wachovia Securities. "There's not too much to work off of. The drug stocks aren't getting any bad medicine. It's very quiet today; it's just where we are in the seasonal cycle."
Intel was raised to overweight from equal weight at Lehman Brothers, which argued that the chip giant is about to see its gross margin bottom out and should have smoother product transitions in 2003. Intel has been struggling with an inventory glut for most of 2004.
Lehman said Intel's capacity-utilization situation appears to be improving and said the shares could see upside from their current level just above $23. It maintained a $27 price target on the stock. Shares rose 79 cents, or 3.5%, to $23.49.
Bear Stearns
(BSC)
and
Morgan Stanley
(MWD)
both reported higher fourth-quarter profits driven by healthy gains in investment banking. Shares of Morgan Stanley gained 85 cents, or 1.6%, to $54.50, while Bear Stearns fell $1.80 or 1.7%, to $102.70.
After two sessions in which
Merck
(MRK) - Get Report
and
Pfizer
(PFE) - Get Report
plunged on concerns about the safety of their COX-2 painkillers, it was
Bayer's
(BAY)
turn in the spotlight Tuesday after the FDA said naproxen might pose a heart risk.
The agency said the drug, which is sold in the U.S. by Bayer under the brand name Aleve, shouldn't be taken by patients for more than 10 days except under a doctor's orders. The warning followed a trial examining Naprogen on Alzheimer's patients.
Naproxen belongs to a class of painkillers called non-steroidal anti-inflammatory drugs, a category that also comprises COX-2 inhibitors such as Celebrex and Vioxx. Monday night, Pfizer said it doesn't expect Celebrex to be pulled from the market after it was linked in a study to a higher risk of heart attack. The company has withdrawn advertising for Celebrex, however, and the FDA might order a label change.
Pfizer gained 68 cents, or 2.8%, to $24.97. Merck saw shares rise 47 cents, or 1.5%, to $31.98. Bayer closed up 16 cents, or 0.5%, to $33.77.
IAC Interactive
(IACI)
said Tuesday that it will spit into two companies, one housing its travel-related businesses to be named Expedia, the other to hold the rest of its ecommerce portfolio. The spinoff creates a highly profitable stand-alone player in the online reservations segment, a space that has lately seen entries from
Yahoo!
(YHOO)
and
Time Warner's
(TWX)
America Online. Interactive rose $1.53, or 5.9%, to $27.41.
Two beaten-up stocks, hospital operator
Tenet
(THC) - Get Report
and phone company
Qwest
(Q)
, were the subject of skeptical Wall Street research Tuesday.
Goldman Sachs started Tenet at underperform, saying that the company's hospital portfolio is less profitable than its peers and that the company still faces a significant legal liability. Tenet has been under serious pressure for two years after some of its hospitals were implicated in Medicare fraud, and the company has been struggling to bounce back amid an industrywide decline in the health care industry.
Goldman said Tenet has made progress in stabilizing cash flow and restructuring its assets, but said the shares could still trade lower, given the uncertainties. Tenet shrugged off the valuation and gained 16 cents, or 1.5%, to $10.59.
And Smith Barney urged customers to sell shares of Qwest, which it said carries too much debt. The brokerage said Qwest faces challenges both increasing its revenue and in selling its long-distance unit, and set a price target of $3.50. The stock rose 27 cents, or 6.4%, to $4.50.
General Mills
(GIS) - Get Report
said it had a second-quarter profit of $367 million, or 97 cents a share, compared with $308 million, or 81 cents a share, in the year-ago period. Thomson First Call's consensus estimate is 87 cents a share. Sales for the second quarter were $3.17 billion, matching the consensus. Shares were up for most of the session but finished down 21 cents, or 0.4%, at $48.91.
Overseas markets were narrowly mixed, with London's FTSE 100 finishing up 0.1% to 4738 and Germany's Xetra DAX unchanged at 4214. In Asia, Japan's Nikkei rose 0.2% overnight to 11,126, while Hong Kong's Hang Seng fell 0.2% to 14,181.