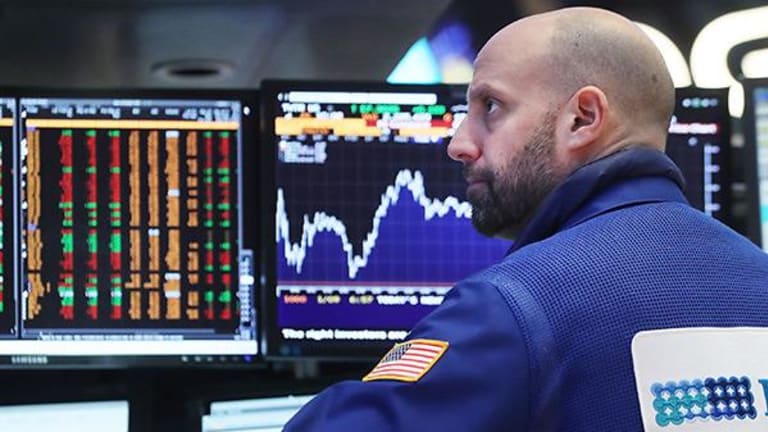 Publish date:
High Stock Valuations Remain a Concern to Investors
As the market has reached all-time highs several times this year, the extremely high valuations of some stocks have prompted investors to reconsider their worth.
As the market has reached all-time highs several times this year, the extremely high valuations of some stocks have prompted investors to reconsider their worth.
As the market has reached all-time highs several times this year, the extremely high valuations of some stocks such as Tesla have prompted investors to reconsider their worth, especially if a correction is on the horizon.
The current hefty valuations are reminiscent of the dot com stocks in 1999 when many stocks also reached large market caps. Tesla (TSLA) - Get Tesla Inc Report is now larger than Ford (F) - Get Ford Motor Company Report in terms of market cap while Amazon (AMZN) - Get Amazon.com, Inc. Report has a market cap of $432 billion cap which is equal to the market cap of companies such as Walmart (WMT) - Get Walmart Inc. Report , Target (TGT) - Get Target Corporation Report , Best Buy (BBY) - Get Best Buy Co., Inc. Report , Macy's (M) - Get Macy's Inc Report , Ford, Newmont Mining (NEM) - Get Newmont Goldcorp Corporation (NEM) Report , and Southern Company (SO) - Get Southern Company Report combined with another $50 billion left over, said Ron McCoy, a portfolio manager of the LOWS fund (Levered Options Writing Strategy) with Covestor, the online investing company and chief investment officer at Freedom Capital Advisors in Winter Garden, Fla.
"I am not saying this is 1999 and by no means am I suggesting people short their stock," he said.
Although investors are willing to pay for growth in companies currently, they need to consider if the valuations are accurate, said McCoy.
"Right now investors are bidding up prices and it not uncommon to see many large cap companies trading at 20 to 25 times forward earnings estimates," he said. "Historically speaking, that looks expensive. People should know what the company they are buying is worth in terms of market cap."
Utilizing earnings to evaluate a stock's worth gives investors a false read of the valuation and watching a company's cash flow is more accurate, said K.C. Ma, a CFA and director of the Roland George investments program at Stetson University in Deland, Fla.
"It is a reality that the public has most looked at short-term earnings in pricing their stocks as more than two-thirds of stock price movements react to the quarterly earnings estimates," he said. "However, whenever things take a turn for the worse, such as an economy going into a recession, stock market bubbles bursting and for those 25% of companies with negative fundamentals, the investors will resort back to quality - watching cash flow instead of quarterly earnings."
The fascination with earnings is an "arbitrary" method whereas cash flow is "subject to little interpretation," Ma said.
"When company forecasts are heavily based on earnings, one of the biggest problems is that they have been known to be overly optimistic," he said.
Exaggerations of valuation, otherwise known as "stock market myopia" where investors fixate on short-term earnings, has occurred with many stocks, including Amazon. Despite announcing that the company missed their earnings and had a shortfall in cash flow, Amazon was trading at a price-to-earnings ratio over 2,000 at a time when its stock was $192 a share on Sept. 21, 2001.
"The only way to justify such a lofty price would be as if Amazon's earnings were to grow at an annual rate of 80% for the next ten years," Ma said.
The earnings growth rate is followed closely by the Street, but investors need to be cautious when it becomes too volatile.
"Even the most die-hard fans of the company should realize that triple digits is not sustainable," he said.
Options for Investors
Investors who believe some stocks are overvalued can prepare for a correction by concentrating their holdings, said Bill DeShurko, president of 401 Advisor, a registered investment advisory in Centerville, Ohio. Reallocating a portion of their current investments into a large high volume ETF means an investor can easily move "chunks of your portfolio to cash with one trade" even if it "might seem counterintuitive," he said. "Look at liquidity. It's always easy to buy, but selling in a panic can be difficult."
Getting out of individual stocks is another strategy which DeShurko recommends.
"While I normally refer individual stocks, I've been putting new money into a portfolio of five to six ETFs," he said.
Planning ahead of time is crucial since emotional investing often takes over during a market sell-off and even the most seasoned investors can gravitate toward the wrong herd. It's important to decide what market conditions will determine when you should sell by putting in stop orders now.
"If you say now, 'I'll sell if I'm down 12%' (not a particularly good idea), it will be easy to rationalize not selling when you hit the -12%," DeShurko said. "You need to do more than just 'make a mental note' that you'll sell after a 12% loss. It's easy to start rationalizing that the stock will turn around and not sell, only to keep losing. Setting a stop loss order adds a level of certainty to the decision."
Other Tips
A 10% decline in the market is not a sign of a correction, said DeShurko. Falling prey to fears of a market sell-off is a fool's errand.
"There are a lot of conservative investors and nervous Nellies that have jumped on this market's band wagon," he said. "If selling starts, it will snowball until the weak hands are out. The conspiracy theorist in me says some black box high frequency trading program will start some selling just to get the market a little lower to create some decent buying opportunities. If a 20% drop is too much for you, stay out."
The "best hedge" because of the extremely high valuations in the market is to take the profits of some stocks or at least the principal investment and trade with the "house money," said Jason Spatafora, co-founder of Marijuanastocks.com and a Miami-based trader and investor known as @WolfofWeedST on Twitter.
Examining the long-term growth of a company in addition to any industry issues is one method to evaluate this strategy.
"Look at the problems they are fixing within their industry and their ability to innovate as their vertical evolves," he said. "Elon Musk is certainly an innovator and a futurist investors can bet on, but at the end of the day, the share price does not go straight up and those dips of consolidation make for great re-entry points."
Diversifying away from U.S. stocks and into foreign ones could help balance out some of the risk, said DeShurko.
"I've been buying iShares Dow Jones EPAC Sel Div Ind (IDV) - Get iShares International Select Dividend ETF Report which has a lower price to earnings ratio than the U.S. market and a higher yield," he said.