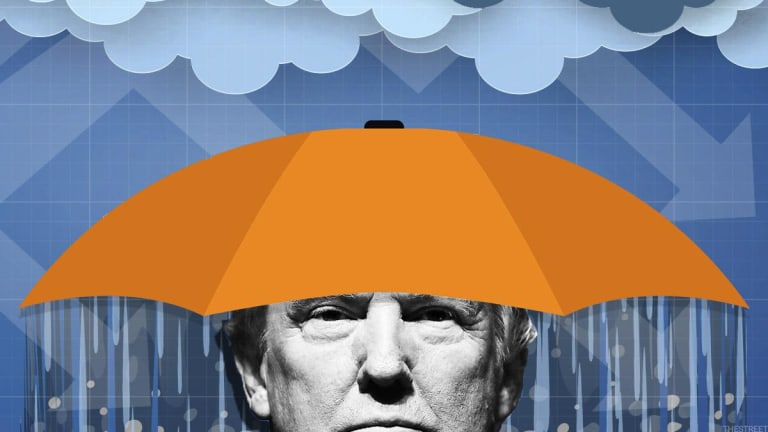 How to Predict the U.S. Unemployment Rate as Trump's Economy Slows
Recent data show President Trump's economy is slowing, less than two years after he campaigned for $1.5 trillion of federal-deficit-boosting tax cuts on a promise of faster long-term growth.
For investors trying to predict where the U.S. unemployment rate is headed, it's an easy trick to just ask a bunch of Americans how hard it is to find a job. 
The Conference Board, a non-profit organization set up in 1916 to sponsor economic research, does that every month in conjunction with Nielsen (NLSN) , the same performance-management company that ranks popular TV shows. 
And for economists and investors tracking the performance of President Donald Trump's economy, or for political consultants seeking clues on the 2020 election, the latest data aren't exactly dominating on par with the NBA Finals, 60 Minutes or Celebrity Family Feud. 
According to the Conference Board's latest survey of consumer confidence, published last week, some 16.4% of people now report that jobs are hard to get, the highest since October 2017. It was a big jump from last month's reading of 11.8%, which was the lowest since November 2000. 
Mark Zandi, chief economist at Moody's Analytics, a unit of the bond-rating firm Moody's (MCO) , says the oft-overlooked data point suggests that the U.S. unemployment rate, currently at a half-century low of 3.6%, has probably reached its lowest point and will start to rise in coming years. 
And that could create a self-reinforcing cycle if a slew of forthcoming news headlines on rising unemployment serves to further sour consumer confidence, leading households to spend less, in turn, prompting businesses to halt new investment in factories, equipment, technology and personnel.
"It would put more pressure on consumer confidence and sentiment, and that'll have an impact on consumer spending, and if consumer spending falls off more sharply, that is the prescription for a slowing economy or maybe even a recession," Zandi said during a conference call Wednesday. "The point is that it looks like unemployment is probably close to its bottom in this business cycle and will begin to move higher."
Zandi provides economic commentary to journalists on behalf of the payroll-processing company Automatic Data Processing, which publishes monthly reports on the labor market using data gleaned from clients' routine updates on their incoming and outgoing employees. 
In June, according to ADP's latest release, published Wednesday, private employers added 102,000 jobs, which was more than the 41,000 positions created the prior month but below economists' forecast for a gain of 140,000 jobs.
Economists on average expect a report from the U.S. Labor Department to show that nonfarm payrolls, including government jobs, rose by 163,500 in June, keeping the unemployment rate steady at 3.6%.
Yet Zandi said during the call with journalists that the latest ADP results indicate that the official Labor Department report probably will reveal June job growth closer to 135,000. And the unemployment rate might even increase. 
"If we stay in this environment for more than a few months, unemployment will start to rise in a very meaningful way," Zandi said. 
A computer-generated economic forecast from the Federal Reserve Bank of Atlanta shows that the U.S. economy probably expanded by just 1.5% during three months that ended on June 30, slower than the first quarter's pace of 3.1%. 
When the Trump administration was campaigning for the tax cuts in late 2017, officials including Treasury Secretary Steven Mnuchin predicted that putting extra cash in consumer and business wallets would stimulate activity, leading to long-term growth above 3%. 
Trump has already fulfilled his promise to create "millions and millions of jobs," with some 4.5 million added since he took office in January 2016.
During his term through April, the economy created an average of about 200,000 jobs a month, higher than the 193,000 clip reported for 2016, former President Barack Obama's last full year in office.  
And Trump managed to prolong the economic expansion that started following the 2008 financial crisis; the U.S. has now gone more than a decade without a recession, the longest such stretch in history.  
But the impact from the tax cuts is already fading, Zandi says, and recent reports from the Federal Reserve show that Trump's trade war with China is creating such uncertainty among business executives that they're reining in spending, which in turn acts as an additional brake on the economy. 
In May, the U.S. economy added just 75,000 jobs, potentially portending a lower trajectory of labor-market growth in the Trump era.   
For the full 2019, economists on average currently expect a slowdown in U.S. gross domestic product growth to 2.4%, from 2.9% in 2018, according to FactSet. But the slowdown could go deeper. 
"The economy is very close to what I would call stall-out speed, where unemployment is rising," Zandi said. 
Trump has called for the Federal Reserve to cut U.S. interest rates to provide stimulus to the economy. 
He might be early in seeing weakness in his own economy.
Or, at least -- that's what the data are starting to show.
Save 57% with our July 4th Sale. Join Jim Cramer's Action Alerts PLUS investment club to become a smarter investor! Click here to sign up!