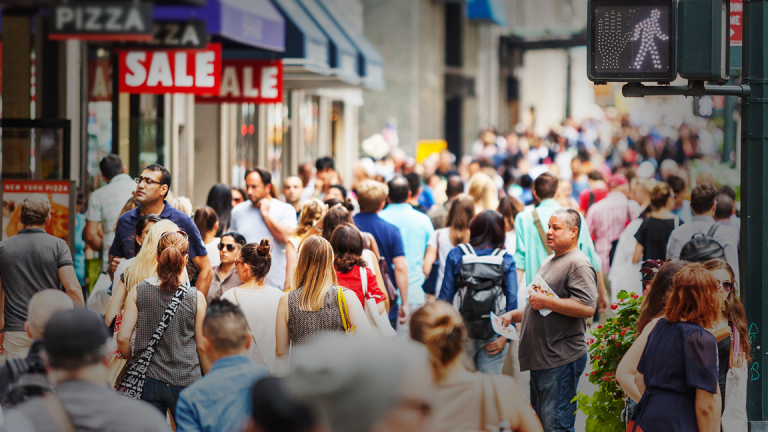 Here's What Experts Expect From the Retail Sector on Cyber Monday
Curious about this sector as the holidays approach? Here's what investors need to know.
Retail is on everyone's mind -- whether trader or holiday shopper. 
TheStreet breaks down what experts are thinking about the sector so investors have a better idea of what to expect this holiday season. 
Jim Cramer's Thoughts on Retail
Jim Cramer gave his thoughts on the retail sector going into the end of 2018 and what he thinks may be affecting the sector.
Earlier this week, Target (TGT - Get Report) , Kohl's (KSS - Get Report) , and TJ Maxx (TJX - Get Report) reported earnings that disappointed Wall Street. Kohl's, while beating quarterly expectations, was hit when it announced slower growth.
TheStreet's Martin Baccardax reported on Target's earnings.
"Target said adjusted earnings for the three months ending on November 3, its fiscal third quarter, came in at $1.09 per share, missing the Street consensus of $1.12 and rising 20.2% from the same period last year. Group sales, Target said, jumped 5.4% to $17.59 billion, matching analysts' forecasts, but noted that same store sales grew 5.1% compared to a 5.2% forecast. Target also said its third quarter gross margin, a key metric for profitability, fell 90 basis points to 28.7%, thanks in part to higher supply-chain costs as part of its drive towards digital sales and rising wage and training costs," he wrote.
Cramer says that he believes the Federal Reserve's rate hikes may be somewhat at fault for Wall Street's response to retail.
A New York Stock Exchange Trader Weighs In on Retail
Black Friday is gone, and big sales were reported, but, how is the retail sector looking in general? 
Kenny Polcari, director at O'Neil Securities breaks down his thoughts on the retail sector as the holidays arrives. 
Unlike some experts, who are worried that the economy may see a slowdown in consumer spending this season, Polcari believes that the numbers may surprise. 
His reasoning?
Well, consumer spending impressed during Halloween, which may just set the stage as we head into the end of the year.
TheStreet's London Bureau Chief's Thoughts on Retail
TheStreet's London Bureau Chief Martin Baccardax breaks down what he thinks is important for investors going into the holiday season.
Baccardax thinks that a key element to keep an eye on this season is the consumer spending: credit versus cash. He mentions that consumer's normally pay for food in cash and high-ticket items (think flat screen TVs and video game consoles) with their credit cards.
Listen to the full podcast below.
 How Much Are You Spending This Season?
Are you ready for the holidays? 
The Christmas music has started, so it's obviously time to start holiday shopping. If you missed Black Friday deals, Cyber Monday is around the corner. Then Small Business Saturday. 
The History of Holiday Shopping
The holiday's are upon us and with that begins the annual task of shopping for family and friends. With it are miles of lines and crowds and the ever-present advice pieces about the best deals and how to avoid waiting to shop till the last minute.
Want to know one of the first pieces of advice when it comes to holiday shopping? Start early.
That sound piece of advice has been around since 1906, when a campaign first pushed consumers to start looking at their calendars ahead of the holiday season.
Though, with the emergence of online retail, procrastinating on your holiday shopping can once again re-emerge