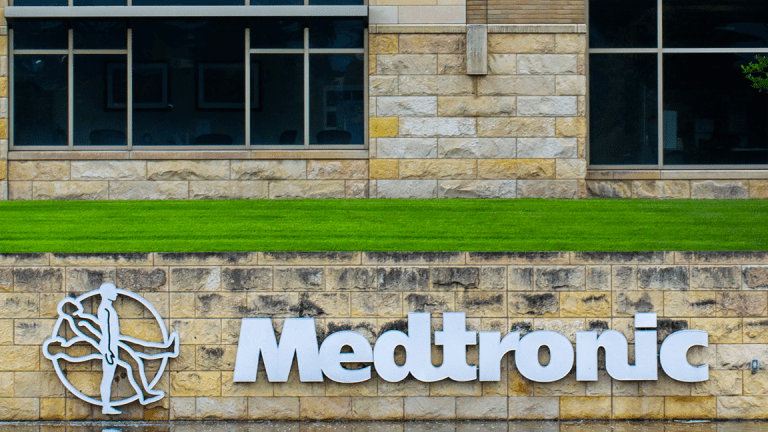 Here's How Medtronic Can Unlock Shareholder Value, Says Analyst
The appointment of Mike Weinstein as senior vice president of strategy has sparked the question of what the med tech firm should do to unlock shareholder value.
Time to unlock some value.
Investors on Monday, May 7, cheered the news of former JPMorgan & Co. (JPM) stock analyst Mike Weinstein's arrival at Medtronic plc (MDT) as senior vice president of strategy.  His appointment now raises the question of what the medical technology company should do to enhance shareholder value.
"I think they need to buy back stock," said Evercore ISI analyst Vijay Kumar in an interview with TheStreet on Tuesday. Noting that Medtronic has cash and short-term investments totaling more than $14 billion, Kumar said repurchasing shares is a way of reassuring the market that the company finds its shares compelling at these levels.
The stock, which finished Monday's trading session up 4.6% to $84.82, closed at $83.20 on Tuesday, down 1.9%. It is up 3% year-to-date and is down 0.1% over the last 12 months.
Medtronic's stock trades at a 3 to 6 times discount to its peers on a forward price-to-earnings basis, Kumar said.
The company, whose principal executive office is in Dublin and main operational offices are in Minneapolis, said Monday that Weinstein will work with senior management "in the areas of strategy, business development, capital deployment, and shareholder value creation."
In a note on Tuesday, Kumar wrote: "We think one of the biggest overhang(s) on MDT shares (outside of execution consistency) has been communication - we expect a tighter / more consistent messaging strategy with Mike coming on board which will be welcomed by shareholders."
Weinstein joined JPMorgan in 1992 and served as the firm's senior medical technology analyst since 1995. He retired from JPMorgan in April and Robbie Marcus is now the senior analyst covering the sector, according to a JPMorgan spokeswoman.
Weinstein's arrival comes ahead of the release of Medtronic's fourth-quarter fiscal 2018 results on May 24 and the company's institutional investor and analyst day on June 5.
On a conference call Monday morning with his now-former peers in the analyst community, Weinstein said people should not expect a big announcement at the analyst event.
"We're not setting you up for some big June 5 announcement from Medtronic," Weinstein said. "But there's a lot of ways in which Medtronic can create shareholder value. You know where the shares are trading today. You know the potential this company has. And I'm here to help the company unlock that potential."
Earlier on the call, an analyst inquired whether Weinstein's appointment was more of an opportunistic hire or whether it signals more of a willingness by Medtronic to consider aggressive portfolio management, be it M&A or divestitures.
Medtronic chairman and CEO Omar Ishrak said the company is "always looking to create shareholder value," adding that there is
"nothing specific or imminent," nor is there a change in direction from what the company has communicated in the past regarding capital allocation.
Medtronic acquired rival medical device maker Covidien plc in a $49.9 billion deal completed in January 2015. Other deals include its $1.1 billion purchase of HeartWare International Inc. and its $350 million acquisition of Smith & Nephew plc's (SNN) gynecology business in 2016.
On the divestiture side, Medtronic in 2017 sold its patient care, deep vein thrombosis and nutritional insufficiency businesses to Cardinal Health Inc. (CAH) for $6.1 billion.
On Monday's conference call, Weinstein talked about how his move to Medtronic came about. He said that after he announced in March that he planned to retire from JPMorgan, he heard from "not just a number of different companies, but a number of different opportunities across the sector and the financial landscape."
Weinstein said he had dinner with Ishrak in Minneapolis, which was followed by more dinners and discussions with Ishrak and chief financial officer Karen Parkhill, "giving me a lot more confidence in, A, the business, and B, the potential to create significant shareholder value."
Weinstein reports to Parkhill, herself a JPMorgan alum. Parkhill worked in the investment banking and commercial banking businesses at JPMorgan, then moved to Comerica Inc. (CMA) before joining Medtronic in 2016.
Jim Cramer and the AAP team hold a position in JPMorgan & Chase for their Action Alerts PLUS Charitable Trust Portfolio. Want to be alerted before Jim Cramer buys or sells JPM? Learn more now.