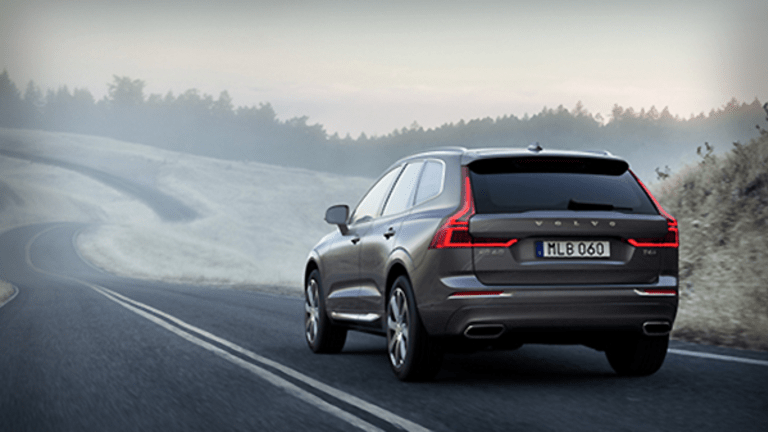 Here Are The 5 Stories Europe Was Talking About This Week
From Volvo's bid to become an electric car company to the cost of the Petya attack to Europe's bad-boy CEO's "power drinking", here's what made headlines in Europe this week.
From Volvo's bid to become an electric car company to the cost of the Petya Cyber Attack to Europe's bad-boy CEO's "power drinking", here's what made headlines in Europe this week.
Vantiv Makes Play For Worldpay
Credit card processing group Vantiv Inc. (VNTV) has confirmed its plans to buy Britain's Worldpay Group (WPYGY) just hours before a potential rival suitor, JPMorgan Chase (JPM) - Get JPMorgan Chase & Co. Report , bowed out of the bidding. Vantiv's 385 pence-a-share offer, which was about 37 pence shy of Worldpay's intraday levels on July 3, looked an error on the part of Vantiv's board, which may not have realized that while they were enjoying Fourth of July Festivities, investors in the U.K. were driving up Worldpay's share price to a record, leaving them to present what looked like an undervalued deal. However, shares in the U.K.'s biggest payments processor fell more than 9% to 372 pence after the deal was announced and news of JPMorgan's about-face made its way through the market. It's a tidy little saving for Vantiv, and perhaps an interesting indication of what may come from one of America's biggest banks, which was recently unshackled from returning cash to shareholders by the U.S. Federal Reserve. JPMorgan was named as a possible suitor on Tuesday but said it was "at a very early stage in considering" a bid and decided to walk away without giving a reason. It would have been the bank's first big acquisition since the financial crisis and, despite the change of heart, likely suggests it's back on the acquisition trail.
Key Number: $20 billion. The proposed deal would create a payment processing giant with a combined market value of $20 billion with a huge presence on both sides of the Atlantic
Read More:
https://www.thestreet.com/story/14210500/1/vantiv-strikes-12-billion-deal-to-buy-worldpay-jpmorgan-walks-away.html
https://www.thestreet.com/story/14213082/1/vantiv-purchase-of-worldpay-given-a-neutral-rating-and-mizuho.html
https://www.thestreet.com/video/14211244/vantiv-worldpay-deal-shows-just-how-valuable-square-and-paypal-are-jim-cramer-says.html
What's The Cost of A Cyber Attack? Reckitt Beckiser and Modelez Know
Reckitt Benckiser (RBGLY) said Thursday that its second quarter revenues will take a significant hit as a result of the impact of the Petya cyber attack that spread across Europe and Asia late last month. The consumer health and hygiene group said that like-for-like revenues will likely fall by 2% when compared to the same quarter of 2016, Reckitt said, owing to the impact of the attack and the company's ability to ship goods to various customers. And Reckitt isn't alone, Mondelez International (MDLZ) - Get Mondelez International, Inc. Class A Report said it will likely see a 3% negative impact on their second quarter revenue growth from the June 27 Petya virus, which impacted its invoicing and shipping. "Given the timing of this significant global attack, despite our best efforts, we experienced disruption in our ability to ship and invoice during the last four days of our second quarter," the snacks food company said.
Key Number: £2.6 billion. Reckitt generated £2.643 billion ($3.4 billion) in sales over the three months ending in March. Like-for-like sales in its hygiene group advanced 3% and home and portfolio sales drifted 4% and 6% respectively.
Read More:
https://www.thestreet.com/story/14212534/1/reckitt-benckiser-says-petya-cyber-attack-will-slam-q2-revenues.html
https://www.thestreet.com/story/14214962/1/mondelez-say-cyber-attack-will-hit-q2-earnings.html
German Bond Yields Hit 18-Month High -- Here's Why
European bond markets ignited the biggest selloff of the year this week after minutes from the European Central Bank June policy meeting appeared to cement the case for the end of the era of cheap money.
Benchmark 10-year German bund yields, which move in the opposite direction of prices and are the best proxy for European government borrowings costs, extended their 10-year rise Thursday by surging 9 basis points to 0.56%, the highest level in 18 months. The moves pulled costs for other Eurozone member states higher and held the single currency near 52-weeks highs against the U.S. dollar.
The change in perspective also haunted markets around the world, lifting U.S. Treasury yields and holding down gains for Asia stocks as investors recalibrated their assumptions for both inflation and central bank rate increases in the coming months.
It may not be enough to snuff out the region's equity rally -- on a dollar-adjusted basis, Europe's Stoxx 600 benchmark has well outpaced the S&P 500 in terms of year-to-date gains - but the bond market turn could signal a long-term shift towards a more normal, and some would say less-intrusive, monetary policy stance.
If that's followed by economic growth, corporate profits, new investment and wages, then the resulting inflation will be happily accepted. If it's not, and the early central bank signalling snuffs-out a fragile recovery, we could slip back into "cash is king" mode.
Key Number: 9 basis points. Benchmark 10-year German government bonds, known as bunds, rose 9 basis points to 0.56% Thursday, the highest level since December 2015.
Read More:
https://www.thestreet.com/story/14212856/1/european-bond-yields-single-currency-surge-after-ecb-minutes-show-tapering-ambitions.html
https://www.thestreet.com/story/14212572/1/german-government-bond-yields-hit-18-month-high-as-market-turn-continues.html
Volvo and France Send Dear John Letter to Fossil Fuel-Powered Cars
Volvo Cars plans to ditch the traditional combustion engine by 2019, selling cars with electric engines from that point. The Swedish car maker says in two years' time it will only offer vehicles with all-electric, hybrid and mild-hybrid engines. The company is planning to launch five fully electric cars between the years 2019 and 2021, complimented by a broader range of hybrids, giving the Chinese-owned car maker one of the broadest ranges of electric vehicles on the market. France this week said it plans end the sale of gasoline and diesel-powered vehicles by 2040. The ambitious plan is a bid by the country to become a carbon-neutral nation. French Energy Minister Nicolas Hulot said the country will offer tax incentives to replace diesel cars more than 20 years old and gasoline cars made before 2001, effectively promoting electric cars.
Key Number: 1 million. Volvo plans to sell a total of 1 million electrified cars by 2025.
Read More:
https://www.thestreet.com/story/14210235/1/volvo-to-dump-traditional-engines-by-2019.html
https://www.thestreet.com/story/14211078/1/volvo-says-good-riddance-to-internal-combustion-engine.html
Sports Direct CEO to Court: "I'm A Power Drinker"
Sports Direct International plc's (SDISY) embattled CEO Mike Ashley told a British High Court judge that he was a "power drinker" that likes to get drunk. Ashley is defending himself against a charge by former banker and colleague Jeff Blue who says that Ashley in 2013 promised to pay him £15 million if Sports Direct shares hit 800 pence. Shares did hit the 800 pence mark but have fallen back. Ashley claims he doesn't remember making the deal because he drank his four pints of beer in about an hour and told the court beers were "coming like machine guns" every few minutes that night. Ashley is known as a bad-boy CEO. The beleaguered British sports retailer has come under fire for a series of failings, including its treatment of workers, who are said to be paid well below minimum wage. A television documentary called its distribution center a "sweatshop." The company's practices were also the subject of a parliamentary investigation.
Key Number: 292 pence. Sports Direct shares were trading at 292 pence on Friday afternoon.
Read More:
https://www.thestreet.com/story/14088739/1/sports-direct-takes-7-9-stake-in-finish-line.html
https://www.thestreet.com/story/13918729/1/sports-direct-stock-pounded-on-profit-slump-brexit-woes.html
https://www.thestreet.com/story/13749882/1/troubled-u-k-retailer-sports-direct-appoints-founder-and-majority-owner-as-ceo.html